The dialogue means a conversation and in the Bollywood, a dialogue means an intellectual composition of words which can make a strong impact on listeners and viewers. The ocean of our Bollywood have lots of gems as dialogues, Some Bollywood dialogues are inspirational, motivational, comic, emotional, and so many. Dialogues are like paintings carved by some super genius intelligent beings which make an everlasting impact on the mind and soul of people. Here, we compiled the list of top 10 best dialogues from the releases of 2016.
1. Azhar Click to look into! >> Read More... - Sikka Dono Ka Hota Hai, Heads Ka Bhi Aur Tails Ka Bhi. Par Waqt Sirf Uska Hota Hai Jo Palatkar Upar Aata Hai:
...
"A coin belongs to both, heads and tails... But time only favours the one who turns around and rises." This inspirational dialogue is from the Emraan Hashmi Emraan Hashmi is one of the most successful & cont >> Read More... 's sports drama, Azhar. Hashmi has spoken this dialogue with an amazing confidence which inspires us to rise above failures and adverse conditions. This movie is about the life of Mohammad Azhar who was a famous cricketer and former Indian captain. Tony D'souza has directed the picture whereas Rajat Arora Rajat Arora is an Indian Writer, Lyricist, Produce >> Read More... gave the storyline. Ekta Kapoor Ekta Kapoor; a legendry producer in Indian TV and >> Read More... and Shobha Kapoor Shobha Kapoor is a film and television producer fr >> Read More... have produced this film for Sony Pictures.
2. Sultan - Agar Tune Aj Give Up Kia To Shayad Bahar Se Zinda Rah Jaye, Magar Andar Se Mar Jaega Hamesha Ke Liye:
...
"If you give up today. Then, maybe its possible that you'll be alive from the outside, but from inside you'll be dead forever." Again this famous and inspirational is from Salman's romantic sports drama, Sultan. With this discourse, Anushka (Aarfa) inspires Salman as Sultan to defeat the breakdowns and attain his aim. The credit of story writing, dialogues, and screenplay goes to the director Ali Abbas Zafar Ali Abbas Zafar is a popular Indian actor, Directo >> Read More... . This YRF production of Aditya Chopra Aditya Chopra is an Indian film director, scriptwr >> Read More... hits the silver screen on 06 July 2016.
3. Dangal – Agar Silver Jeeti Toh Aaj Nahi To Kal Log Tanne Bhool Javenge, Gold Jeeti Toh Misaal Ban Javegi. Aur Misaalein Di Jaati Hain Beta, Bhuli Nahi Jaati:
...
"If you win silver, people will forget you in the near future. But if you win the gold, you'll become an example and, examples are never forgotten." This motivational dialogue of Aamir Khan Aamir Khan or Mohammed Aamir Hussain Khan is Bolly >> Read More... is from Biopic, blockbuster sports drama, Dangal. The wrestler Geeta Phogat Geeta Kumari Phogat was born on 15 December 1988 i >> Read More... won a gold medal at the 2010 common wealth games and her sister got a silver one. This movie is induced from Mahaveer Singh Phogat (Aamir Khan) and his daughters Geeta and Babita.
4. Akira- Apahij Who Nahi Jiska Koi Ang Na Ho, Apahij Woh Hai Joh Apne Ang Ka Istemaal Na Kare. Doosron Ki Madad Na Karne Wale Haath Apahij Hain, Zulm Ko Dekh Kar Mudne Wali Aankhein Apahij Hain, Maa Baap Ko Chhodkar Bhagne Wale Pair Apahij Hain:
...
"Someone who doesn't have a body part is not a handicap, a handicap is a person who doesn't use his body part. The hands which don't help others are the handicap, the eyes which look at injustice and turn away are the handicap, and the legs which leave their parent behind are the handicap. " This dialogue of Sonakshi Sinha Sonakshi Sinha is a well-known Indian Actress. She >> Read More... (Akira) shows anger, aggression, criticism, and motivation against the cowards of the human society which stops them to fight against the evils and corruption of the world.
...
5. Azhar – Ab Fark Nahi Padta Zindagi Mein. Kyunki Jab Fark Nahi Padta Zindagi Mein, Fark Tabhi Aata Hai:
...
"Now I don't care, because when we don't care in life, only then a change comes along." Again a dialogue of Emraan from the movie, "Azhar" illuminates with the light of optimism and reflecting the philosophy of life.
6. Azhar – Tu Muh Se Bolega To Kuchh hi Logan Sunege, Balla Bolega Toh Saari Duniya Ko Sunna Padega:
...
"If you speak from your mouth then I'm sure that only a few people will listen, But if your bat will do the talking then the whole world will have to listen to it." Yeah! The last year 'Azhar' had played a master-stroke regarding dialogue delivery. This statement is filled with the motivation, sportsmanship, and inspiration.
7. Airlift Click to look into! >> Read More... – Aadmi Ki Fitrat Hi Aisi Hai Ibrahim, Chot Lagti Hai Na Toh Maa Maa Hi Chillata Hai Sabse Pahle:
"It's the nature of man, Ibrahim, when he gets hurt, the first thing he shouts is the name of his mother." The emotional dialogue from Raja Menon's "Airlift" is heart-touching. This movie was released on 22 January 2016 and its story revolves around the 1990 shifting of Indians from Kuwait.
8. Azhar – Sau Sahi Kaam Kardo Koi Yaad Nahi Rakhta, Ek Galat Ilzaam Aur Sabne Bhula Diya:
"Do hundreds of good things, no one remember… One wrong allegation and everyone forgets me." Emraan Hashmi speaks well the bitter truth of life. Once more an emotional dialogue from "Azhar."
9. Rustom Click to look into! >> Read More... – Matlab Baazi Jeetne Se Hai, Phir Chahe Pyada Qurbaan Ho Ya Phir Rani:
"It's important to win; it doesn't matter if you sacrifice your pawn or queen." This dialogue is from crime thriller "Rustom" which represents attitude, confidence, and bravery. The proficient direction of Tinu Suresh Desai Tinu Suresh Desai is a Bollywood director who ente >> Read More... was on the rampage on the big screen on 12 August 2016. The narration is in relation to the life of Commander K.M. Nanavati and the businessman Prem Ahuja.
10. Ae Dil Hai Mushkil – Kuchh Zakhmon Ke Karz Lafzon Se Ada Nahi Hote: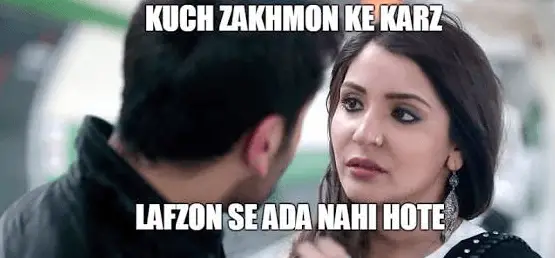 "The loan of some wounds can't be satisfied with the words only." This sensitive dialogue is from the Karan Johar's romantic drama, 'Aae Dil Hai Mushkil.' This film was made public on 28 October 2016 and shows the flood of emotions and love.