"Mere Dad Ki Maruti" (2013) film is related to the Hollywood movie "Dude, Where's My Car?" (2000). The story of the English movie revolves around two best buddies who lost their car after a night party, and the next morning, when they woke up, they forgot where they parked their car. Whereas in the Hindi film "Mere Dad Ki Maruti", a story of a young boy who goes on a date with a girl, he takes his dad's new car without permission and loses the car.
In the Bollywood film "Dushman", Kajol played a double role. This is the story of two twin sisters, Sonia and Naina, who were living a very efficient life, but their lives changed when a physicist and rapist brutally killed Sonia at her house. Then the story revolves around how Naina (Kajol) avenges her sister's death by that killer. The story of the film "Dushman" was inspired by the Hollywood movie "Eye For An Eye" (1996), which was also a psychological thriller.
...
The story of the film "Baazigar" is related to the 1991 Hollywood movie " A Kiss Before Dying." In this movie, a lover killed her girlfriend when she told him about her pregnancy and her father disowned her from the property. In both films, the lover kills his girlfriend by falling from the roof, and then the sister of that girl tries to reach the murderer. In this way, it is known from some scenes that both stories are similar.
...
4. Pyaar To Hona Hi Tha (1998)
Pyar To Hona Tha was a blockbuster movie with Kajol and Ajay Devgan Ajay Devgn is an Indian film actor. He is perhaps >> Read More... . It was a romantic comedy, which resembled the 1995 Hollywood film "French Kiss," in which Meg Ryan She is considered to be one of the most desirable >> Read More... and Kevin Kline Kevil Kline is an American stage and film actor. H >> Read More... were in the lead roles. The story of both films was the same when the heroine in both films found out that in another country, her fiance cheated on her for another girl, so she decided to fly off on a plane to get him back, and then she fell in love with another person who helped her to get her man back.
...
5. Bichhoo (2000)
The film Bichoo is similar to the story of the 1994 English film "Leon: The Professional". In this movie, a man named Leon, who is a professional hitman, helps a girl (Mathilda) , his neighbor. Her family was murdered by corrupt DEA agent Stansfield. Then she teams up with Leon, his neighbor, to avenge her family's deaths. Although in the Hindi movie, some scenes are the same, like a girl named Kiran ( Rani Mukerji Rani Mukerji is one of the most celebrated Indian >> Read More... ). Her family was murdered and she took the help of her neighbor, Jeeva ( Bobby Deol Bobby Deol was a treat to watch when he walks to t >> Read More... ), to protect herself because she was alone. They both wanted to take revenge on criminals.
6. Jo Jeeta Wohi Sikander (1992)
The Bollywood film "Jo Jeeta Wohi Hi Sikander" has some similarities with the 1979 film "Breaking Away", which was also about a cycle racing competition between small-town model college boys and rich boys from different colleges. In both films, rich boys keep harassing and humiliating the boys of the model school. Some of the scenes in the film are similar, like how a teenage boy from a model school falls in love with a rich girl and tries to impress her.
...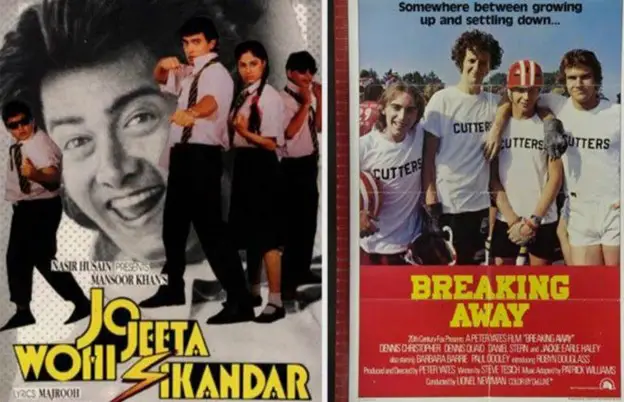 7. Akele Hum Akele Tum (1990)
Akele Hum Akele Tum was the blockbuster film of the 1990s, starring Aamir Khan Aamir Khan or Mohammed Aamir Hussain Khan is Bolly >> Read More... and Manisha Koirala Manisha Koirala, is a Bollywood actress of Nepales >> Read More... . The story matches with the 1979 Hollywood film Krammer Vs. Krammer, as in both films, two couples want to get separated from each other, and they want to take custody of their only child. It was the best film by director Mansoor Khan Mansoor Khan is an Indian film director and produc >> Read More... and the music of all the songs in the film was a super hit.
...
8. Koi Mil Gaya (2003)
The 2003 film Koi Mil Gaya was the story of an alien, starring Hrithik Roshan Hrithik Roshan with his unimaginable dance moves i >> Read More... and Preity Zinta Preity, also known as Preity Zinta is a famous Act >> Read More... . This story of the film is a bit similar to the 1982 Hollywood film E.T. The Extra-Terrestrial, which was a story of an alien who gets separated from his friends and left behind on earth. Then he meets a boy who keeps him in his house, hiding him from the eyes of the people, and in the end, they help their alien friend escape and return to his planet. In both films, most of the scenes are similar.
...
The Bollywood film "God Tussi Great Ho" resembles the Hollywood film "Bruce Almighty," which came out in 2003. Both films are about an unlucky man who blames God for everything and finally loses faith in him. Then one day, to teach him a lesson, God gave him all his powers to solve everyone's problems, but he ruined everything. Some scenes are different, but the plot of both stories is the same
...
10.  Dhamaal (2007)
The comedy film Dhamaal, which entertained audiences a lot in 2007, was inspired by the 1963 American film It's A Mad Mad Mad Mad World. In both films, four friends are engaged in the search for buried money that could make them rich. The stories of both the films resemble each other, and some scenes are also similar, like plane scenes.