The digital platform, or OTT, is a vast and rapidly growing platform experimenting in a variety of genres. And instead of focusing on only one genre, the directors, producers, and writers are taking up multiple genres to create a story that leaves viewers awestruck. As the creators have varied options available, the thriller, crime-based plot has become popular among them to choose from. And adding revenge tragedy to the plot to make it wholesome is like a cherry on top of the sliced pastry. If you are the one who is more into watching revenge-based crime thrillers and is in need of wanting more to fulfill your craving for web shows, then this article piece is definitely one for you.
1. Mirzapur
Produced by Rithesh Sidhwani and Farhan Akhtar One of the most recognized young director of India >> Read More... under Excel Entertainment, Mirzapur is a revenge-based crime thriller streamed on Amazon Prime. It features Pankaj Tripathi Pankaj Tripathi is an acclaimed Indian film actor >> Read More... , Divyenndu Sharma, Ali Faizal, and Vikrant Massey Vikrant Massey, who is a TV actor, was born in Nag >> Read More... as Kaleen Tripathi, Munna Tripathi, Guddu Pandit, and Bablu Pandit in lead roles, respectively. The story is based on the Purvanchal Region of Uttar Pradesh, which is ruled by the mafias of Mirzapur, followed by drug and gun violence.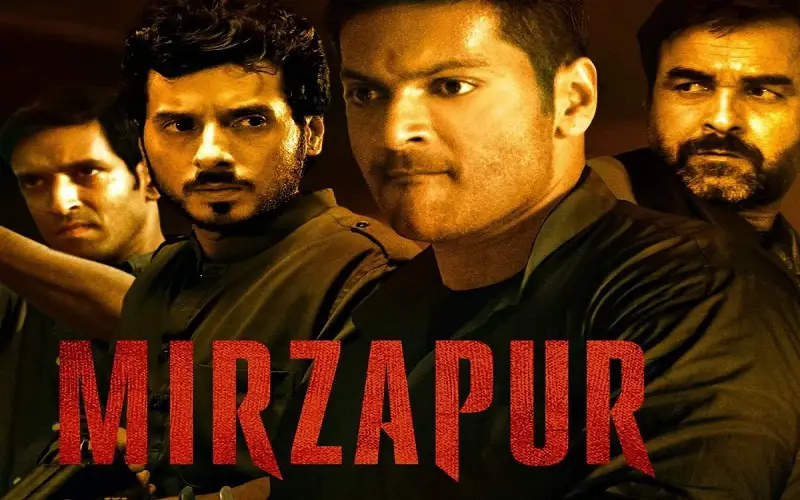 Criminal Justice is the story of cab driver Aditya (Vikrant Massey), who had a plan with his friends after completing his work for that day, but a woman sits in his car and keeps on changing the location the whole night, which spoiled his plans. Later, he was found guilty and tagged with the murder charges. It is a crime thriller released in 2019 and premiered on Hotstar. It is written by Shridhar Raghavan Shridhar Raghavan is an Indian writer who works on >> Read More... , directed by Tigmanshu Dhulia Tigmanshu Dhulia is a super talented and multi-fac >> Read More... and Vishal Furia Bio coming soon... >> Read More... , and has Vikrant Massey, Pankaj Tripathi, and Anupriya Goenka Anupriya Goenka is an Indian film and television a >> Read More... in lead roles.
3. Sacred Games
Netflix's original web series, Sacred Games, is a crime thriller released in 2018. It was adopted from Vikram Chandra's 2006 novel 'Sacred Games'. The story begins with a police inspector, Sartaj Singh, who gets a call from an underworld don, Ganesh Gaitonde, to save the city from him within 25 days, or else it would have to face the consequences of the tragedy done by him. It has Pankaj Tripathi, , Nawazuddin Siddiqui Nawazuddin Siddiqui was born in Budhana in Muzaffa >> Read More... , and Radhika Apte Radhika Apte, an Indian actress was born on Sept 7 >> Read More... in lead roles and is directed by Anurag Kashyap Born on 10th September 1972, Anurag Kashyap has es >> Read More... .
...
4. The Family Man
The Family Man is a spy thriller written and created by Raj & DK, originally released on Amazon Prime in 2019. This show was the OTT debut of the most versatile actor, Manoj Bajpayi, starring him, Priyamani, , Neeraj Madhav Do you remember the funny side-kick of Mohanlal fr >> Read More... , Sharib Hashmi Sharib Hashmi is a very popular Hindi film actor w >> Read More... , Dalip Tahil Dalip Tahil is one of the most renowned evergreen >> Read More... , Sunny Hinduja Sunny was an all-rounder at school. He also happen >> Read More... , and Shreya Dhanwanthary Shreya Dhanwanthary entered the entertainment indu >> Read More... in lead roles. The story starts with a middle-class man, Srikrant Tiwari, who works as an undercover agent with the National Investigation Agency and portrays the role of both an agent and a family man well. Written by Raj, DK, and Suman Kumar Suman Kumar was a renowned standup comedian, scree >> Read More... and produced by Raj Nidimoru Raj Nidimoru is a US based director. He is of Indi >> Read More... and Krishna D.K., this show has left viewers wanting more from Manoj Bajpai.
...
5. Hostages
Hostages is a Hotstar Special thriller crime-mystery web show that premiered on Disney + Hotstar in 2019. The story revolves around a well-known surgeon, Mira Anand, portrayed by Tisca Chopra Tisca Zareen Chopra (Nee Arora) is a talented and >> Read More... , scheduled to perform the Chief Minister's operation. But the night before the operation procedure started, her family was taken hostage. She was ordered to slay her patient, who is the Chief Minister, or they would kill her entire family. Written by Nisarg Mehta Bio coming soon... >> Read More... , Shiva Bajpai, and Mayukh Ghosh Mayukh Ghosh is commonly known for Serious Men[202 >> Read More... and directed by Sudhir Mishra Sudhir Mishra is a Bollywood director and screenwr >> Read More... , it has Tisca Chopra, Ronit Roy Ronit Roy (Ronit Bose Roy) was born on 11th Octobe >> Read More... , Parvin Dabas Parvin Dabas is an Indian actor. He is also named >> Read More... , Aashim Gulati Aashim Gulati is an Indian TV on-screen actor. He >> Read More... , Mohan Kapoor Mohan Kapoor is a famous Indian Bollywood actor wh >> Read More... , and Dalip Tahil in lead roles.
...
6. Out Of Love
Out of Love is based on the British psychological thriller television series Doctor Foster: A Woman Scorned by Michael Bartlett. Written by Suyash Trivedi Suyash Trivedi is a screenwriter and writer in the >> Read More... , Abhiruchi Chand Abhiruchi Chanda is an Indian movie lyricist who h >> Read More... , Preeti Mamgain Preeti is an actor cum writer. She has been part o >> Read More... , and Rajesh Chadha Rajesh Chadha is an Indian-Producer. He primarily >> Read More... and directed by Tigmanshu Dhulia, Aijaz Khan Aijaz Khan is an Indian Director who primarily wor >> Read More... , and Oni Sen Oni Sen, also called Aniruddha Sen, is one of the >> Read More... , it originally premiered on Hotstar in 2019. The story revolves around a happily married couple, Meera ( Rasika Dugal Rasika Dugal is an Indian actress, who predominant >> Read More... ) and Akarsh ( Purab Kohli Purab Kohli is an Indian model, Video Jockey (VJ) >> Read More... ), until she finds a hair on one of his clothes. Her suspicion increases as the story proceeds, and she becomes adamant about finding out about the other woman in his life.
...
7. Breathe: Into The Shadows
Produced under Abundantia Entertainment and directed and created by Mayank Sharma Mayank Sharma is a Bollywood director and writer. >> Read More... , Breathe: Into the Shadows is an Indian television series crime-thriller that premiered on Amazon Prime Video in 2020. The story plot revolves around a psychiatrist, Dr. Avinash Sabharwal, portrayed by Abhishek Bachchan Abhishek Bachchan, or Abhishek Srivastava, is a ve >> Read More... , and his 6-year-old daughter, Siya, kidnapped by a masked man. The story proceeds with how he saves his daughter from the masked man.
...
8. Guns & Gulaabs
A newly released Indian comedy-crime-thriller web series on Netflix, Guns & Gulaabs, is produced by D2R Films and directed by Raj & DK. The story revolves around two rival groups led by Ganchi and Nabeed in Gulaabgunj (a fictional town), who handle and control the flow of government-licensed grown opium in the town. Directed by Raj & DK, it stars Rajkummar Rao Raj Kumar Yadav, also known as Rajkummar Rao, star >> Read More... , Dulquer Salmaan Dulquer Salmaan is a popular Malayalam actor, who >> Read More... , Adarsh Gourav Adarsh Gourav is a supporting actor who was first >> Read More... , Goutam Sharma, Gourav Sharma, Sanchay Goswami Sanchay Goswami first came to fame with his debut >> Read More... , and Gulshan Devaiah Gulshan earlier a theatre artist, now an Indian ac >> Read More... in lead roles.
...
9. Taish
Directed by Bejoy Nambiar Bejoy Nambiar was born on April 12th, 1979 in Koch >> Read More... , Taish is an Indian action thriller drama released on Zee5 in 2020, both in film and in a 6-episode series version. It has Pulkit Samrat Pulkit Samrat is a popular Indian model and actor, >> Read More... , Jim Sarbh Jim Sarbh is an India Theater actor, and also a di >> Read More... , Harshvardhan Rane Harshavardhan Rane, born on 16th of December, 1983 >> Read More... , Kriti Kharbanda Model-turned- actor Kriti Kharbanda is a popular >> Read More... , and Sanjeeda Shaikh in lead roles. The story revolves around two families, namely Brar and Kalra, where the Kalra family is involved in business while the Brar family is involved in crime. The story proceeds when one member of the Brar family is harmed by the Kalra family.
10. Poison
Poison is an Indian crime thriller 11-episode web show released on ZEE5 in 2019. The story starts with Ranveer Shrivastav, played by Tanuj Virwani Think of young and talented Indian actors and the >> Read More... , who was falsely wrapped in a murder and sentenced to prison for the crime. And once he completes his prison days, he moves to Goa to take revenge. Written by Shiraz Ahmed Shiraz Ahmed was born on 10 th March 1968 in Mumba >> Read More... and directed by Jatin Wagle, it has Arbaaz Khan Born in a family that has strong ties in the film >> Read More... , Riya Sen Riya Sen is a well know Indian Model and a bette >> Read More... , Freddy Daruwala Freddy Daruwala was born in the year 1984 in Surat >> Read More... , and Tanuj Virwani in lead roles.