Bollywood is pretty much a family, figuratively as well as literally. Large families in Bollywood choose to invest in various branches of the industry; and we're all for it. Here are ten sets of siblings who make entrepreneurship in Bollywood look easy •
1. The Roy Kapoor Brothers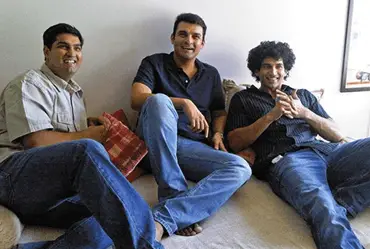 ...
Siddharth Roy Kapur Siddharth Roy Kapur is an Indian businessman, film >> Read More... , Aditya Roy Kapur Aditya Roy Kapur, a young and successful actor wa >> Read More... , and Kunal Roy Kapur are all present in the industry. The former being a big-shot producer, while the other two invested in acting. But they've pretty much created an enterprise out of their name.
2. Varun Dhawan Varun Dhawan, a new comer entered Bollywood with h >> Read More... and Rohit Dhawan RohitDhawan is a young talent rising to the top in >> Read More...
...
While one performs, the other directs films. Varun and Rohit are both successful in their respective fields. And it would be fascinating to see them join hands to bring us a comicmasterpiece.
3. The Khan Brothers
...
Salman Khan Salman Khan is a very famous Indian actor and a pr >> Read More... may be a big name today, but he has his brothers backing him through the thick and thin. Arbaaz Khan Born in a family that has strong ties in the film >> Read More... and Sohail Khan Sohail Khan is an Indian Film Actor. He is also a >> Read More... tried their hands in acting but decided to invest in their more successful brother instead. And look where they are now.
4. Kapoor Brothers
...
Now, we know you may be wondering which Kapoors are we talking about here. Well, it's Anil Kapoor Anil Kapoor was born on 24th December 1956 in Mumb >> Read More... , Boney Kapoor Achal Kapoor or Boney Kapoor is a very famous Indi >> Read More... , and Sanjay Kapoor Sanjay Kapoor is a Bollywood actor. He had acted a >> Read More... . Similar to the Roy-Kapoor brothers, one is into producing while the other two acted;and were quite a success too.
...
5. Kapoor Siblings
...
This time around we're talking about the legendary Kapoor brothers. Starting from Raj Kapoor Raj Kapoor was a renowned actor, director, and pro >> Read More... , the family produced an array of siblings who all joined Bollywood in their own time, and ended up being successful too. Quite a name.
6. Anupam Kher Anupam Kher is a very popular actor, director, and >> Read More... and Raju Kher Raju Kher is the younger brother of Anupam Kher an >> Read More...
...
Anupam Kher has made quite a name for himself, in Bollywood as well as Hollywood. But his brother Raju Kher is also quite the funnyman himself.
7. Malik Brothers
The next big thing in Bollywood, the Malik brothers, have taken the music industry up to a storm. Armaan Mallik and Amaal Mallik Amaal Malik (D.O.B- 16 June 1991) is a music compo >> Read More... , both work in music and composing
8. Sinha Siblings
We all know about Sonakshi Sinha Sonakshi Sinha is a well-known Indian Actress. She >> Read More... , who doesn't really need an introduction. She has a successful career in Bollywood, while her brothers produce films. Luv and Kush also tried acting as their first profession but then decided to join production instead as they couldn't hold the presence like their sister. Good choice, we must say.
9. Khanna Brothers
Sons to veteran actor Vinod Khanna Vinod Khanna, the name of the tinsel town, is alwa >> Read More... , akshaye khanna and Rahul Khanna Rahul Khanna is an Indian film actor. He is the so >> Read More... both chose to act in Bollywood, following the footsteps of their father.
10. Deol Brothers
Following the footsteps of their father Dharmendra, both brothers tried to make it big but failed mi-serably. They've made quite an impression in Bollywood and do have some successful films. They have two half-sisters from the industry. However, there seems to be an ever-present cold war be-tween them which is never publicly acknowledged.