Who doesn't want to be a kid whose parents can fulfill all their needs, unlike normal kids? The kids of the Bollywood stars are one of the luckiest because they needn't ask what they want but simply get it. Here are ten expensive gifts of the Bollywood star kids given by their parents without a second thought.  
1. Aaradhya Bachchan Aaradhya, which is apparently a Sanskrit word whic >> Read More...
...
Aradhya Bachchan is one of the luckiest kids to be born in Bachchan's family. When she turned one, her lovely daddy, Abhishek Bachchan Abhishek Bachchan, or Abhishek Srivastava, is a ve >> Read More... gifted her a red mini cooper. When she turned 4, her mom, Aishwarya Rai Bachchan Aishwarya Rai Bachchan is a popular Indian actress >> Read More... planned a very expensive birthday party. She planned to gift her daughter Audi A8. Also, the director Sanjay Gupta Sanjay Gupta is an Indian filmmaker who has even p >> Read More... gifted Aaradhya a vanity van.
2. Taimur Ali Khan Taimur Ali Khan Pataudi is the son of actors Saif >> Read More...
...
Taimur Ali Khan is the cutest son of Kareena Kapoor Khan Kareena Kapoor is a super hit actress working in I >> Read More... and . He is an apple eye of his daddy. He became famous when he was just born. Recently he turned one year old and had a big birthday blast. His parents planned an extraordinary birthday party at Pataudi's palace. They invited their family and close friends to the party. Saif gifted his cute boy a cherry jeep, whereas Kareena and her Nutritionist, Rutuja Diwekar jointly gifted a forest in the name of Taimur Ali Khan.
3. Aryan Khan Aryan Khan is the first child of the King of Roman >> Read More...
...
Aryan Khan is the eldest son of King Khan, Shah Rukh Khan Shah Rukh Khan or also known as SRK is a prominent >> Read More... . SRK showers his love to all his children. He proved his love by gifting Aryan Khan an expensive Audi A6 with special features like Hydraulic brake assist, time pressure, monitoring system, and many more.
4. Suhana Khan Daughter of the Bollywood Badshah (Shah Rukh Khan) >> Read More...
...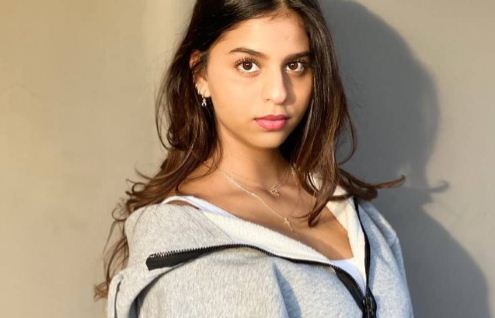 Suhana Khan is the lovely daughter of Shah Rukh Khan. She is pretty and understands her parents well. She is very good at her studies. Shah Rukh Khan loves her very much. On her birthday, SRK gifted an Audi A6 and a very expensive Bracelet.
...
5. Abram Khan
...
Abram Khan is the cutest of SRK's kids. He is camera-friendly and shows a different kind of attitude when he faces the camera. He is an apple eye of his dad and mom. SRK gifted a big treehouse on his birthday. This treehouse was designed by one and only , the National-Award winning Art Director. The Treehouse is very beautiful, and it has balconies, rooms, and stairs.
6. Viaan Raj Kundra Indian-born Viaan Raj Kundra is a dancer whose tal >> Read More...
...
Shilpa Shetty A model turned actress, producer, entrepreneur and >> Read More... is one of the best actresses in the Bollywood industry. She is married to one of the biggest businessmen in India, and she is also a businesswoman. They are blessed with a son, Viaan Kundra. Shilpa gifted him a Lamborgini on his Birthday. Bollywood stars are obsessed with giving their kids expensive cars even if they cannot drive them for a decade.
7. Adira Chopra Bio coming soon... >> Read More...
Rani Mukerji Rani Mukerji is one of the most celebrated Indian >> Read More... is one of the biggest stars in the Bollywood industry. She married Aditya Chopra Aditya Chopra is an Indian film director, scriptwr >> Read More... . They had always kept their daughter away from the limelight. Her daughter's name is Adira. When she turned 1, Rani and Aditya planned a very big Birthday party. On the birthday Rani and Aditya gifted Adira, 2 big bungalows.
8. Yash Johar The founder of Dharma Production, Yash Johar was b >> Read More... and Roohi Johar
Karan Johar Karan Johar is one among the top ten celebrities i >> Read More... has very cute twins Yash and Roohi. They are always in the limelight. On their birthday, they got a surprise gift, a very beautiful Nursery designed by Gauri Khan Born on Ocotber 8 1970, Gauri Khan (originally kno >> Read More... , King Khan's wife. Also, Javed Akhtar Javed Akhtar is an Indian poet, lyricist, film scr >> Read More... wrote an amazing poem for Yash and Roohi.
9. Trishala Dutt Trishala Dutt is an Indian Entrepreneur. She was b >> Read More...
Sanjay Dutt July 29, 1959, was the day when the two legends of >> Read More... 's elder daughter Trishala Dutt is very beautiful and quiet. Although she loves her dad, she stays with her grandparents, abroad. On her Birthday, Sanjay Dutt planned a very grand birthday and gifted his beloved Trishala an expensive imported car.
10. Misha Kapoor 
Misha Kapoor is the cute daughter of Shahid Kapoor Shahid Kapoor also identifies as the name Shahid K >> Read More... and Meera Rajput. As we all know, Shahid always keeps his personal life away from the media, so he kept his daughter away from the limelight. Both mom and dad decided to gift her a London trip on her first birthday.