We all are fond of babies no matter what color they are, whether they are a boy or girl, which caste they belong etc. We always celebrate when a new baby is born, and happiness is 2x when there are two babies simultaneously. Here are some Bollywood couples who have twin babies.
CELINA JAITLEY AND PETER HAAG
...
Celina Jaitley is an Indian Actress. She married Australian Businessman and former Hotelier Peter Haag. She gave birth to twin baby boys named Winston and Viraaj in the year 2012. They both were very happy to know that they are parents of two kids at the same time.
SANJAY DUTT AND MANAYATA DUTT
...
Sanjay Dutt July 29, 1959, was the day when the two legends of >> Read More... married three times. He has a daughter from her first marriage. Manyatta Dutt was a Muslim before she married Sanjay Dutt. They were blessed with twin children, a girl and a boy, Iqra and Shahraan.
KARAN JOHAR
...
Karan Johar Karan Johar is one among the top ten celebrities i >> Read More... is a popular director, producer cum actor in the Bollywood industry. He didn't marry anyone. But he was fond of children and wanted to get them of his own. So, he opted for surrogacy and surprisingly he had twins, a girl and a boy, Roohi and Yash.
FARAH KHAN AND SHIRISH KUNDER
...
Farah Khan Farah Khan is an Indian film actress, producer, di >> Read More... has faced a lot of problems in her past life. She is a self-taught dancer. To earn money, she used to choreograph dances for Bollywood songs. She became successful and thought of marrying and settling her life. She married Shirish Kunder Shirish Kunder is an Indian Film producer, directo >> Read More... . They gave birth to Triplet: Two daughters and one son.
...
SUNNY LEONE AND DANIEL WEBER
...
Sunny Leone Sunny Leone, a famous porn star, has recently ente >> Read More... married Daniel Weber Daniel Weber was born on 20th October 1978 in New >> Read More... . They decided to adopt their first child Nisha Weber. Later on, they were very much proud to have twin babies, a boy and a girl, Asher Singh and Noah Singh. These twins were born in surrogacy.
KARANVIR BOHRA AND TEEJAY SIDHU
...
Teejay Sidhu Teejay Sidhu is one of the popular television actr >> Read More... is a Canadian actress. She made her debut in a Punjabi Film. Karanvir Bohra Karanvir Bohra who is a very popular Indian TV act >> Read More... is a popular face of the Bollywood industry. Karanvir Bohra and Teejay Sidhu gave birth to beautiful twin daughters, Vienna Bohra and Raya Bohra. These kids were born after nine years of marriage. They were born in Vancouver.
HITEN TEJWANI AND GAURI PRADHAN
Hiten Tejwani Born to a Sindhi family in Mumbai on 5th March 197 >> Read More... is a Television actor and was also a Big Boss contestant. Gauri Pradhan is a former model. She has worked in Television shows. Hiten Tejwani and Gauri Pradhan were dating for two years. They decided to get married and surprisingly in 2009, this couple welcomed twin kids. The two kids are Katya and Naveen.
KRISHNA ABHISHEK AND KASHMIRA SHAH
Krishna Abhishek Krishna Abhishek is a famous Indian actor, popular >> Read More... and Karishma got married in the year 2013. they were in a long time relationship before deciding to get married. This couple got their children by surrogacy. She had 14 attempts of IVF. After all this struggle, they were blessed with twins Ryaan and Krishnaag
SAURABH RAJ JAIN AND RIDDHIMA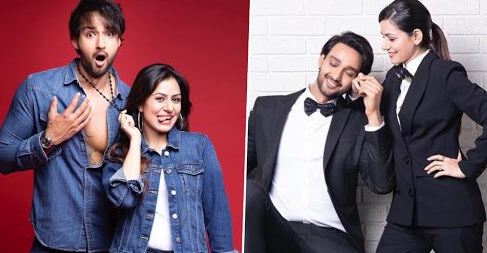 married Riddhima. They were the couples from Nach Baliye Whooping success to its credit of 145 episodes and >> Read More... season nine. Saurab is popular for his roles in shows Raddha Krishna, Mahakali - Ant Hi Aarambh hai. This couple had been dating before they got married. They are blessed with twin kids: One girl and one boy, the baby girl's name is Hrishika and the baby boy's name is Hrishivh.
SHATRUGHAN SINHA AND POONAM SINHA
Shatrughan Sinha Shatrughan sinha is a well known name of the Hindi >> Read More... is one of the most popular heroes of the Bollywood industry. Shatrugan Sinha and Poonam Sinha Poonam Sinha is an eminent Indian actress born in >> Read More... have twin sons. Luv Sinha Luv Sinha was born on 5th of June 1983 in Patna, a >> Read More... and Khush Sinha, along with a daughter, Sonakshi Sinha Sonakshi Sinha is a well-known Indian Actress. She >> Read More... . Sonakshi is popular in Bollywood.