Padma Shri award is about "distinguished contribution in various activities, including the domain of  industry, arts, literature, education,  acting, social service, science, and public affairs." It is India's fourth highest civilian honor after the Bharat Ratna, the Padma Vibhushan, and the Padma Bhushan. There are few celebrities on the list of this most tributed award for their magnificent work in their respective field to achieve it. So, check out the top 10 stars who have received Padma Shri awards.
Vidya Balan won the Padma Shri award in 2014 at the hand of India's former president Pranab Mukherjee Bio coming soon... >> Read More... . The same year, she received a national film award for her stunning work in Ekta Kapoor's The Dirty Picture Click to look into! >> Read More... . She has reviewed it for her lifetime performance with an exquisite talent for acting and a spectacular capacity to emote, whether playing the part of a nouveau riche housewife or an average middle-class woman.
...
2. Sridevi
Sridevi has been known for over three decades; often called Hindi cinema's first female superstar, she ruled the industry with an iron hand. She had a successful career as a dancer before turning to act in 1976 and her contribution to Indian cinema. The award was presented to her in 2013 by former president Pranab Mukherjee.
In April 2010, Shah Rukh Khan was named Padma Shri for his contribution to Indian cinema. After that, he also got Padma Bhushan (2012) for contributing to society. And recently, he also has been conferred with the Legion of Honour (France's famous award) and became one of two non-European actors to be invited to membership in the Motion Picture Arts and Sciences academy.
...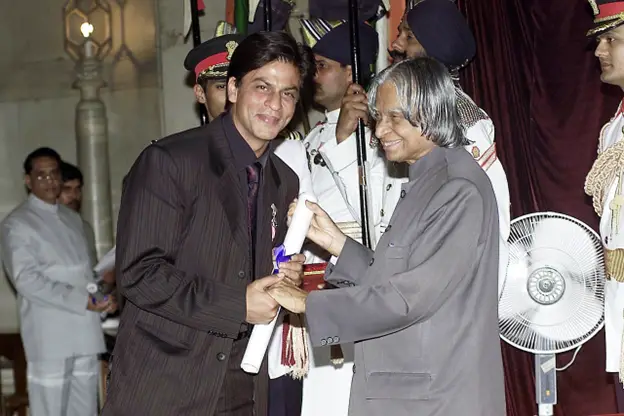 4. Irfan Khan
Fifty-three-year-old late Irfan Khan, who is popularly known for his work in films like Siddharth, Iqbal, and Jab Tak Hai Jaan, has been awarded Padma Shri through the hands of former president . Because of his versatile and flexible nature throughout his career.
...
Aamir Khan received this prestigious award for his achievements in various fields, such as films, television, and radio, and his service towards social work and welfare through his movies. He received the Padma Shri Award in 2003, and later in 2010, he received Padma Bhushan.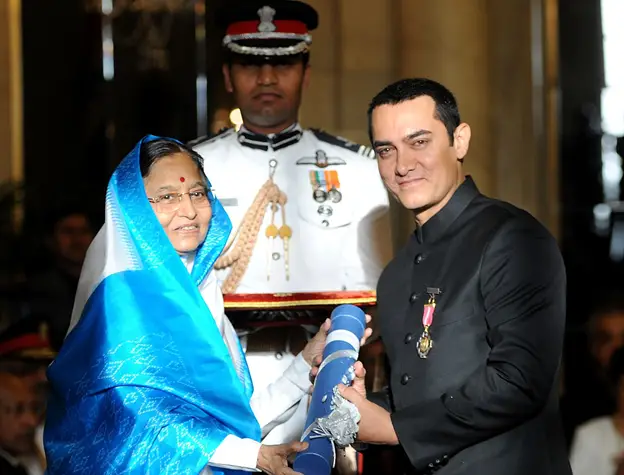 ...
6. Amitabh Bachchan
The actor Amitabh Bachchan has a career of over five decades and received the honor for his contribution to Indian cinema and public affairs. Apart from Padma, Shri (1984) is the only person in the film industry who has been awarded Padma Bhushan(2001) and Padma Vibhushan (2015) as well.
...
Aishwarya Rai Bachchan is an Indian celebrity, a beauty queen, and one of the most successful female Bollywood actresses. She also has been in 1994 Miss World. The Padma Shri award was given to her as a contribution to the field of arts as she was a former model and actress who starred in multiple films since her debut film Iruvar (1997).
...
Madhuri Dixit has been an embodiment of grace and beauty on screen. Since her film debut in 1980 till now, Dixit has created some legendary moments for all Indian hearts. She received Padma Shri in 2008 at the hands of Pratibha Patil.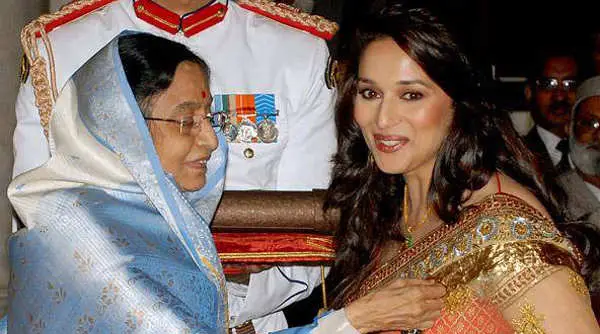 ...
9. Rekha
Rekha's excellence and contributions to Indian cinema over almost five decades have been pivotal in her being conferred with the prestigious award by the Government of India. She received Padma Shri in 2010.
Paresh Rawal received the Padma Shri award in the year 2014. The actor has been part of many extraordinary films of all time. He has even received a national film award as best supporting actor in movies named Woh Chokri and Sir.