The highest civilian award by the  Indian government is Bharat Ratna Award. It is a national honor awarded to individuals who have made "enormous service" to the nation, irrespective of their field, with significant contributions to society. President Rajendra Prasad first instituted the award on 24 January 1954 to create a legacy for freedom fighters. A total of 48 individuals have received the award. So let's check which top celebrities received it.
Sachin Tendulkar received the Bharat Ratna Award in Mumbai, India, in 2014. Sachin is a cricketer who has won 24 global and world records. He has been playing cricket for twenty-seven years now. He got Bharat Ratna for his contribution to cricket and society at large. Then President Pranab Mukherjee presented the honor. He is also known as "Little Master."
...
Ravi Shankar got the Bharat Ratna award because he was one of India's foremost musicians, gurus, and philanthropists. Shankar wrote about various approaches to meditation and his experiences with Sri Chinmoy. He also composed more than 50 albums of Indian classical music and pioneered popular Indian instrumentation worldwide. The Beatles also invited him to their 1967 Shea Stadium concert.
Bhupen Hazarika, known to the world as a great singer and composer of the Assamese folk song "Tum Hi Ho Bole Tum," was honored with the Bharat Ratna. At eight, he started learning music from his maternal uncle, Bhaskardan Das. After two years of training, he formed his dance troupe in 1949 and toured Guwahati and Imphal for performances. And so dues to his immense hard work in this field, He received the highest civilian award in the year 2019.
...
Bismillah Khan died in 2006. He was the best shehnai player of all time, born into a family of players from the 10th century. India awarded him The Bharat Ratna award posthumously on his 111th birth anniversary. He was also an inheritor and interpreter of Hindustani classical music, reflecting India's syncretic culture.
...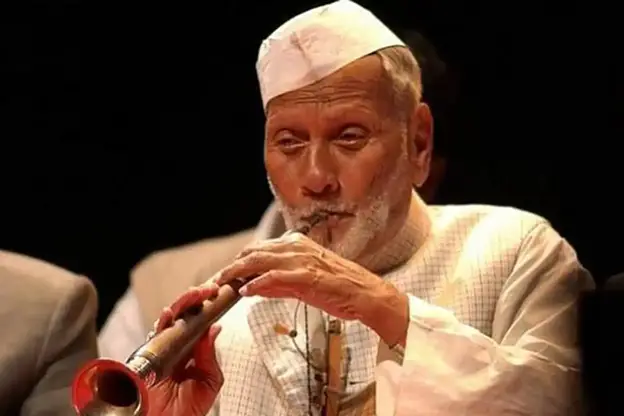 Lata Mangeshkar, one of the foremost performing playback singers of Indian cinema, was awarded the prestigious Bharat Ratna award in 2001. In 1968, she had also been awarded an honorary Padma Bhushan award in 1969, followed by Padma Vibhushan in 1999.
...
6. M. G. Ramachandran
M.G.R., or Maruthur Gopalan Ramachandran, was an Indian politician and actor. Born to a Tamil family in Madras (now Chennai), MGR achieved prominence as an actor in his youth. In the 1950s, he established himself as an action film star with films such as "Mathilakam" (1954) and " Chandralekha Click to look into! >> Read More... " (1955). After this success, he turned to politics. For his dedicated contribution in both fields, he received the Bharat Ratna Award in 1988 after his death.
...
7. M. S. Subbulakshmi
M. S. Subbulakshmi was among the best playback singers of all time and arguably the first superstar to emerge from India's classical music tradition, which was once considered second only to Hindustani classical music in terms of reputation and quality. She received the Bharat Ratna Award in the year 1998.
...
8. C. Rajagopalachari
C. Rajagopalachari, the man who founded Dravidian politics and coined the term Dravidianism, was awarded this prestigious honor by Indira Gandhi for his contributions towards national unity and promoting multilingualism in Indian culture. His contribution as a writer to society was by writing a Tamil re-telling version of the Sanskrit epic Ramayana which later appeared in the form of a serial in  Kalki (Tamil magazine).
...
People worldwide have acknowledged his extraordinary music, art, and cultural contributions. His spiritual influence has inspired millions around the globe. Chinmoy Lahiri got the Bharat Ratna Award in year 2008. A few of his fantastic gift to the industry includes the Bandish and its creation, Ragas.
Satyajit Ray got the Bharat Ratna Award in 1997. He was awarded India's highest civilian honor for his contributions to Indian cinema. He is known for films like Pather Panchali, Aparajito, and the Apu trilogy. Satyajit Ray has made a few stunning movies, including Devi, Shatranj Ke Khilari, and Mahanagar, as it has an inspiring storyline and definite characters.