Struggling actors try hard to get a job and when they do, they don't always get the best role. Here are top ten actors who first appeared in horror films and are now one of the most famous faces in Hollywood.
1. Julianne Moore She demonstrated wide range of ability to portray >> Read More...
In 1990, Julianne Moore was part of the cast of the film 'Tales from the Darkside: The Movie.' The story of the film is that a student tries to use a mummy to teach his classmates a lesson. Julianne Moore was one of the classmates. Though she made small appearances on TV in the 1980's, this movie was Julianne's debut into cinema.
...
2. Demi Moore From utmost paid actress to social rights activist >> Read More...
Demi Moore appeared in the film called 'Parasite' which released in 1982. It was 3D science fiction and horror film. The film shows a dystopian world where the government makes parasites which kill the humans. Demi Moore plays the role of a girl who helps the main lead to saving the people from the parasites. After this film, Demi got many roles in the film industry.
...
3. Julia Louis Dreyfus
...
From 1982 to 1985, Julia Louis-Dreyfus was part of the show ' Saturday Night Live Saturday Night Live or popularly called as NBC&#39 >> Read More... ', where she played different roles. Later, she left the show and wanted to be a part of the big silver screen. Her first debut was in the movie called 'Troll' which released in 1986. Though the film fared poorly at the box office, Julia's character in the film was liked by many as she also showed a comic side in the film while she was possessed.
4. Jack Black Jack Black whose full name is Thomas Jacob Black w >> Read More...
...
Jack Black had played many small roles in the early 90's, but this is the movie from where everyone started recognizing him. 'I Still Know What You Did Last Summer' was a film that released in 1998, where Jack played a role of an over-enthusiastic stoner. Even though it was a horror film, Jack made it funny.
...
5. Mila Kunis Mila Kunis was born in Chernivtsi, Ukraine in a re >> Read More...
Everyone remembers Mila Kunis as Jackie from 'That 70's show,' which was her breakout role, but Mila has been appearing on the big screen since she was a kid. When Mila was 12-years-old, her debut film was 'Prianha' which released in 1995. This film was a remake of the one in 1978 which had the same name. Mila Kunis' role was liked by many people.
...
6. Amy Adams Amy Lou Adams was born on August 20, 1974 in Vince >> Read More...
...
Amy Adams played the character of Marvel Ann in the film 'Psycho Beach Party' which was released in 2000. Her character was sassy, punk and self-righteous. This film tested Amy's acting skills. There was an embarrassing scene where she has to breakup with her boyfriend. After this film, Amy got to be a part of many films.
7.
In 1991, when 'Critters 3' released it was Leonardo's debut film. Critters were a horror series film. Leo isn't very fond of this film, and neither are the viewers. But after this film, Leonardo branched out to many different films and is now, one of the most popular actors in the whole wide world.
8.
One blink and you would miss him playing a role in the film, 'Return to Horror High.' This film released in 1987, George had a very small on screen time. He played the role of a dumb cop. Clooney though had a small role then; he surely has big roles now. He's acting is adored by many.
9. Jennifer Aniston She became a household name in 1994 as she appeare >> Read More...
For an actress who was just starting out, Jennifer Aniston carried out her role very well in the movie 'Leprechaun.' Her acting within the film carried the movie up. She also proved that she could be a scream queen. Though the actress appeared in many films, she didn't appear in any other horror films. Maybe it was for the best.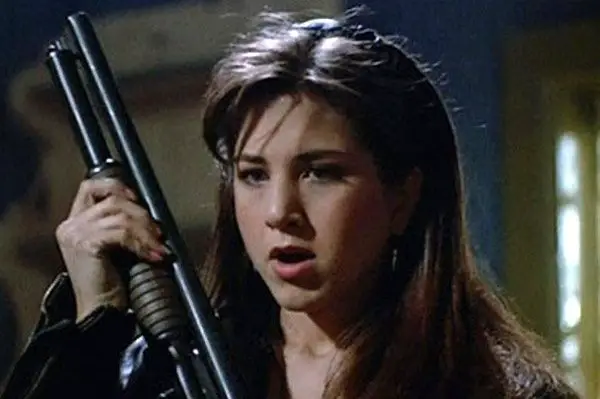 10.
'A Night on Elm Street' released on 1984 and unlike the other films in the above list this movie was a huge hit. Johnny Depp was part of this film where he fought with Freddy Krueger, who was killing them. This was Johnny Depp's debut film. He played the protagonist's boyfriend. He pulled off the role pretty well and is now a big star in Hollywood.