There are several perks of having a camera at the right place and right moment. Trust me; it can yield extremely delicious hilarious results. Celebs are always under the limelight, focused on them. But they are human beings too; they are allowed to make mistakes, and should be forgiven for the same. Photo faux-pas moments are quite common with millions of cameras hovering over their heads every day. Sad thing, for them, is that they get paparazzi-ed and have memes made and photos spread all over the world. Might be embarrassing and insulting for them but they are worth a good laugh. Here's a compilation of the weirdest badly timed photos of our renowned celebrities. No offense meant! Just for laughs!
1.Did he do that, really? No, his fans definitely do not think so. This post went so viral that Justin Bieber's fan page had to come up with a post specifically mentioning that Bieber did not grab this fan's breasts. OOPS! That must be embarrassing. Kudos to the photographer, we must say that man has such precision and perfect timing. Sorry Justin Bieber, we can't help but have a good laugh looking at this.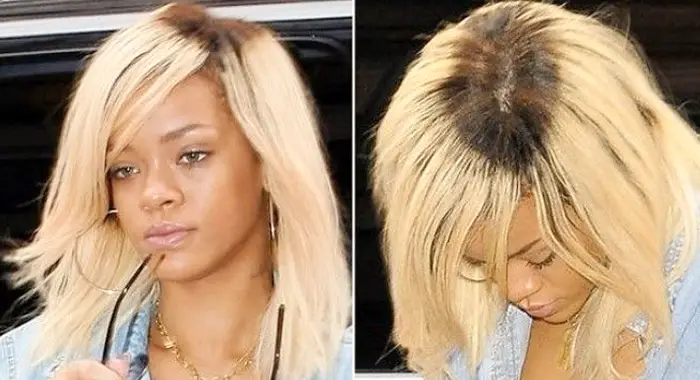 2. Rihanna, a bad hair day is one thing but having a patchy weave is something the paparazzi will never let you forget. What was she thinking when she put this photo up on the World Wide Web? Even Instragram filters could not fix it. Sad. Our condolences.
3.Selena is still a little girl when it comes to cupcakes, I guess. Looks like she is not going to go easy on them. She is not even worried about her make-up. That's fascinating, indeed. We thank her for posing so wonderfully even at this time when all that matters to her are the cupcakes that are stacked right in front of her.
4.  The paparazzi never need to worry about catching Kim off guard. She takes care of it herself. Her crazy pictures are all over the internet, we don't need to look for them, they are visible every now and then. This picture is from her reality TV show "Keeping Up With The Kardashians." This went viral as a meme all over social media. We won't leave you alone even in your distress, Eh? That's what she might be thinking after this.
5. Having a great time Oliver Touchy Feely Stone? What is this man trying to do? Salma doesn't seem too comfortable, though. Crying for help, is she? Or do her expressions say something else? She might be thinking, let me just pose and act normal. But no one's listening; we are busy clicking a controversial picture. Thank you for being so considerate.
6.Beyonce, the Queen Bee seems to have forgotten that being a queen has its obligations and certain grace and etiquette to be followed. She has definitely missed that part here. Save the excitement for the stage Beyonce, not here. We feel extremely sorry for her but not so much because she just gave the paparazzi a reason to go Click! Click!
7.What is he trying to do exactly? We could not make out from this awfully badly timed photo. I guess he was just thinking how to answer that tricky question the journalist asked him, or was he just digging up for gold? Let's not crack our brains for this, no doubt; he is hot, always even in this picture.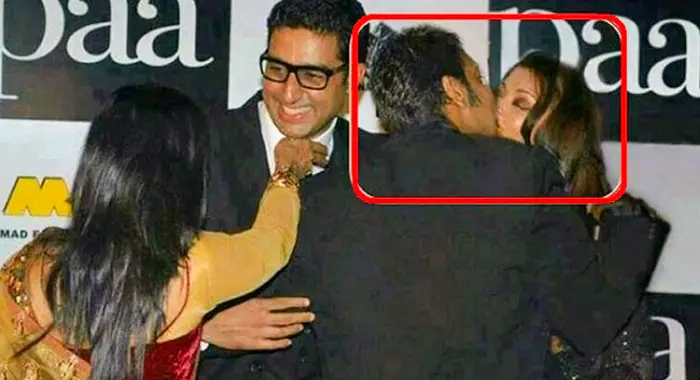 8.
Ajay Devgan
making the most out of his one opportunity and AB Jr. is not even watching. Will Aishwarya be happy about this? Let's not get into that. Where is Kajol? Has she seen this yet? What is she going to tell her kids if they come across this, what if they ask, 'papa kya kar rahein hai?'
9.
Bradley Cooper
checking out Jennifer's silver-lined playbook quite intensely.
Whoa! Cooper, we know you can't help but look at those. He is not even aware of his surroundings. We are sorry that we really can't help but take that picture! It's priceless. But, nevertheless they both look gorgeous together. Nobody can deny that.
10. Kamal R Khan has the reputation of being at the wrong time in a wrong place and doing something weird. But this time he is exactly in there where he should be, doing what seems to be quite enjoyable. Doesn't his grin say it all?
He has always been in the news for shouting out not-so-sensible comments at random people in the industry. The paparazzi sure has reasons to follow what he's been doing.
11. Mr Perfectionist searching for perfection, in the most perfect lady of all times!
What can we say about
Rakhi Sawant
? So far that her reputation goes, she can have Mr. Khan blamed for molesting her in public. It's better if we do not get there. But, Mr. Khan, we expected you to act a little more sensible. Is that too much to ask for? We guess so, from what is evident in this picture.
12. We all are in love with Katy's perfect figure and assets. Ellen is not an exception, and she doesn't seem to have any intention of hiding her awe. Katy seems to be enjoying all the attention here. The other one is busy laughing and maybe imagining, but we do not know what.
13. The angry young man has settled down. Romance is the 'thing' now. Big B does not shy away from the upcoming trends, when he can be at the top, being the 'Shahenshah' in this field too. We love him for whatever he does. But, who is that man in the middle? He must be enjoying this or is he squeezed among the love birds and is irritated? Sadly, we can't make that out from the picture.
14.
Huma Qureshi
may cause, what looks like, a sibling rivalry. Salman Bhai and his bhai Sohail has eyes glued to Ms. Qureshi's dearie. Fevicol ka mazboot jor hai, tootega nahi! Huma is not even aware of that fact. We wish you luck Huma, choose wisely.
15.
Anu Malik
has always been an 'anubhavi' man. But this photograph stretched those emotions too far. Getting too cozy with
Anil Kapoor
? Shakti Kapoor's expressions – 'Bhala maine kya jurm kiya ki mujhe pyar nahi mila?' We know Shakti ji it is really heart breaking to be standing there waiting for your turn. Better luck next time!
16. She has had her share at entertaining the world. Now she lets her expressions speak – just her expressions! Miss World Shilpa Shetty at her best! Constipation, Eh? We sympathize with you. Or is that a baby bump that you are trying to hide? Don't you worry we will get the good news first, anyway.
17. Gods by profession (literally). Humble to the goddess. Scarlet Johansson is the goddess of hypnotizing beauty after all, at least her ass is. Her hips don't lie. Also the badASS she is, is evident in her movies and that's what lures these men so much that they cannot take their eyes off Scar Jo.
18. Gorgeous Vani Kapoor slipped, a bit too low and paparazzi did not miss the chance. Handling a saree is not at all an easy task; one must learn to manage it well before wearing it to award shows or events. Vani, learn to hold it tight girl. This young lady has to go a long way to make her mark in Bollywood and understand what it means to have a wardrobe malfunction as this and how much it can cost her image.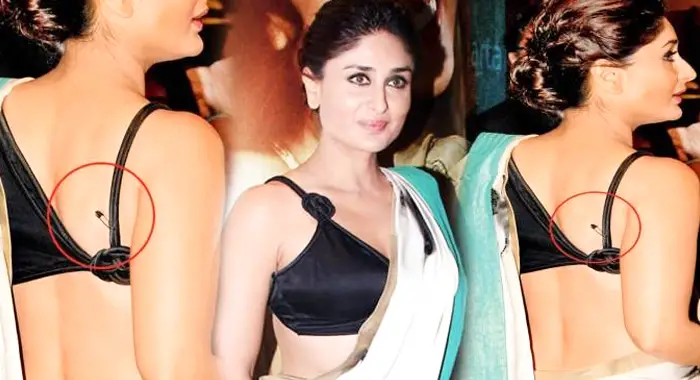 19. It shows when you get busy with your family life. Even celebrities forget simple things, like removing the safety pin, Kareena? Wardrobe malfunction has always been an over-hyped phenomenon in a celebrity's life. But, surely, this was not expected of you Bebo! Aankhir aap Pataudi Khandan ki bahu ho!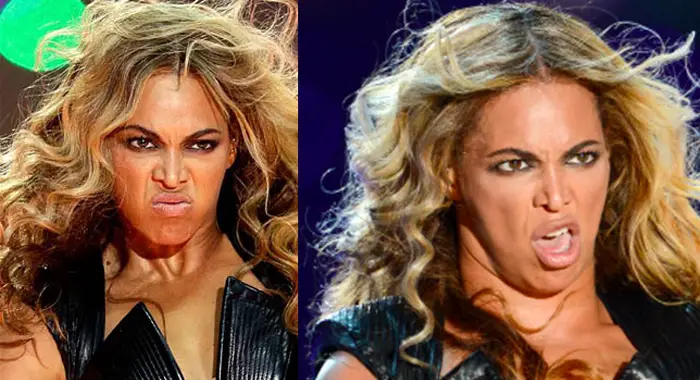 20. Is that a man? Is that? No, you wouldn't have possibly guessed it right. It is BEYONCE, the luscious LADY! This was clicked at a live concert, and we bet she could not see herself, and thus, this fate. But, when she would have looked at this picture, she would have fainted. Nonetheless people out there enjoyed it and of course the paparazzi had a gala time.
From the list above it is evident that not just the Hollywood stars get clicked at their worst, our very own Bollywood stars face the same music in the hands of the paparazzi when it comes to compromising situations like these.
Everyone is not Barney Stinson, so it is not possible to look your best every time you are being captured, no matter how awkwardly you pose. These badly-timed photographs are the price our superstars have to pay for the limelight they enjoy. Some like
Poonam Pandey
and Rakhi Sawant live off the fame or publicity from these somewhat embarrassing photos. It's not uncommon for some starlets to purposefully get photographed in a compromising situation like these.