The Top Gun actor, Tom Cruise One of Hollywood's best; Built his name in enterta >> Read More... is one of the most known actors all over the world. He topped the Forbes annual Celebrity list not once but twice. From the cartoon character ' Aladdin Aladdin - Jaanbaaz Ek Jalwe Anek brings to you the >> Read More... ' modeled after him to his own holiday 'Tom Cruise Day', here are ten lesser-known facts about this 'Oblivion' star:
1. Tom's full name is Thomas Cruise Mapother. Man of Irish, German and English ancestry, Tom is the brother of three sisters. The actor was brought up in a Catholic manner and had a hard childhood because of poverty. The hunk was self-confessed that his dad was a bully and a coward.
2. Each of the wives of Cruise is 11 years younger than the previous one. Mimi Rogers Mimi Rogers is a film actress and also a TV serial >> Read More... was born in 1956, Nicole Kidman Pronounced as one of the sexiest women alive and a >> Read More... in 1967 and Katie Homes in 1978. Also, each of his wives has been taller than this five ft. 7 Inches tall man.
3. Cruise wasn't always interested in becoming an actor. He had plans of becoming a Catholic priest.
4. This hot man bought his first bike at the age of 12, that too from his savings. Hardworking lad, he always was!
5. In 1966, Tom found a woman hit by a car. He immediately took her to the hospital and when he came to know that the woman did not have an insurance policy, he paid her $7000 for her emergency room bill. The woman was none other but aspiring Brazilian actress, Heloisa Vinhas.
6. This cute looking guy was a wrestler in his school days. It was only after a knee injury that Tom was compelled to join the drama group 'Boys and Dolls'.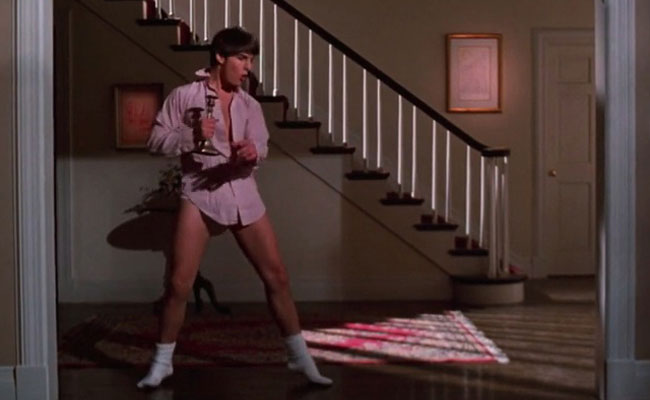 7. One of the iconic scenes in the film 'Risky Business' was improvised by this versatile actor himself. In the scene, he dances around the house in his underwear.
8. Well, there is no action figure of this action hero in any of the video games. This is because the actor doesn't want any similarity of his characters to be used in any such games.
9. Tom long time back suffered from dyslexia and believed it was Scientology which cured him. Scientology was introduced to Tom by his first wife, Mimi Rogers. However, there were also rumors that the actor wishes to break free from Scientology, so that his adored daughter, Suri spends her childhood in peace.
10. The actor received his pilot license in 1994. It was given as a bate to Tom by director Sydney Pollack. Tom owns P-51 Mustang.