Tollywood always surprises with their movies, also with the remakes. Here is the list of the Top 10 best remakes in Tollywood.
1.  Shankar Dada M.B.B.S.:
In 2004 Jayanth C. Paranjee's comedy-drama Shankar Dada M.B.B.S. was released in India. Chiranjeevi, Sonali Bendre Sonali Bendre, the epitome of beauty and grace was >> Read More... , Srikanth, Girish Karnad Born on 19th May 1938, Girish Raghunath Karnad is >> Read More... , and Paresh Rawal The Padma Shri award winner who shot to fame with >> Read More... feature in this Hindi version of the 2003 film Munna Bhai M.B.B.S. It earned favourable reviews and had a good run of 100 days at the box office.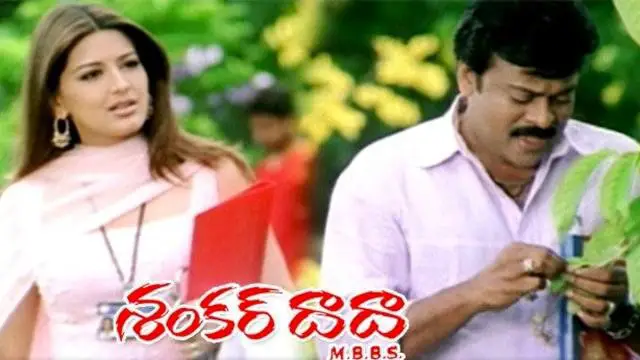 ...
2.  Eenadu:
In the film A Wednesday, Naseeruddin Shah Naseeruddin Shah is an experimental actor and asso >> Read More... plays a regular guy who goes to incredible measures to try and murder the terrorists responsible for the 2006 Mumbai attacks. Anupam Kher Anupam Kher is a very popular actor, director, and >> Read More... plays the police officer who must cope with the issue. Kamal Hassan plays the common guy in the Telugu version of the movie, while Venkatesh Daggubati One of the most talented face in Telugu film indus >> Read More... plays the officer. It succeeds in capturing the mood of its inspiration while delivering performances that are just as unforgettable.
3.  Billa:
Billa, starring Prabhas, Anushka, Krishnam Raju Uppalapati Venkata Krishnam Raju is a Telugu film >> Read More... , and Namitha, is a perfect match for the original. The ensemble expertly captures the look and swagger of Billa and his crew. It is a remake of one of the most recognisable action thrillers in Hindi cinema, Don.
...
4.  Teen Maar:
The movie Teen Maar, starring Pawan Kalyan Pawan needs no introduction to South Indian people >> Read More... and Trisha, makes a serious effort to capture the charm of its inspiration( Love Aaj Kal Click to look into! >> Read More... ). Despite a few adjustments to accommodate Pawan Kalyan's star image and Telugu consumers' mass sensitivities, the movie is nonetheless an enjoyable watch and hits the correct notes.
...
The official Dabangg adaptation, starring Pawan Kalyan and Shruthi Haasan, is titled Gabbar Singh. By including stylised nods to Pawan Kalyan's recognisable themes and drama that are appropriate for Telugu audiences, this Hindi remake transformed into a unique rendition for the Telugu audience. Devi Sri Prasad's music became a tremendous sensation, and most of the songs are still well-liked today.
...
6.  Anaamika:
Sekhar Kammula Sekhar Kammula or Kumar Sekhar Kammula is a direct >> Read More... 's Telugu adaptation of the Kahaani film, Anaamika, starred Nayanthara. It was surprising to see Sekhar Kammula take on the task of reproducing a thriller, as he was previously renowned for his feel-good movies. However, the final product was a well-rounded movie that made significant alterations to the original. Without lessening the effect of the original, Anaamika keeps the essential elements of Kahaani while going on a novel tangential route.
...
Gopala Gopala, starring Pawan Kalyan as Gopala Govinda Hari and Venkatesh Daggubati as Gopala Rao, is a remake of the movie OMG-Oh My God! (who is Lord Krishna). With a blend of humour and helplessness, Venkatesh portrays Gopala Rao with the utmost sincerity. Pawan Kalyan is also well-suited for the part of the enigmatic "consultant" assisting Gopala Rao in winning his case. The movie lives up to the original and is entertaining to see.
...
8.  Bodyguard:
The romantic comedy action movie Bodyguard, which was released in 2012 in India's Telugu language, was produced by Bellamkonda Suresh Bellamkonda Suresh is a very well know producer wh >> Read More... under the Sri Sai Ganesh Productions label and was helmed by Gopichand Malineni Gopichand Malineni is a Tollywood (Telugu industry >> Read More... . With music by S. Thaman, the movie features Venkatesh and Trisha. It is a remake of the identically named 2010 Malayalam film.
...
9.  Drushyam:
A 2014 Indian Telugu thriller Drushyam, produced by Rajkumar Sethupathi Rajkumar Sethupathi is an actor and producer; he w >> Read More... and D. Suresh Babu Bio coming soon... >> Read More... and directed by Sripriya. Venkatesh, Meena, and Nadhiya play the main characters in this adaption of Jeethu Joseph's 2013 Malayalam film Drishyam.
10.  Vakeel Saab:
Venu Sriram Bio coming soon... >> Read More... wrote and directed the legal drama movie Vakeel Saab, released in 2021. A remake of the 2016 Hindi film Pink, made by , Sirish, and Boney Kapoor Achal Kapoor or Boney Kapoor is a very famous Indi >> Read More... and stars Pawan Kalyan, Anjali, Nivetha Thomas A young, pretty actress Niveda Thomas is a popular >> Read More... , Prakash Raj Prakash Raj, born on 26th of March, 1965, as Praka >> Read More... , , and Shruti Haasan Shruti Hassan is an Indian film actress born on 28 >> Read More... .