OTT platforms like Amazon Prime have some great Tollywood movies that can get you hooked. Aside from other genres, you will find some of the best Telugu thriller films on Amazon Prime. Now it is hard to select the best films from the list of movies available on the OTT platform. Therefore, we have sorted out some of the best Telugu crime thriller movies on Amazon Prime Video. The list includes Madha, Goodachari, Kapatadhaari, and more.
1. Goodachari
Goodachari is one of the best thriller Telugu films available on Amazon Prime, directed by Sashi Kiran Tikka Sashi Kiran Tikka is a new-age Indian director who >> Read More... . The film features Adivi Sesh Adivi Sesh Sunny Chandra is the full name of Adivi >> Read More... , Jagapathi Babu, and as the main characters. The film follows Gopi, who gets mixed up in a plot to kill two RAW officials and is declared a wanted criminal. He must fight to prove his innocence and look for the people responsible.
...
2. Madha
Madha is a medical thriller Telugu film featuring Mukherjee and Rahul Venkat Rahul Venkat, a detached cousin of actor cum polit >> Read More... as the main characters. It is another best Telugu thrillers directed by Srividya Basawa Srividya Basawa is an Independent filmmaker/direct >> Read More... in his directional debut and written by Prashanth Sagar Atlluri. The film revolves around Nisha, targeted by someone who seems to be in love with her.
...
3. Kapatadhaari
Kapatadhaari, starring Sumanth and Nandhita as the main cast, revolves around Gowtham, a traffic policeman. He always wanted to work on a criminal case and finally gets his chance when he finds skeletal remains and decides to investigate further. It is one the best neo-noir thriller Telugu films directed by Pradeep Krishnamoorthy Pradeep Krishnamoorthy is an Indian screenwriter a >> Read More... that you can watch on Amazon Prime.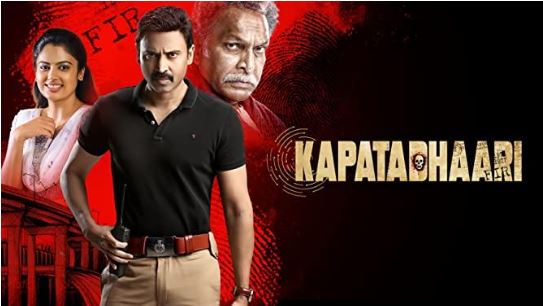 ...
4. Agent Sai Srinivasa Athreya
agent Sai Srinivasa Athreya, directed by Swaroop R. S. J, is one of the best thriller movies available on Amazon Prime. The film features Naveen Polishetty Naveen Polishetty, who is best known for his writi >> Read More... as the titular character with Shruti Sharma Shruti Sharma is a model, beauty pageant runner up >> Read More... . It is a critically acclaimed movie that received praise for cast performance, direction, screenplay, and music. The film follows a private detective whose life gets in danger while trying to solve a case of a dead body abandoned near a railway track.
5. HIT: The First Case
HIT: The First Case is an action suspense-thriller Telugu film directed and written by Sailesh Kolanu. The film features Vishwak Sen and Ruhani Sharma The supremely gorgeous and equally talented Ruhani >> Read More... as the main characters and is the first part of the HIT series. The plot revolves around a police officer who works in the homicide intervention team looking for a missing woman. However, he must overcome his tragic past to investigate the case.
...
6. Evaru
Evaru is a crime thriller Telugu film directed by Venkat Ramji Bio coming soon... >> Read More... and written by Abburi Ravi As a screenwriter for some of the best blockbuster >> Read More... . The film has Adivi Sesh, Regina Cassandra Regina Cassandra is a film actress, who is noticea >> Read More... , Naveen Chandra Naveen, also known as Naveen Chandra Reddy is a So >> Read More... , and Murali Sharma as the main characters. The movie revolves around Vikram, a corrupt cop who investigates the case of a woman killing her rapist. However, he discovers the dark secrets tied to his past while doing the investigation.
...
7. Anukokunda Oka Roju
Anukokunda Oka Roju is a neo-noir mystery-thriller Telugu film starring Jagapathi Babu, Charmy, and Shashank as the main cast. The film has received positive reviews from critics and won a Filmfare Award South and two Nandi Awards. The story follows Sahasra, who attends a party and suddenly wakes up after a day without knowing what happened. 
...
8. U-Turn
U-Turn is a supernatural thriller Telugu film featuring Samantha, Aadhi Pinisetty Aadhi is an Indian film actor born on 14 December >> Read More... , Bhumika Chawla Bhumika Chawla or Rachna Chawla is an Indian actre >> Read More... , and Rahul Ravindran Rahul Ravindran is a Tamil, Telugu and English mov >> Read More... as the main cast. The film follows Rachana, an intern journalist who investigates the death of motorists occurring on a flyover and must pin down the list of culprits. The film has received positive reviews despite poor performance at the box office.
...
9. 16- Every Detail Counts
16- Every Detail Counts is a neo-noir crime thriller film directed by Karthick Naren Karthick Naren is a film director who works predom >> Read More... and starring Rahman as the main character. It is the dubbed version of the blockbuster Tamil film Dhuruvangal Pathinaaru Click to look into! >> Read More... . The film follows Deepak, who narrates his story of a case while he was a police officer.
10. Palasa 1978
Palasa 1978 is an action thriller Telugu film starring Rakshith, Nakshatra, and Raghu Kunche Raghu Kunche is a music director and Playback Sing >> Read More... as the main cast. Directed and written by Karuna Kumar Karuna Kumar is an Indian movie director who has w >> Read More... , the film follows the incidents related to untouchability and caste discrimination set in Palasa town. The film received praise for its story, direction, screenplay, and cast performance.