Kollywood hasn't embraced the idea of sequels, trilogies, or film franchises compared to other Indian film industries. Japanil Kalyanaraman, the follow-up to Kamal Haasan's 1979 comedy Kalyanaraman, was the first Tamil sequel to be released in 1985. That is more than 40 years after Hunterwali Ki Beti, the follow-up to Hunterwali, which both starred Fearless Nadia Generally action in cinema is considered to be the >> Read More... , was released in the Hindi cinema business. However, with so many sequels coming out in the previous ten years, a lot seems to be changing. Here is a list of Tamil film sequels that we believe are the greatest.
1. Vikram
Action thriller Vikram is a 2022 Tamil-language movie written and directed by Lokesh Kanagaraj Lokesh is a famous writer and director in Tamil Fi >> Read More... . The movie is a sequel to Kaithi, which was released in 1986, and they both belong to the same Cinematic Universe (2019). The story revolves around a black-ops team led by Agent Vikram who targets Sandhanam's Vetti Vagaiyara drug cartel to return the missing narcotics to his cold-blooded boss Rolex.
...
2. Baahubali 2: The Conclusion
The director of the 2017 Indian epic action film Baahubali 2: The Conclusion is S. S. Rajamouli. The second movie in the Baahubali series serves as both a prequel and a sequel to Baahubali: The Beginning. The story takes place in medieval India, and after learning that Bhallaladeva had brutally slain his father, Mahendra Baahubali gathers an army to battle him and release his mother from jail.
3. Appa
Samuthirakani is the director of the 2016 indie drama film Appa. The movie is the second in the series and a spin-off of Saattai, which debuted in 2012. Samuthirakani and Thambi Ramaiah Thambi Ramaiah, an Indian film actor, and director >> Read More... reprise their roles from the previous movie in this one. Friendly parent Dhayalan encourages his kid to go after his ambitions. Nadunilayan has little interest in his son's destiny, whereas Singaperumal forces his viewpoint on him.
...
4. Krodham 2
Prem Menon Prem Menon is a well-known Tamil director and a pr >> Read More... is the producer, writer, and director of the 2000 thriller film Krodham 2 which was shot in Tamil. Prem Menon is the lead actor in the movie. The movie, a sequel to A. Jagannathan's 1982 film Krodham, has music by Deva and was released on September 1st, 2000.
...
Vijay Milton SD Vijay Milton is an Indian director and cinemato >> Read More... is the author and director of the 2018 Indian Tamil language action drama film Goli Soda 2. It is a sequel to Goli Soda from 2015. An athlete, a criminal, and a cab driver all strive to carve out a niche for themselves. But when misfortune intervenes, they wind up losing everything, and their fight to restore their life starts.
...
6. Chennai 600028 II
Venkat Prabhu Venkat Prabhu is a multifaceted and multitalented >> Read More... directed the 2016 comedy film Chennai 600028 II. In the movie, which is a sequel to Chennai 600028, Vaibhav plays a significant part in addition to other actors from the first movie. Raghu plays cricket with his buddies against a neighbourhood team. But the conflict between the two groups leads to several terrible occurrences in their private lives.
...
M. R. Bharathi is the author and director of the 2019 Tamil-language drama film Azhiyatha Kolangal 2. Prakash Raj Prakash Raj, born on 26th of March, 1965, as Praka >> Read More... , Revathi, and Archana play key roles in the movie. Azhiyatha Kolangal 2, formerly known as Kavingan Aakinaal Ennai (This part 2 largely capitalizes on the renown of the famous title rather than having much to do with Balu Mahendra's 1979 film).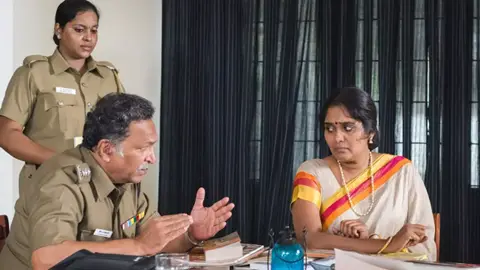 ...
8. Tamizh Padam 2: Police Athiyayam
C. S. Amudhan is the writer and director of the 2018 Indian Tamil parody film Tamizh Padam 2: Police Athiyayam. It's a follow-up to the popular Thamizh Padam (2010). The movie premiered on July 13, 2018. Shiva swears she will never re-join the police force. He changes his mind, though, and resolves to go after P, a notorious don who murdered his wife.
...
9. Thiruttu Payale 2
Susi Ganeshan Susi Ganeshan is an Indian producer, movie directo >> Read More... is the director and writer of the 2017 Tamil-language criminal thriller film Thiruttu Payale 2. A spiritual successor to his first film, Thiruttu Payale (2006), Bobby Simha The transformation of Bobby Jayasimha of remote K >> Read More... , Prasanna, and Amala Paul Amala Paul is the super talented star of South Ind >> Read More... stars as the film's main characters. A top official assigns a trustworthy police officer the responsibility of recording the phone calls of elite experts. He discovers an online psychopath while working and decides to expose him.
10. Pizza II: Villa 
A debutante named Deepan Chakravarthy Son of one of the first few playback singers in th >> Read More... wrote and directed the 2013 horror-thriller movie Pizza II: Villa in Tamil. It is the sequel of the Pizza (film series). Ashok Selvan Ashok Selvan is primarily a film actor, who has pl >> Read More... and Sanchita Shetty Sanchita Shetty was born in the Bangalore district >> Read More... play the two main characters in the movie. Released in November 2013 was the movie. In an old home, Jebin and his lover Aarthi discover several paintings that depict Jebin's destiny. When the events depicted in the paintings start to occur, trouble is sure to follow.