Movies are the medium through which readers share their feelings without telling anyone about them. Different types of movies can make us feel a range of emotions. With the new emerging technologies, when people are moving into urban cities and leaving their villages behind, Indian Audiences sometimes crave authentic village-centric movies to watch. Individuals can reconnect with their past by observing familiar village life, customs, and natural scenery they may have experienced during their childhood or that their parents may have witnessed. So let's explore some of the most popular Tamil movies that showcase Village Beauty. We are sure this article will provide you with all the information you need.
1. Thevar Magan
Thevar Magan is a 1992 movie. Written and produced by Kamal Haasan Kamal Haasan is the most versatile actor that Indi >> Read More... and directed by Bharathan. The cast of this movie includes Kamal Haasan, Revathi, and Sivaji Ganeshan. The story is about Sakthi, who returns to India after a long stay abroad to marry his girlfriend. After staying here, he found that the village was facing problems because of his father's stepbrother and nephew. After his father's death, he becomes the Village Chieftain to protect and care for his people.
2. Paruthiveeran
Two times a national film award was given, this is a romantic movie. Released in 2007, the cast of this movie involves Karthi, Priyamani, and Ponvannan. Paruthiveeran was shot in Madurai and its surroundings, showing the scenic beauty of village life. This movie is a village-centric love story where the hero is a young, carefree man who falls in love with the main lead while saving her life. They both decided to elope from the village, as their families were not happy with these two being together.
3. August 16 1947
The film stars Gautam Karthik, Jason Shah Jason Shah is an English-Indian actor. He was born >> Read More... , Pugazh, Richard Ashton, and Revathy Sharma Bio coming soon... >> Read More... in the lead roles. This is a period film that covers the brutal suppression and killing of the people of Senagadu Village by British General Robert Clive. It also showcases the unity and bravery of those who fought against British officials, which ultimately gave them independence from the clutches of Slavery.
...
4. Mariyadhai
The story takes place in a small village near Pollachi. Vijaykanth, Meena, and Meera are in the lead roles. Directed by Vikraman, this 2009 movie unfolds the story of a highly respected man, Annamalai, whose son, Raja, falls in love with a music teacher, Radha. Later, Radha manipulates Raja into giving up his property to her.
...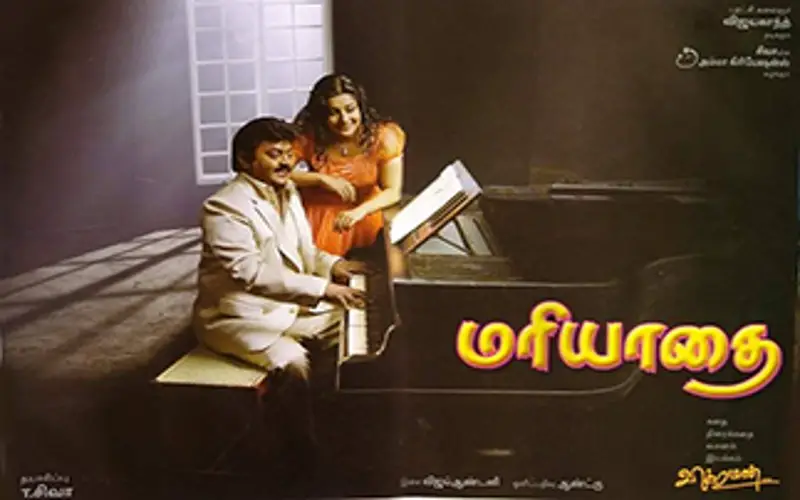 The title of this movie means "Southwest Monsoon Breeze" and is about a love story in a rural village. This 2010 Seenu Ramasamy Seenu Ramaswamy better known as Seen in the Tamil >> Read More... movie talks about a goat shepherd who falls in love with a girl who used to steal goats for her livelihood, but his mother opposes their marriage. To see what happens next, watch this movie that has Vijay Sethupati and Vasundhara Kashyap Vasundhara Kashyap is an Indian Movie Actress and >> Read More... in the lead roles.
...
6. Komban
This is a 2015 action-drama film directed by M. Muthaiah. It portrays village life, with Karthi and Lakshmi Menon Films came to Lakshmi Menon at an age when she had >> Read More... in the lead roles. The story is about a man who can't tolerate injustice, and he takes a stand if something bad happens in his village without thinking about its after-effects. If you like village-centric love stories and family feudalism, then this film is worth watching.
...
7. Poo
Directed by Sasi, this is a 2008 romantic drama film. The film was shot in a village named Kongankulam, between Rajapalayam and Sivakasi, in southern Tamil Nadu. The story includes Maari (as Parvathy Thiruvothu Parvathi is an Indian actress and dubbing artist. >> Read More... ) and how she falls in love with Thangarasu (played by Srikanth), but later on, she sacrifices her love so that her lover can marry a wealthy girl.
...
8. Karagattakaran
Directed by legendary director Gangai Amran, this is a 1989 romantic comedy. The cast includes Ramarajan, Kanaka, and Goundamani. The story is about Muthaiya, the lead dancer of the Karakattam troupe in the Village, who falls in love with Kamakshi, a female dancer. But they both cannot confess their love to each other because of their egos..
...
In 2016, a movie directed by Seenu Ramasamy and starring Vijay Sethupati and Tamannah Bhatia was released. The plot revolves around a heartbroken doctor named Dharmadurai who turns to alcohol, causing embarrassment to his family in the eyes of the villagers. However, an old friend enters his life and helps him turn things around for the better.
10. Ettupatti Rasa
Kasthuri Raja Born in Theni, a small town in Tamil Nadu in India >> Read More... was the director of this 1997 film. The Story is about Singarasu, the head of a group of villages. He always resolves every dispute that happens between the different groups. But while helping others, he forgets about his wife. This film has Urvashi, Kushboo, and Napolean in the lead roles.