1. Kamal Haasan and Shruti Haasan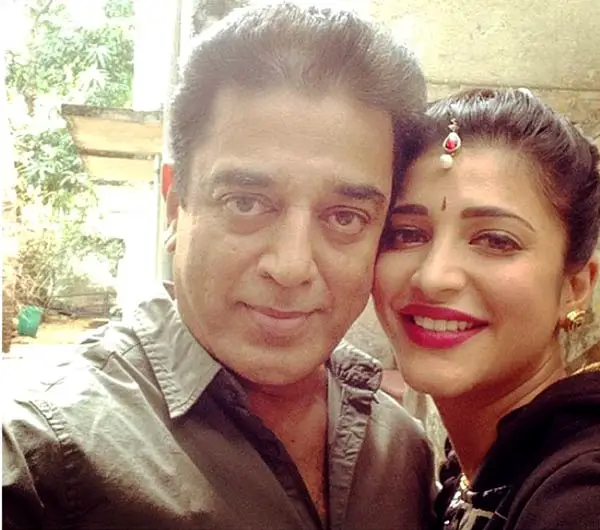 Every Indian knows Kamal Haasan, ' Nayagan' is one of the biggest superheroes in Tamil film industry. His daughter Shruti Haasan is capturing the whole South India, with her acting, singing, and modeling. She did even make her appearance in Bollywood. A perfect daughter to a perfect actor.
2. Sivaji Ganesan and ' Prabhu'
Sivaji Ganesan is the first superstar in Tamil film industry. He had created many hit films over his career and was an inspiration for many of the young actors especially his son, Prabhu. Prabhu is a fine actor, appeared in many South Indian dialects and all. But he never grew to his father's eternal glory.
3. ' Sivakumar' and Suriya Sivakumar
Sivakumar was always a character role player. He acted in many South Indian languages due to this reason. But his son Suriya is a superstar in Kollywood. Many of the new age hit films casts Suriya in the main role, showing his reputation among the people.
4. S. A. Chandrasekhar and ' Vijay'
Chandrasekhar is a well-known director in Tamil movie industry. He is a well-known writer and a producer in addition to his directional roles. But his son doesn't need an introduction in Tamil. Superstar Vijay and his father Chandrasekhar worked together in many films such as, "Pandhayam", "Sukran" etc.
5. ' Ilayaraja' and Yuvan Shankar Raja
He is the best film song composer in the industry. There are many hit songs from him, not only in Tamil but also in many other dialects. The classical king has a son, who is the modern king. Yuvan has a number of hit songs in the new era of music under his name. The father-son duo is ruling the Tamil film music industry.
6. ' Thiagarajan' and Prashanth Thyagarajan
Thiagarajan is a well known talented Tamil actor. He played many vital roles in many Tamil and Malayalam films. Most of his characters were villain roles. But his son is a frontline actor now in Tamil movie industry. He grew up as an actor after playing the main role in the film " Jeans" alongside Aishwarya Rai Bachchan.
7. Prabhu and Vikram Prabhu
From grandfather to father and now to son. The Sivaji Ganesan family doesn't stop their reign it seems. Prabhu, as already mentioned in this list, is a well-known actor who mostly plays character roles in Tamil films. His son is a rising star in Tamil movie industry and he only started his career in 2012.
8. Sivakumar and Karthik Sivakumar
Sivakumar has another son other than Suriya. If Suriya is the superstar of Tamil film industry, Karthik also known as Karthi is a prominent young actor in Tamil film industry. He also acts in Telugu movies as well.
Murali is a Tamil actor of the early times. He is not that of a superstar in Tamil Nadu but was a decent actor. His son Atharvaa is a young prodigy in the Tamil film industry nowadays. In his short career time, he has a number of hit films.
10. 'Vijayakanth' and Shanmuga Pandian
Vijayakanth is a well-known film actor of the early Tamil film industry. He is now a front line political leader. His son Shanmuga Pandian is a Tamil actor, who acted only in a few films due to his relatively recent debut into the industry.