Samantha real name is Samantha Ruth Prabhu Born on April 28 1987 Samantha is a model and actr >> Read More... , and who mainly works in both Kollywood and Tollywood Cinema Industries. While pursuing her degree, she started doing part-time work in modeling. And started her acting career in 2010 in the Telugu industry.
Here is a list of this beauty queen top 10 movies in the Tamil Cinema Industry.
An Action and Fantasy filled movie, Directed by S. S Rajamouli. A guy name Nani loves Bindu truly, but gets killed by Sudeep, who was Jealous by seeing him behind her, as he had lusted after Bindu. But Nani takes rebirth as a Fly, and takes revenge on Sudeep with the help of Bindu. This movie features Nani, Samantha and Sudeep in lead roles.
...
2. Neethanae En Ponvasantham
This movie was directed by Gautham Vasudev Menon by starred Jeeva and Samatha Ruth Prabhu in lead roles. An under Music Composition of the Maestro Ilayaraja, released in 2012. Two of the Childhood friends fall in love with each other, but different choices of careers left them apart. Years later, the guy meets her and tries to win her heart back again.
3. Kaththi
An Action Drama filled movie Starring Ilayathalapthy Vijay and Samantha Ruth Prabhu in lead roles, Directed by A R Murugadoss. Music was composed by the Rockstar Anirudh Ravichandar and was released in 2014. A prisoner named Kathiresan elopes and accidentally meets a twin guy (Jeeva) who looks like him. To save himself, he pretended to be like Jeeva, but it turned him into a crusader.
...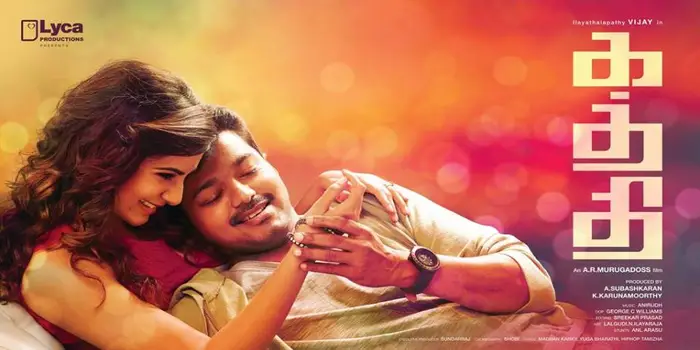 4. Anjaan
An Action Thriller film filled with lots of twists, Starring Surya, and Samantha in lead roles, directed by N. Linguswamy, released in 2014. The story was about a guy who reaches Mumbai in search of his missing brother, and later he finds out that his brother was a dangerous gangster named Raju Bhai. Then comes the real twist when he meets his brother's enemies in personal.
...
5. Thangamagan
A Tamil Romantic Drama movie released in 2015, Starring Dhanush, , and Samantha. In Music Direction of Anirudh Ravichandar. A guy enjoying his life to the fullest until his father commits suicide, which turns his life upside down. So he finds the reason why his father killed himself and finds the people involved in it.
...
6. 10 Endrathukulla
A Romantic Action Film Directed by Vijay Milton SD Vijay Milton is an Indian director and cinemato >> Read More... , with Music Composer D. Imman, Cast Starring Chiyaan Vikram, Samantha Ruth Prabhu in lead roles. A guy who is a driving instructor, he is given a task to take a girl from Chennai to Mussoorie. As he falls in love while traveling with her, he tries to save her after knowing the truth of the task.
...
7. 24
A proper Sci-Fi based filled with Action Thriller flims Directed by Vikram Kumar Bio coming soon... >> Read More... , Casting Suriya, Samantha Ruth Prabhu, and Nithya Menon in lead roles by 2016. A Scientist Invents a time traveller to watch, but with lousy intention, his twin brother kills his brother's family to hold on to it. Years later, another battle starts between the scientist's son and his evil uncle, who was searching for that time travelling watch.
...
8. Theri
An Action Thriller based film Directed by Atlee Kumar Atlee Kumar is a movie director and screenwriter f >> Read More... and released in 2016, Starring Ilayathalapthy Vijay, Samantha, Baby Nanika, and Amy Jackson in lead roles. In Music Direction of G V Prakash Kumar. A DCP Police officer hides his identity to bring up his daughter safely. Somehow they get caught by their past enemies, so he decides to return in the same form by not showing his identity and saving his daughter.
...
9. Mersal
An Action Romance filled movie Starring Ilayathalapthy Vijay, Samantha Ruth Prabhu, Kajal Aggarwal Kajal Aggarwal is a modern Indian model and film a >> Read More... , and Nithya Menon in lead roles. The movie was Directed by Atlee Kumar under the music composition of A R Rahman, released in 2017. This story is based on two non-identical twin brothers. From which one was Dr. Maaran, who was arrested falsely for a murder that was not done by him. Later he discovers that the real culprit was his twin brother, who aimed was to clear the corruption in the medical industry.
10. Nadigaiyar Thilagam
A biography Film of Late actress Savitri, directed by Nag Ashwin Nag Ashwin is a director/assistant director/ produ >> Read More... released in 2018. Actress Savitri was a well-known actress in South Indian Cinema who went through tragic incidents in her personal life. The movie cast Keerty Suresh as Savitri, Dulqer Salman as Gemini Ganesan Born in 1920, Gemini Ganesan, originally known as >> Read More... , and Reporters as Samantha Ruth Prabhu and Vijay Devarakonda. Meanwhile, the reporter characters fell in love with each other while researching Savitri's Real life story.
Thus, above-mentioned movies are just a blink of Samantha Ruth Prabhu's career in the Kollywood Cinema Industry. But there are also many more films in other languages in which she rocks and shines. And also now, she is going to give make a debut in Bollywood Cinema Industry.