A versatile performer, Vikram never restricted himself and delivered different performances in every movie he does. Vikram strives to please his fans in a supporting role or as in a lead role. He is creating milestones in his career and is celebrated by the audience. Here is a list of the top 10 avatars of Vikram.
1. Love in Iru Mugan Click to look into! >> Read More...
...
People were dumb-struck witnessing Vikram's role in 'Iru Mugan'. He played a dual role in the movie and his performance was close to perfection. One was a negative role and the other of an ex-agent.
​2. Lingesan in I Click to look into! >> Read More...
...
The movie revolves around a professional model who is nudged into injecting himself with an 'I' virus. He develops a hunchback as a side-effect of the injection and plots a revenge against the people who force him to take the injection. Vikram is a perfectionist and he worked hard off-camera to perfectly portray this role. He had to take up several physical health-trainings to exhibit this role.
3. Krishna in Deiva Thirumagal
...
A disabled father passionately loves his little daughter and fights for her custody. This performance by Vikram was quite rare in the Tamil film industry which left the audience in tears.
​4. Chithan in Pithamagan
...
A man spends all his time around a graveyard as he is raised by the caretaker of the graveyard. Being detached from the outside world, he is unaware of the situations in real life. He meets a  drug dealer who enrolls him into the service to earn money. The audience was mesmerized by Vikram's work and performance in this movie.
...
5. Sethu in Sethu
...
Vikram's acting in this movie left the audience stunned. Vikram is a handsome college guy who loses hs mind after an attack by rowdies. Vikram's transformation from the beginning of the movie to the end is commendable. The movie is a roller coaster ride of emotions.
6. Saamy in Saamy
...
Every famous South Indian gets to act as a policeman atleast once so did Vikram. His role and his dialogue "Na police illa Porikki" gained him some more fame.
​7. Ramanujam/Anniyan/Remo in Anniyan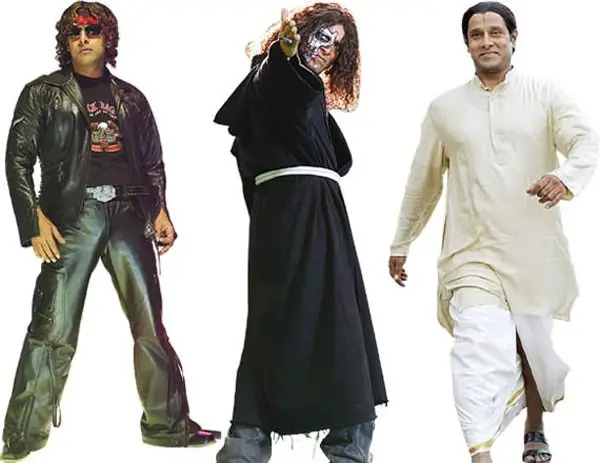 Three characters illustrated by one person, Vikram in a psychotic killer movie – Anniyan. Vikram performed three distinct roles with absolute perfection and we could see a new dimension of him with this movie. There were many scenes in the movie that were perfect and stunned the audience.
​8. Kasi in Kasi
Vikram plays the role of a visually impaired village singer. This role played by Vikram stole the hearts of the audience. Vikram was honored with the Filmfare Best Actor Award.
9. Kanthaswamy in Kanthaswamy
Vikram plays the role of a CBI officer who disguises as an anthropomorphic rooster, to grant the wishes of the needy. He also dresses as a woman, Krishna to beat up a few scoundrels. All the three roles were performed with excellence by Vikram.
10. Kenny Thomas in Thaandavam
RAW agent, a visually impaired man, fights the enemies to protect India using echolocation. The echolocation act performed by Vikram is impeccable and his devotion towards his work is very much visible in the movie.