Television soap operas aired in different languages, with unique concepts and social impacts, usually target the women audience. These homemakers tend to connect mentally and emotionally to these serials, which adds on to the huge success of these daily soaps, be it in any language. Here is a list of Top 10 Malayalam serials, to which audience look up to, each day.
1. Parasparam
...
The most viewed Malayalam serial aired on channel Asianet (Mon-Fri, 9 PM). An infamous remake of a Hindi daily soap " Diya Aur Baati Hum Diya Aur Baati Hum is an Indian romance, drama TV >> Read More... ," this daily soap has successfully garnered audience attention due to its unique concept and story base. The female protagonist is shown as an ambitious woman and an IPS officer, who is supported by her husband, in itself is an unusual plot. This daily soap has won a lot of accolades in different award functions and is indeed a must watch.
2. Karuthamuthu
...
Karuthamuthu is a Malayalam series put up on Asianet every weekday at 10 PM. It revolves around a girl Karthika, who is dark skinned and the ordeals she has to face due to her skin color, in a judgemental society. The story plot advances to find out how this girl is a gem of a person, much like the title suggests, Black Pearl indeed. The drama makes use of the emotional quotient of the viewers and is rated as the 2nd widely viewed serial of Asianet.
3. Chandanamazha
...
It's a Malayalam family drama on Asianet, launched on 3rd February 2014. It's a remake of the Hindi serial ' Saath Nibhaana Saathiya Saath Nibhana Saathiya is a popular Hindi daily so >> Read More... ,' aired on Star Plus. The simplicity of the plot is something audience look up to, a story of two cousins who are two opposite poles and how jealousy creeps into their relationship is the main outline of the story. It's running successfully from every Monday to Friday at 9.30 PM.
4. Pranayam
...
The remake of 'Ye Hai Mohabbatein,' Pranayam is a Malayalam Television series launched on Asianet by 6th July 2015. It's the longest running serial on this channel due to the wide viewership and the support rendered. It's a usual romantic saga presented in an extraordinary style. Directed by Sudheesh Shankar and crossing over 400 episodes, Pranayam still holds a special place in viewer's heart.
...
5. Thatteem Mutteem The mother in law and daughter in law feud is a we >> Read More...
...
A Malayalam comedy series, which shows the relationship of Daughter -in-law and her Mother- in- law in a comical way, unlikely to the normal daily soaps. Directed by Gopalan Manoj Bio coming soon... >> Read More... , Thateem Muteem is aired on Mazhavil Manorama every Saturday and Sunday at 9 PM. The serial is a passive watch with family for a hearty laughter and comedy.
6. Krishnathulasi
...
Krishnathulasi, Malayalam daily soap written and directed by Joyce is a sibling's love triangle, and the drama created out of it. The television series launched on Mazhavil Manorama in the Prime time 7PM. The story of two sisters and their love attracted a lot of viewers and still continue to cast the same spell.
7. Athmasakhi
A Malayalam daily soap launched on Mazhavil Manorama by 11th July 2016. The story bases on family drama and the societal differences between two people who are deeply in love, Nanditha, and Satyajit. The ease of the plot and connectivity that it has with the viewers is the reason behind the success of this soap opera. Telecasted at 7PM, the show is successfully running, with over 200 episodes and continues to hold a unique place in people's heart.
8. Karyam Nissaram A comedy series broadcasted in Kairali TV, Karyam >> Read More...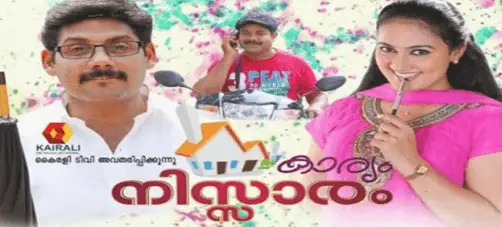 Karyam Nisaram is the longest running serial in the Kairali channel with over 1000 episodes. People's favorite show and a plot as simple and connected to viewers mind, with fewer characters. The drama shows, how people with different personalities could stay under the same roof, as a loving couple. The soap opera comes out each day with different morals and almost gives you an impression of a modern day Tom and Jerry incarnation. Village officer K. Mohankrishnan and Advocate Satyabhama still continue to entertain the audience by their cute, little fights and tantrums.
9. ' Amma AMMA is a Telugu drama serial aired from Monday to >> Read More... '
Malayalam mega serial telecasted on 2nd July 2011 on Asianet. It is the remake of a Bengali serial ' Maa Story soon >> Read More... ,' and this daily soap has completed 700 episodes in 2014. The most popular serial in Asianet as the story base has the emotions of a mother and her long- lost child. These motherly emotions created in the minds of the viewers, make them watch the drama over and over again. It's now aired in Asianet at Prime time 7PM.
10. Bharya
Romantic drama launched on Asianet channel on 16th May 2016 at 9PM, became the longest running serial much after Streedhanam. Audience attention and love have always been there for this Malayalam soap opera. The word Bharya means wife and the plot deals with how a spouse could go to the edges to save her husband and her marriage. As the plot goes well with the viewers understanding of traditions, there is immense support and love from the audience.