1. Nizhalkuthu(2002):
Nizhalkuthu by Adoor Gopalakrishnan won Jagathy a State Award for the second best actor. The actor played an officer under the British Raj, working in the execution department. The film had Oduvil Unnikrishnan, Sukumari, Nedumudi Venu and Vijayaraghavan playing major characters along with him.
2. Kilukkam(1991):
Kilukkam was a cult movie, regarded as one of the best among Malayalam comedies. Jagathy played the iconic Nischal Roy in this laugh riot starring Mohanlal and Revathy. This Priyadarshan directorial was a Hilarious tale of two bickering friends struggling to deal with a mentally ill girl.
3. Meesamadhavan(2002) :
The movie that consolidated Lal Jose's position as one of the best filmmakers in Malayalam, won Jagathy a State Award. Jagathy was at his best in portraying the snobbish and self-centered Pillechan, who is at wars with his nephew and local thief Madhavan. His witty dialogues, the amazing chemistry he shared with Cochin Haneefa, and his iconic thick eyebrows, made this character memorable.
4. Yodha(1992):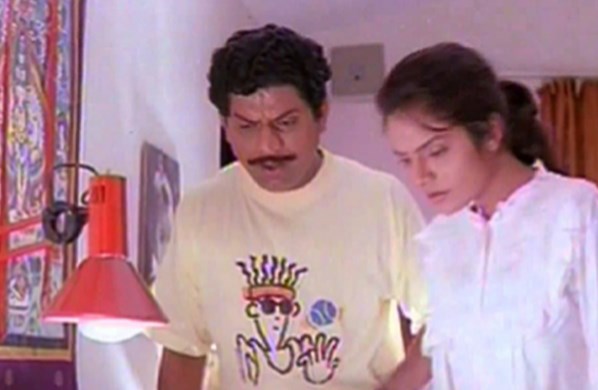 Another Mohanlal-Jagathy combo, Yodha was directed by Sangeeth Sivan and was a comedy-action drama set in Tibet. Revolving around the kidnapping and the rescue of the future Lama, the film had a sub-plot of two rival cousins who would miss no opportunities to pull each others leg.
5. Oru C.B.I Diary Kurippu(1988):
This K.Madhu directorial was an investigative thriller, and Jagathy played Chacko, an assistant to the C.B.I investigative officer Sethuramaiyyar (Mammootty). The movie was a huge success owing primarily to the never-seen- before script and slick filmmaking. The movie has had three sequels yet.
6. Urumi(2011):
This period drama starring Prithviraj, Prabhudeva and Genelia was directed by the camera wizard Santosh Sivan. Jagathy made evil sexy in his avatar as the wily minister of the Samuthiri. One of the best and most well-developed negative characters in Malayalam, this minister is easily among his best roles.
7. Mookkilla Raajayathu(1991):
Directed by Ashokan-Thaha, Mookkilla Raajyathu was an unofficial remake of The Right Company and had Mukesh, Siddique, Thilakan and Jagathy Sreekumar in the lead. This hilarious tale of four mentally ill men, who break out of their asylum, is a favorite among family audience. Jagathy played an ex-car mechanic, who messes up in everything that he does.
8. Nandanam(2002):
Nandanam told the dreams of a young girl and narrated how her playful relationship with a God leads toher ending up in a relationship. This romantic tale was a huge success owing to its brilliant screenplay,Heartwarming music and the chemistry shared by the leading duo. Navya Nair and newbie Prithviraj gave energetic performances, but it was Jagathy who stole the show with his portrayal of Kumbidi, a false hermit.
9. Thanmatra(2005):
Mohanlal deservedly won the State Award by portraying an Alzheimer's patient, but Jagathy's composed acting in this Blessy directorial is hugely underrated. The moving tale of a family trying to come to terms with the disease, Thanmatra won critical acclaim as well as financial gain. Jagathy played Mohanlal's friend at the office.
10. Manjadikuru(2012):
Manjadikuru was a tale of the past- of forgotten childhoods, lost innocence, and fading virtues of the Countryside. This movie had child artists in main roles, but Jagathy made his portion memorable with the portrayal of an uncle.