1. Nizhalkuthu(2002):
Nizhalkuthu by Adoor Gopalakrishnan Born into a family in Kerala, Adoor Gopalakrishnan >> Read More... won Jagathy a State Award for the second best actor. The actor played an officer under the British Raj, working in the execution department. The film had Oduvil Unnikrishnan Oduvil Unnikrishnan was a classic, versatile actor >> Read More... , Sukumari, Nedumudi Venu Nedumudi Venu was born on 22nd May 1948. He is com >> Read More... and Vijayaraghavan playing major characters along with him.
...
2. Kilukkam(1991):
Kilukkam was a cult movie, regarded as one of the best among Malayalam comedies. Jagathy played the iconic Nischal Roy in this laugh riot starring Mohanlal and Revathy. This Priyadarshan directorial was a Hilarious tale of two bickering friends struggling to deal with a mentally ill girl.
...
3. Meesamadhavan(2002) :
...
The movie that consolidated Lal Jose's position as one of the best filmmakers in Malayalam, won Jagathy a State Award. Jagathy was at his best in portraying the snobbish and self-centered Pillechan, who is at wars with his nephew and local thief Madhavan. His witty dialogues, the amazing chemistry he shared with , and his iconic thick eyebrows, made this character memorable.
4. Yodha(1992):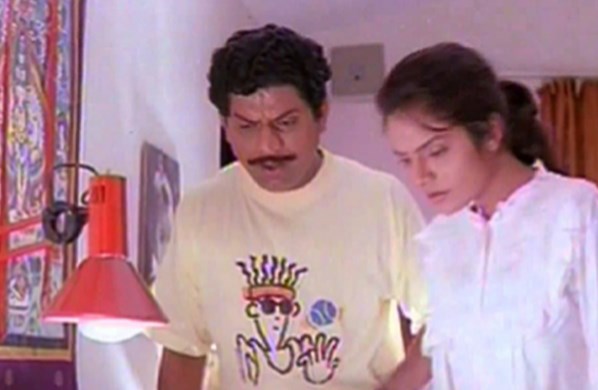 ...
Another Mohanlal-Jagathy combo, Yodha was directed by Sangeeth Sivan Sangeeth is an Indian writer and director. He was >> Read More... and was a comedy-action drama set in Tibet. Revolving around the kidnapping and the rescue of the future Lama, the film had a sub-plot of two rival cousins who would miss no opportunities to pull each others leg.
5. Oru C.B.I Diary Kurippu(1988):
...
This K.Madhu directorial was an investigative thriller, and Jagathy played Chacko, an assistant to the C.B.I investigative officer Sethuramaiyyar (Mammootty). The movie was a huge success owing primarily to the never-seen- before script and slick filmmaking. The movie has had three sequels yet.
...
6. Urumi(2011):
...
This period drama starring Prithviraj, Prabhudeva and Genelia was directed by the camera wizard Santosh Sivan Santosh Sivan (born 8 February 1964) is a film dir >> Read More... . Jagathy made evil sexy in his avatar as the wily minister of the Samuthiri. One of the best and most well-developed negative characters in Malayalam, this minister is easily among his best roles.
7. Mookkilla Raajayathu(1991):
Directed by Ashokan-Thaha, Mookkilla Raajyathu was an unofficial remake of The Right Company and had Mukesh, Siddique, Thilakan and Jagathy Sreekumar Jagathy Sreekumar, a famous Indian film actor know >> Read More... in the lead. This hilarious tale of four mentally ill men, who break out of their asylum, is a favorite among family audience. Jagathy played an ex-car mechanic, who messes up in everything that he does.
8. Nandanam(2002):
Nandanam told the dreams of a young girl and narrated how her playful relationship with a God leads toher ending up in a relationship. This romantic tale was a huge success owing to its brilliant screenplay,Heartwarming music and the chemistry shared by the leading duo. Navya Nair Navya Nair is a familiar face on Mollywood. Navya >> Read More... and newbie Prithviraj gave energetic performances, but it was Jagathy who stole the show with his portrayal of Kumbidi, a false hermit.
9. Thanmatra(2005):
Mohanlal deservedly won the State Award by portraying an Alzheimer's patient, but Jagathy's composed acting in this Blessy directorial is hugely underrated. The moving tale of a family trying to come to terms with the disease, Thanmatra won critical acclaim as well as financial gain. Jagathy played Mohanlal's friend at the office.
10. Manjadikuru(2012):
Manjadikuru was a tale of the past- of forgotten childhoods, lost innocence, and fading virtues of the Countryside. This movie had child artists in main roles, but Jagathy made his portion memorable with the portrayal of an uncle.