1. Oru Vadakkan Veeragaadha (1989)
The epic movie, by the writer-director duo of M.T and Hariharan, told the legend of Northern Kerala with a twist, and won multiple national awards. The classic, starring Mammootty and Suresh Gopi Malayali by birth, Suresh Gopinath, also known as >> Read More... in the lead, also became a benchmark for action films in South. The movie's brilliant portrayal of 'Kalarippayattu,' the traditional martial arts of Kerala, won accolades from all over India. Incidentally, Suresh Gopi was severely injured while shooting for one of the fight scenes.
...
2. Big-B (2007)
Another Mammootty-starrer, this revenge drama set in the shady Fort Kochi, acquired cult status soon upon its release. The slo-mo actions sequences were a huge hit and stayed on as director Amal Neerad Amal Neerad, an Indian Film Director, Producer, an >> Read More... 's signature style. The movie's ensemble cast and the debutant cinematographer Sameer Thahir Sameer C. Thahir is an Indian writer, cinematograp >> Read More... , were put to good use by the director, creating the year's biggest hit.
...
3. Urumi (2011)
...
Never before had Malayalam cinema industry seen a movie on the scale of Urumi. Made on a budget of Rs.20 Crore, the historic film starred Prithviraj Sukumaran Prithviraj Sukumaran is one among the bubbly actor >> Read More... , Prabhu Deva Prabhu Deva is one among the populous cinema perso >> Read More... , Arya, and Genelia D'Zousa, and was directed by Santhosh Sivan. The war sequences of Urumi were compared to those of western movies, while the hand-to-hand combat, especially those with 'urumi' (a long, flexible, metal blade) gave it a unique touch.
4. Sphadikam (1995)
...
Considered one of the best commercial movies in Malayalam, Sphadikam earned a cult status in Kerala's pop culture. Depicting the quarrel between a strict High School headmaster and his intelligent son, who turns into a local goon, the movie stars Thilakan and Mohanlal as the father-son duo. Mohanlal's character 'Aadu Thoma' became a sensation with his punch dialogues and his signature style of using his mundu to finish off a fight. The movie won director Bhadrana South Filmfare Awards, and Mohanlal, a State Award and a Filmfare Award.
5. Iyobinte Pusthakam Click to look into! >> Read More... (2016)
...
Again by Amal Neerad, this period drama depicted the sibling rivalry between three sons of a landlord in Munnar, and had Fahad Faasil and Lal in central roles. The fight sequences among the woods of the Western Ghats were crafted with brilliance. The realistic depiction of blood and gore, and the stellar cinematography by the director himself (which won him a State Award), were the highlights of the movie.
...
6. Kireedam (1989)
...
Thilakan and Mohanlal as a father-son duo was the highlight of this action drama, which also had Mohan Raj Bio coming soon... >> Read More... playing 'Keerikkaadan Jose,' the best-known antagonist in Malayalam movie industry. Written by Lohithadas and directed by Sibi Malayil Sibi Malayil is an acclaimed director in Malayalam >> Read More... , the movie was a tale of fate and human failing and stood out for its round characters. The long fight sequences between Mohanlal and Mohan Raj had an emotional impact on their own. Owing t its huge success, a sequel, 'Chenkol' was made in1993.
7. Abhimanyu (1991)
Another Mohanlal-starrer, Abhimanyu was inspired by the life of Tamizh don Varadaraja Mudaliyar.It depicted the grim story of the Mumbai underground, and how an innocent young man turns into a don in his strive for survival.Directed by Priyadarshan, the movie was way ahead of its time in terms of cinematography, direction and action.The emotionless way in which the deaths were portrayed, are symbolic of the ruthlessness among the cold-blooded gang wars.The film won Mohanlal another State Award.
8. Chappa Kurishu (2011)
Sameer Thahir's directorial debut, Chappa Kurishu is not exactly an action-thriller, but the 10- minute showdown between Fahad Faasil and Vineeth Sreenivasan Vineeth Srinivasan is known to the music industry >> Read More... , that involved a chase sequence through Kochi which culminates in a fight inside a public toilet, was as realistic as it could be.The fight's wildness and its resemblance to pigs rolling in dirt gave it another dimension, one which went along with the movie's plot, which revolved around a stolen cellphone and a leaked sex-tape.
9. Ananthabhadram (2005)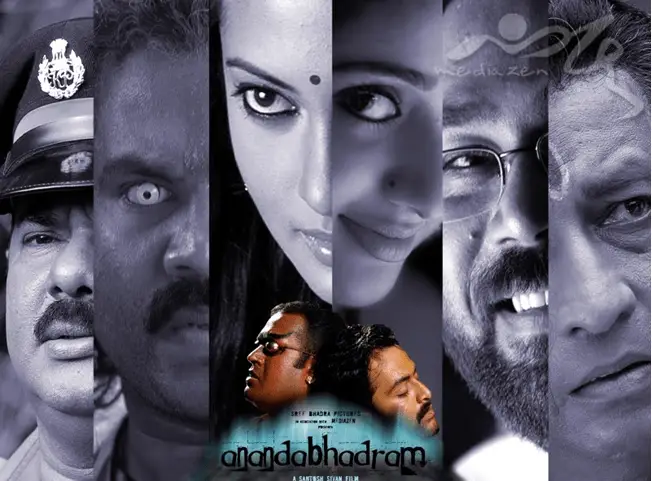 Ananthabhadram was a fantasy thriller, directed by Santhosh Sivan, and starring Prithviraj, Kavya Madhavan Kavya Madhavan is an Indian artist but shines in t >> Read More... , Kalabhavan Mani Kalabhavan Mani is a renowned Indian playback sing >> Read More... , and Manoj K. Jayan.A mystical tale woven around myths, rites, and black magic, the film contained exceptional fight sequences between Chemban(Mani)-a blind Kalarippayattu expert, and Digambaran(Manoj)-the black magician.The action sequences were heavily inspired by the dance forms 'Kathakali' and 'Theyyam', as well as the martial art form 'Kalarippayattu', raising the action choreography to be considered one of its kind.
10. Commissioner (1994)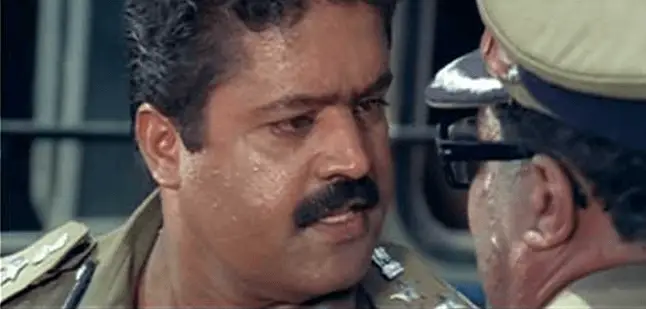 Commissioner is considered a cult film in the action genre in Malayalam, a movie that set the tone for heavy action cop dramas.Written by Renji Panicker A firebrand script-writer, actor, director, and pr >> Read More... and directed by Shaji Kailas Shaji Kailas is an Indian film director who direct >> Read More... , the film pitted an honest but brash cop(Suresh Gopi), against a business tycoon with sociopathic agenda(Ratheesh).Its thick action, punch dialogues, and catchy BGM made the movie immensely popular, and cemented Suresh Gopi's position as a superstar.A sequel, 'Bharatchandran IPS'(2005), was also a huge success.