Kerala Varma Pazhassi Raja
It is a Malayalam biographical movie based on the story of the late King of Pazhassi, Kerala Varma. Kerala Varma leaves his kingdom due to the British East India Company. With the help of Guerilla Warfare, he fights against the enemies. Pazhassi Raja is one of the must watch-movies of the Malayalam film industry. ' Mammootty Muhammed Kutty Ismail Paniparambil is the original >> Read More... ,' as the male protagonist of the movie, took over the audience with his excellent performance. This film is dubbed in Tamil and Hindi.
...
Captain
It is a Malayalam biopic of late Indian footballer V.P Sathyan. V.P Sathyan was a great footballer player; he was the captain of the Indian football team from 1991 to 1995. Due to depression, he killed himself by jumping on to a train. This movie portrays the struggles and achievements by V.P Sathyan in attaining his ambition. Jayasurya's excellent performance takes the film to a new level. The Captain is an inspiring yet emotional movie that brings out the story of an unrecognized hero.
...
Kayamkulam Kochunni Click to look into! >> Read More...
...
Kayamkulam Kochunni is a movie based on Kochunni, the 'Robin Hood of Kayamkulam.' It is the story of a boy who becomes a thief and steals food from wealthy people to feed the poor people. By helping the poor people of the village, he becomes a hero among them. Nivin Pauly Nivin Pauly is predominantly a Malayalam actor. Bo >> Read More... , who stars as Kochunni, did a great job in making the movie much more realistic. Strong acting and powerful visuals make this film a must-watch. Evergreen actor ' Mohanlal Mohan Lal is the Super Star of the Malayalam film >> Read More... ' appears in the film as 'Ithikkara Pakki'. 'Ithikkara Pakki' is a known friend of Kayamkulam Kochunni. Gopi Sundar's pulsating music is an inevitable part of the movie.
Chalakkudikkaran Changathi
...
Chalakkudikkaran Changathi is a must-watch Malayalam biopic of late actor Kalabhavan Mani Kalabhavan Mani is a renowned Indian playback sing >> Read More... . Kalabhavan Mani is a prevalent actor cum singer of the Malayalam film industry. This movie shows the life journey of a talented actor. It includes all crucial incidents that occurred in his life, from how he excelled as a mimicry star to how he became a film actor. This is an emotional movie starring Senthil Krishna Senthil Krishna is an Indian Malayalam actor. He h >> Read More... as Kalabhavan Mani. His acting is natural and matured. Kalabhavan Mani's folklore songs are used in the film.
'Aami'
...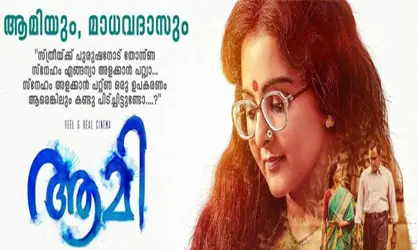 Aami is a Malayalam biopic of late writer Kamala Das aka Mathavikutty. Kamalamma, an admirer of lord Krishna, marries a man who is 20 years older than her. Kamala Das is an iconic writer. In her life, she struggles with her relationships and self-identity. Manju Warrier Manju Warrier is a South-Indian film actress, born >> Read More... , as the female protagonist, did a great job. This movie shows the life of Madhavi Kutty, her childhood, family, how she deals with two relationships she had, etc. All the cast and crew members of the movie did an excellent job.
...
Thalappavu
...
Thalappavu is a Malayalam biopic of a Naxal Leader Joseph and police officer S Ramachandran. It is a real confession of a police constable about an unforgettable and an unforgivable incident in his career. The story is about a police constable who kills a Naxal leader in a fake encounter. The movie displays the mental instability of the police constable after committing such an ungraceful thing. It also reflects the betrayal of a good friend. ' Lal Paul Michael alias Lal started his successful jour >> Read More... ' starring as the police officer and Prithviraj as Joseph brings a perfect look to the movie. Thalappavu is a realistic and heart touching movie.
Oru Kuprasidha Payyan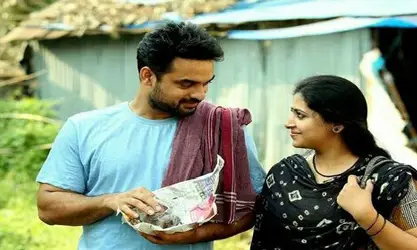 Oru Kuprasidha Payyan is a murder thriller starring Tovino Thomas Tovino Thomas is a well-known face in the Malayala >> Read More... and Anu Sithara Anu Sithara is an Indian Film and Television Actre >> Read More... . It is the story of a boy, who gets accused of the murder of a lady whom he sees as a mother. The film shows how an innocent person struggles to get out of a falsely accused crime. Tovino Thomas, as the protagonist, did his best in showcasing the helplessness of an innocent orphan. Oru Kuprasidha Payyan is a heart-touching must-watch movie of the Malayalam film industry.
Vimaanam Click to look into! >> Read More...
'Vimaanam' is an inspirational biopic of Venkidi. Venkidi is an intelligent kid from a remote village with a slight hearing impairment, who wishes to make a plane by himself. This movie shows the criticism and struggles he goes through to build an aircraft with recycled waste materials. Vimaanam has a strong script, starring Prithviraj Sukumaran Prithviraj Sukumaran is one among the bubbly actor >> Read More... as the male protagonist. It also stars Janaki, Saiju Kurup Saiju Govind Kurup, known for his screen name as S >> Read More... , etc. This movie is a mixture of romance, inspiration, struggles, achievement, and tragedy.
Clint Click to look into! >> Read More...
'Clint' is a Malayalam biopic on Edmund Thomas Clint. Edmund Thomas Clint is a young child who became famous for his paintings and sketches. He has created about 25,000 paintings and drawings during his short life span of 7 years. The movie depicts the talent of a young, underrated artist. This movie is directed by Harikumar, starring Unni Mukundan Born on the 22nd of September, 1987, Unni Mukundan >> Read More... , Rima Kallingal Rima is one of the gifted actors of the industry. >> Read More... , Salim Kumar Salim Kumar is a person who deserves the title of >> Read More... , etc.
Mathilukal
Mathilukal is a Malayalam biographical movie about the late Vaikom Muhammed Basheer. This movie takes you through the journey of a prisoner who falls in love with a female inmate of the prison. Even though it is a love story, the female character does not appear in the film. Director Adoor Gopalakrishnan succeeded in portraying the story beautifully to the audience. Mathilukal starring the evergreen actor Mammootty is one of the must-watch movies of the Malayalam film industry. Mammootty's performance shows us every single emotion Basheer went through in his prison life. This great movie is worth watching.