It is not uncommon that film artists enter politics. While the reason is still not very clear, the trend has seen an increasing graph. The young actors have joined political parties, and this looks like an advantage to the parties too. When you have a celebrity contesting, the fans votes will obviously come to their party. Here are a few people who thought politics would suit them.
1. Mukhyamantri Chandru
A very famous actor Chandru, entered politics in the year 1985. He was a member of Janata Dal and was selected as an MLA from the Gauribidanur constituency. He further joined BJP where he was elected as an MLC. He resigned in the year 2013due to some personal reasons.
Besides being famous as an actor, the rebel star of Sandalwood is also successful in Politics. He entered politics in the year 1998. He is currently an MLA from the Indian National Congress party for the Mandya constituency. He is also managing the post of Minister of Housing of the state Karnataka.
The famous comic artist Uma Shree is also in politics. She became an MLA in the year 2013 from Indian National Congress Party and now assumes the power of the Minister of Women and Child development mainly. She has taken many good decisions after she has taken charge. She is successful as an actress as well as a politician.
Anuradha, better known as Tara, has featured in more than five hundred films in her career. She is still acting in supportive roles. She is a party worker in the Bharatiya Janata Party. She is not in news much for her political life.
The famous actress Shruti, has acted in more than one hundred and fifty films in the Kannada language alone. She was a member of BJP in the beginning and took charge as the chairperson for Karnataka Women and Children Development. After her term was over, she jumped to the KJP party which further merged into BJP.
Malavika has always been active to change the society. She aspired to become a politician after presenting the reality show "Baduku Jataka Bandi". She has been actively participating in the election campaigns. She joined BJP in the year 2013 and was one of the spokespersons in the year 2014.
7. 'Rakshita - Kannada'
Rakshita has also been active in the politics. She has presently stopped acting and has started helping her husband in his directional ventures. Though she is active in politics, there is not much information available about her political life.
Ramya is one of the rare artists who are successful in many fields. At a young age, she joined the party Indian Youth Congress in the year 2011. She became the Member of Parliament being the youngest Member of Parliament at that time.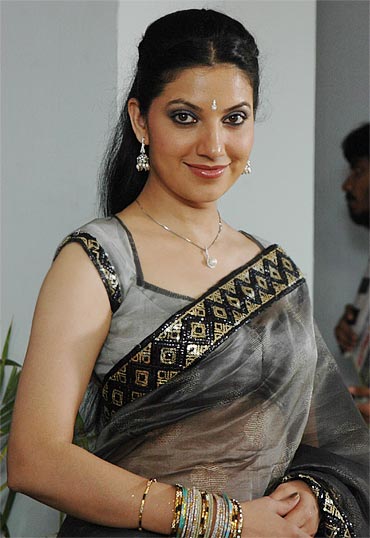 Bhavana is known for her acting. But, it is less known that she is also active in the politics. She campaigned for Congress party in the year 2013. She is a strength to the Congress party.
Pooja Gandhi is famous for changing parties on opportunities she gets. She regretted her decisions on the show
Bigg Boss
season 3 but what is done cannot be changed. She changed three parties in a span of few months.