Controversies are never new for celebrities. Any film Industry has a number of controversies. It has even been an opportunity for some celebrities to come into the limelight after a few days of dying fame. Here is a list of some controversies in Sandalwood.
1. ' Darshan'- ' Vijayalakshmi'
The differences between Darshan and Vijayalakshmi led to discord in their marriage, and the situation got serious when Darshan was arrested after his wife, Vijayalakshmi, filed a complaint against the actor. His wife, Vijayalakshmi, alleged him of having an extra-marital affair with the well-known actress, Nikita Thukral. Later, Nikita clarified to the media that nothing of that sort was going on between them.
2. Vijay- Nagarathna
Vijay and Nagarathna's marital discord came into public when Vijay approached the family court asking for a divorce from his wife, Nagarathna. He alleged Nagarathna of not behaving well with his mother while Nagarathna alleged Vijay of having many extramarital affairs, and even secretly marrying the actress, Shubha Poonja. Shubha then clarified to the media that she wasn't even in talking terms with the actor, and she was not a part of their fight.
Ramya and Sudeep's controversy is always remembered even if they are back to friends now. They were entangled in a controversy when Sudeep alleged Ramya of behaving rudely on the sets of "Just Math Mathalli". The duo was not on talking terms for many years, after which they are back to being friends.
4. Sudeep-Ramya
We all know about Ramya and Sudeep's 2009 controversy, which started on the sets of the movie, "Just Math Mathalli". These two were also entangled in another controversy where there were rumors about Sudeep's relationship with Ramya. But now, everything is solved.
5. 'K. Manju' - ' Munirathna'
Controversies are not only applicable for the actors and actresses. The producers, K.Manju and Munirathna, got into a controversy at the time of the release of Munirathna's, " Katari Veera Surasundarangi", and K.Manju's, " Godfather". The two producers wanted to release their movies on the same date, but weren't able to. Later, the controversy was solved.
6. Sudeep's slapping controversy
Sudeep got into a controversy in the year 2010 when the rumors about him slapping the director, Sagar, of the film, "Kanwarlal", surfaced. But, Sudeep hushed all the rumors stating that nothing of that sort had happened.
7. Sudeep- 'Shivrajkumar'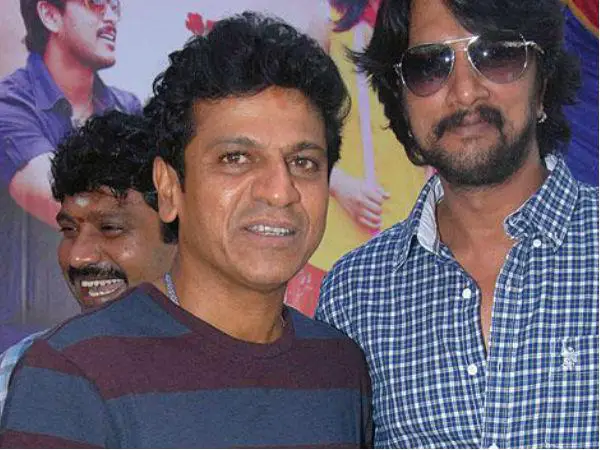 In 2011, Sudeep and Shivrajkumar ended up in a controversy when they fought on the ground while playing CCL. However, Sudeep clarified to the media that nothing serious had happened, and that these are all rumors that the fans spread.
8. Kempegowda controversy
In 2011, Sudeep was caught inside another controversy when the producer of "Kempegowda", who had paid the actor 15 lakh rupees, asked the actor to pay him the money back with interest.
The photograph of the actress, Amulya and the director, Ratnaja kissing created a huge storm in the Kannada film industry. Amulya, after this, had decided not to act in any other movies, but broke her decision by acting in the movie, " Shravani Subramanya".
10. Varadanayaka controversy
Sudeep was yet again seen in a controversy at the time of his film, "Varadanayaka", when the whole industry thought he was arrogant and had a rivalry with his co-stars. This controversy arose, because Shivrajkumar's film's name was " Varada". However, Sudeep's film name was not changed.