It's not very easy to get hit movies all through a person's lifetime; whether they are on-screen artists or off-screen artists. First of all, in the present situation, it's tough to get a debut movie in any film industry and getting hit films back to back is like beyond thinking. But, there are legendary artists who have done the highest number of hit movies in their lifetime. Here is a list of such gems of Sandalwood.
1. 'Dr.Rajkumar'
Dr.Rajkumar doesn't need an introduction. Who doesn't know him? He is the God of Sandalwood. He has acted in over two hundred and twenty films in his career of about fifty years. Surprisingly, most of his films, maybe 90%, have been a blockbuster hit. This is impossible for present day actors. Nobody is comparable with Rajanna.
...
2. ' Kalpana Click to look into! >> Read More... '
Kalpana was one of the most successful actresses of her time. She is famous as a "Minugu Taare" (Shining Star) in Sandalwood. She has brought out many amazing films which were mostly women-centric. It gave scope to showcase her acting skills. She is most credited for her role in the film "Sharapanjara". She was mostly paired opposite to Dr.Rajkumar in her movies.
...
3. ' Aarathi One of the leading ladies of the Kannada cinema du >> Read More... '
...
Aarathi is one of the most beautiful actresses in the film industry. She has been showcased as a highly efficient actress through her female-centric films. She has acted over hundred films in her career, and most of her movies were a hit in the box-office.
4. 'Manjula'
...
Manjula debuted through the movie "Mane Katti Nodu" as a child artist and debuted as an actress through the movie "Yaara Saakshi". Her pairing with Pranayaraja Srinath is still talked about. She has done many blockbuster hits in her career of twenty years.
...
5. ' Jayanthi Jayanthi a.k.a Kamala Kumari is a veteran actress >> Read More... '
Jayanthi has appeared in over five hundred films in various languages having a majority of the hits. She debuted through the movie "Jenu Goodu" in the year 1963. She is still active in the industry acting in supportive roles. She has won many awards and has got a lot of fame.
...
6. ' Vishnuvardhan Vishnuvardhan was born in Mysore. He attended high >> Read More... '
...
Vishnuvardhan debuted through the movie "Vamshavruksha" in the year 1972. He has acted in over two hundred and twenty movies in various languages. He has been successful in almost every single movie he has done. He is also called as the "Saahasa Simha".
7. ' Ambareesh The South has been famous for throwing up actor po >> Read More... '
Ambareesh is famous as "Mandyada Gandu". He debuted through the movie "Naagarahaavu" in the year 1972 in a supporting role. He has done many power packed roles which earned him the name "Rebel Star" in the industry. He has been successful both as a lead actor and as a supporting actor.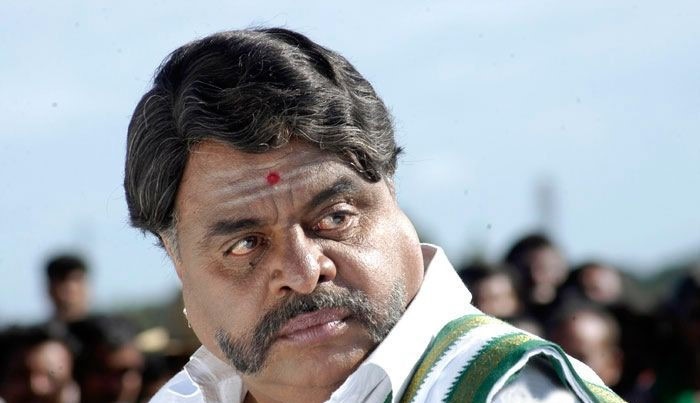 8. Upendra Rao Upendra Rao is an Indian actor, who was born on 18 >> Read More...
Upendra is most credited for his uniqueness. Nobody can think like him. He debuted as a director through the movie "Tharle Nan Maga" in the year 1992. He debuted as an actor in the lead role through the movie "A" in 1998. From then he has been successful in every film he has directed and acted.
9. ' Sudeep Sanjeev Sudeep, known by the short name, Sudeep is >> Read More... '
Being the most successful and most famous in the film industry, he has acted in various languages. His multilingual movie "Makhi" got him a lot more fans. He is mind blowing in his acting and is a gentleman in real life. He has a lot of fan following and has got most hits in a lifetime. He continues acting and entertaining the audience.
10. Puneeth Rajkumar Puneeth was born on 17th march 1975 in madras, Tam >> Read More...
Though he has appeared in about twenty-three films in Kannada as a lead actor, he has appeared on the big screen as a child artist too. Being the son of the veteran actor Dr.Rajkumar, he has earned name and fame through his amazing acting and his dancing. He is one of the best dancers in Sandalwood.