There are a lot of ups and downs in every relationship, but one should not give up on the relationship. Unfortunately some relationship doesn't work, and one has to give up on them. Here are some unknown wives of Bollywood actors.
1. SAIF ALI KHAN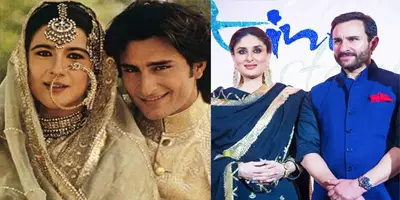 ...
is married to Kareena Kapoor in the year 2012 after five years of courtship. They have a baby boy called Taimur Ali Khan Taimur Ali Khan Pataudi is the son of actors Saif >> Read More... . Before getting married to Kareena Kapoor, he was married to Amrita Singh Amrita Singh is an Indian film and TV actress. She >> Read More... , and they had one daughter and one son. They got divorced after thirteen years of relationship.
2. SANJAY DUTT
...
Bollywood star Sanjay Dutt July 29, 1959, was the day when the two legends of >> Read More... has married thrice, first with Richa Sharma Richa Sharma, born August 29 1980 in Faridabad, is >> Read More... in 1987, but sadly, she died because of a brain tumor in the year 1996; they have a daughter Trishala Dutt Trishala Dutt is an Indian Entrepreneur. She was b >> Read More... . Trishala Dutt stays in America with her grandparents. Second, he married a model Rhea Pillai An Indian model known for her works on television >> Read More... in 1998. Their relationship didn't work, and they parted ways in the year 2005. Dutt's third marriage was with Manyata in 2008, and now they are blessed with a twin.
3. AAMIR KHAN
...
Aamir Khan Aamir Khan or Mohammed Aamir Hussain Khan is Bolly >> Read More... married Reena Dutta From producing high-profile blockbusters like the >> Read More... ; she did a small role in the movie Qayamat Se Qayamat Tak. They got married in 1986 and have a son and a daughter named Junaid and Ira respectively. They got divorced in the year 2002, and now his children stay with their mother, Reena. Later on, Aamir khan got married to Kiran Rao She is an Indian film producer, screen writer and >> Read More... .
4. ADITYA CHOPRA
...
Aditya Chopra Aditya Chopra is an Indian film director, scriptwr >> Read More... got married to Payal Khanna Payal Khanna is an Indian film producer and Interi >> Read More... in 2001; she was Aditya's close school friend and decided to get married. After a while, Aditya started showing interest in actress Rani Mukharjee Because of this, both Aditya and Payal mutually ended their relationship. Aditya got married to Rani Mukharjee in December 2015.
...
5. FARHAN AKHTAR
...
One of the most talented actors of Bollywood, Farhan Akhtar One of the most recognized young director of India >> Read More... , got married to Adhuna. Adhuna is a famous hair stylist. They were together for fifteen years and had two children but their relationship didn't work after so many years, and they decided to end up, and it was shocking to everyone.
6. PULKIT SAMRAT
...
Pulkit Samrat Pulkit Samrat is a popular Indian model and actor, >> Read More... is known by many people, and he has made many debuts in Bollywood. He is the husband of Salman Khan's rakhi sister Shweta Rohira Shweta Rohira is a rakhi-sister of the famous Boll >> Read More... . They got separated after a while because of the rumor Pulkit's alleged affair with Yami Gautam Yami Gautam is a Hindi television and movie actres >> Read More... .
7. HIMESH RESHAMMIYA
Himesh Reshammiya Intro: Himesh Reshammiya got his stardom after win >> Read More... married Sonia Kapoor Sonia Kapoor is a very famous TV Actress. She was >> Read More... after ending his marriage of twenty-two years with his first wife, Komal. He tied the knot with Sonia in a secret wedding. They got married at Himesh's house on May 11, 2018. When he married Sonia, he already had a teenage son.
8. NAWAZUDDIN SIDDIQUI
Nawazuddin Siddiqui Nawazuddin Siddiqui was born in Budhana in Muzaffa >> Read More... had a love affair with Anjali. They were in a live-in relationship for many years but parted ways. After he left Anjali, he got married to someone else, and their marriage didn't work and he got a divorce. After ending this marriage he again went to Anjali and realized that she was the perfect life-partner and successfully both of them got married. Anjali even changed her name during their Nikaah as Zainab.
9. KARAN SINGH GROVER
Karan Singh Grover Karan Singh Grover is a famous Indian actor who is >> Read More... started his career as a Model and Turned into a Bollywood actor after getting famous in modeling. He is now in a knot with Bollywood's Beauty Bipasha Basu Bipasha Basu, born in January 7,1979 in Delhi, is >> Read More... , but this is his third marriage. First, he got married to Television actress Shraddha Nigam Shraddha Nigam is a beautiful and extremely well-k >> Read More... , and within ten months, they divorced. His second marriage was with his Co-star Jennifer Winget Jennifer Singh Grover, a popular Indian actress an >> Read More... , and also divorced her in no long time. Karan's only successful marriage yet is with Bipasha Basu.
10. AKSHAY KUMAR
, one of the popular actors of Bollywood is said to have married twice. His first love affair was with Raveena Tandon Raveena Tandon is an Indian film actress who is kn >> Read More... . It was known that they secretly married each other but after a very quick divorce, Akshay got married to Rajesh Khanna's daughter Twinkle Khanna Twinkle Khanna made herdebut in Indian film indust >> Read More... , and now this couple is blessed with two lovely sons.