There many handsome personalities in our Bollywood industry, and no doubt why Bollywood is famous in the whole wild world. Some actors showcase themselves as they look like in real life, but some actors indulge themselves in the character to get the best out of the role given to them. Here are some unrecognizable Bollywood movie roles featuring celebrities.
1. AMITABH BACHCHAN, PAA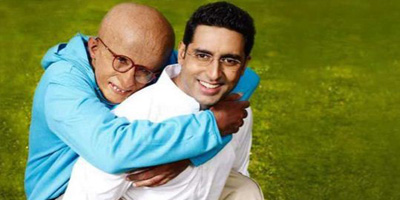 ...
Paa was released in 2009 and it was a comedy-drama film directed by R. Balki. Abhishek Bachchan Abhishek Bachchan, or Abhishek Srivastava, is a ve >> Read More... , , and Vidya Balan Vidya Balan is an award winning Bollywood actress >> Read More... were featured in this movie. In reality, Abhishek Bachchan is a son of Amitabh, but they played the opposite roles in this movie. In the movie, Paa, Amitabh Bachchan was shown as a special child with a rare genetic disorder Progeria.
2. AAMIR KHAN, DANGAL
...
Aamir Khan Aamir Khan or Mohammed Aamir Hussain Khan is Bolly >> Read More... gained a huge amount of weight to fit perfectly for the film Dalgal as the father of Gita Poghat and Babita Poghat. It was directed by Nitesh Tiwari Nitesh Tiwari is an Indian writer and director; he >> Read More... and was a sports drama film. Aamir Khan acted as Mahavir Singh Phogat, a Pehlwani wrestler, who trains his daughters Gita and Babita Kumari Bio coming soon... >> Read More... to become India's first female wrestlers.
3. PRIYANKA CHOPRA, MARY KOM
...
Mary Kom Click to look into! >> Read More... 's movie is based on the biopic of Indian Boxer Mary Kom. In just two hours, Priyanka Chopra Born on 18 July 1982, Priyanka Chopra is an establ >> Read More... has given us the proper gist and feel of Mary Kom. We could feel her frustration and hurt in the entire film. Priyanka Chopra fitted proper for the role of Kom. She did a whole-body transformation to look like Kom.
4. RAJKUMMAR RAO, RAABTA
...
Rajkummar Rao Raj Kumar Yadav, also known as Rajkummar Rao, star >> Read More... changed his whole look for the movie 'Raabta.' This movie was produced and directed by Dinesh Vijan Dinesh Vijan is known for his production company I >> Read More... . It was said that it took 16 face tests for a proper look and Rajkumar sat for all 16 Patiently. He played a 324-year-old man in the movie. The look was so hard to recognize Rajkummar in his special appearance.
...
5. AKSHAY KUMAR, 2.0
...
Akshay Kumar's look in the movie 2.0 was just too drastic and scary, which surprised everyone after the picture in the poster. The acting of Akshay was unrecognizable. He played the role of a Scientist in the movie and changed himself into the avatar of a crow. He looked ugly and scary. This movie was directed by "S Shankar."
6. SHAHRUKH KHAN, FAN
...
It was not easy to transform Shah Rukh Khan Shah Rukh Khan or also known as SRK is a prominent >> Read More... as 25 years old in the movie Fan. The makeup artist Grey Cannom made the perfect look of 25 years old Gaurav in the film Fan. After seeing himself, Khan said I don't think my makeup artist Grey has ever done anything like this before. The movie FAN is directed by Maneesh Sharma Maneesh Sharma is a Bollywood Director and Storywr >> Read More... .
7. DEEPIKA PADUKONE, CHHAPAK
Deepika Padukone's 'Chapak' look stunned everyone. She did the role of a victim and it took very much long for her look. It was a challenge for a makeup artist to create this desired look of the acid attack girl. It was a perfect look, and no doubt, Deepika played it well.
8. RANDEEP HOODA, SARBJIT
Randeep Hoda's appearance in the movie Sarabjit was just shocking for everyone. For the perfect look, he went on a starving diet. This diet was given to him by his sister, who is a doctor. He had to cut down all his meals, and he stayed on water and coffee. When he entered the set, he was totally unnoticed and it took almost 15 minutes for Aishwariya Rai to recognize Randeep.
9. BHUMI PEDNEKAR, DUM LAGAKAR HAISHA
Bhumi Pednekar Bhumi Pednekar is Maharashtrian unconventional act >> Read More... gained extra weight for the debut Movie Dum Lagakar Haisha. Bhumi was body-shamed after this movie and it didn't affect her much cause she stated in one of the interviews that her look in the movie was not body-shaming but it was rather appreciating. After this film, she lost 27 kg for the movie Toilet.
10. RANBIR KAPOOR, SANJU
In the Movie Sanju, Ranbir Kapoor Ranbir Kapoor is a noted Indian film actor. He was >> Read More... almost took over the look of baba in his biopic Sanju. Ranbir nailed the look by his body transformation, and it was quite challenging for him to turn into the proper look of baba. He said that his trainer made him wake up at three and made him drink a milkshake, and also made him eat eight meals a day.