Sanjay Dutt July 29, 1959, was the day when the two legends of >> Read More... began his acting career as a hero 42 years ago with Rocky, the son of Sunil Dutt Sunil Dutt was a great actor, director, producer, >> Read More... and Nargis Dutt Nargis Dutt was indeed the first lady of Indian sc >> Read More... , two megastars of Bollywood. Since then, he has performed in numerous renowned productions across a variety of genres. Dutt was in the prime of his profession when he spent nearly four years in prison. In what may be referred to as the "second innings" of his career, he made a powerful comeback and delivered some of his best performances.With his famous performances, Sanjay Dutt has given Indian cinema some of its most enduring characters and continues to amaze fans.
The top ten performances by Sanjay Dutt are included in the section below.
1. Kancha Cheena from Agneepath
Dutt was picked to portray Kancha, a villain. According to Karan Malhotra Karan Malhotra, a renowned director in the Indian >> Read More... , Dutt's heaviness made him the ideal fit for the role because the Agneepath script required the adversary to be more dominant than the protagonist. Kancha requested Dutt to go bald, but due to a previous engagement to the film Son of Sardar (which was being shot in parallel), Hollywood make-up artist Robin Slater employed prosthetics to give Dutt the "bald" appearance.
...
2. Bhairon Singh from PK
Sanjay was considered for the role of Bhairon Singh because the producers wanted someone tall and powerful. According to Vidhu Vinod Chopra Vidhu Vinod Chopra is a classic filmmaker, who h >> Read More... , "It is revealed that Bhairon Singh is PK's close friend. We wanted someone who is extremely large in contrast to PK, who is a very small person. As a result, it appears odd when Bhairon embraces PK since the little man would be entirely hidden in Bhairon's arms."
...
3. Naseer Ahmad from Torbaaz
A doctor who lost his wife and children while working at the Indian Embassy in Kabul, Afghanistan, is portrayed in the film by Sanjay Dutt. To be more precise, Sanjay Dutt delivers a strong performance. But we cannot say that he is unusual. After filming in Afghanistan, the majority of Torbaaz was shot in Bishkek, Kyrgyzstan, making it the first Indian movie to be filmed there.
...
4. Ballu from Khalnayak
was one of the directors to cast Sanjay Dutt in a character with sinister traits. After that, a lot of people looked into it, but the entertainer should get all the credit. A new bar was set by Dutt's portrayal of the terrorist "Ballu Balram."
5. Munna Bhai from Munna Bhai M.B.B.S.
Munna Bhai is one of the most adored characters among fans of Hindi cinema worldwide, and Sanjay Dutt gave an epic performance like him that will live on in notoriety. It is difficult to envision anyone else doing the famous role because of the impact of his performance alone. In the film, Dutt showed great talent in the comedy, drama, and romance genres.
...
Saajan is regarded as one of the greatest love melodies ever produced. An introverted poet hiding behind his friend Salman Khan's bluster, Sanjay Dutt played the part of the disabled orphan "Akash Verma" in the film. Possibly his most delicate performance was in Saajan. The plot is expertly told, and the tunes are catchy.
...
7. Baldev Pratap Singh from Prassthanam
In Prassthanam, Sanjay Dutt played the main antagonist, Baldev Pratap Singh. After being freed from prison, Dutt met the original film's director, Deva Katta, who claimed that Dutt's "intensity of enthusiasm from his side" sparked his interest in the project.
...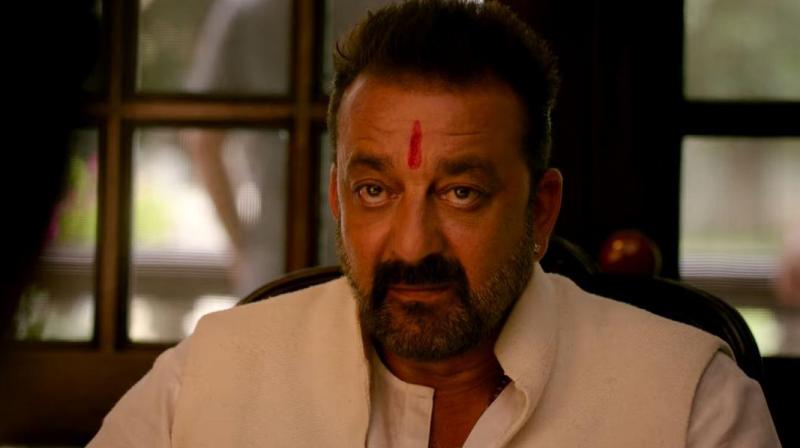 8. Raghunath Namdev Shivalkar from Vaastav
Sanjay Dutt deservedly won the Filmfare Best Actor award for his excellent performance in Vaastav. Dutt played the character of Raghu, a regular youngster from next door who, through no fault of his own, rises to become the ruler of the Mumbai underworld. He gave his all to the role of the underground Don in this Mahesh Manjrekar Mahesh Manjrekar is a renowned actor, director and >> Read More... crime drama.
...
Girish Sharma, played by Sanjay Dutt in the movie Parineeta, has supported Lalita morally through his plain and approachable character, who does so with kindness and compassion. Sanjay Dutt was chosen because of his adaptability, according to Vidhu Vinod Chopra in an interview. He added that Sanjay's friendly approach was helpful while filming the film.
10. Adheera from K.G.F: Chapter 2
With Sanjay Dutt's addition to the cast at the beginning of 2019, this was his debut Kannada movie. Sanjay Dutt's first Kannada-language role was as the main antagonist, Adheera. According to Dutt, his character was "presented to be a horrific persona with scary makeup," and he said that it was the kind of part he was looking for. He equated his character to Thanos.