The actor has supported many campaigns and causes. He was made the goodwill ambassador for polio eradication program by UNICEF. He is known for his charity work and has donated to the farmers many times. He also supported the "Save our Tigers" campaign.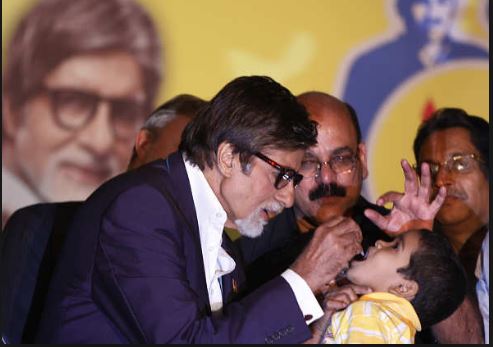 2. Salman Khan
He is the owner of the charity foundation 'Being Human.' The actor paid a whopping four million rupees as legal fee for prisoners who were unable to pay it on their own and helped them complete their term in prison.
The actress has been a part of various charities and campaigns. She was also made the brand ambassador of Greenathon, NDTV's initiative to promote eco-friendly habits and to facilitate access to electricity in rural areas.
The beautiful actress has pledged her eyes to the Eye Bank Association of India and has put efforts to improve the conditions of the poor by starting a foundation.
The King of Bollywood has been a part of numerous charities and campaigns supporting social causes. Make-A-Wish Foundation has appointed him as a member of their board of directors. The actor makes frequent donations to various organizations and individuals. He created the children's ward at Nanavati hospital in Mumbai. He was active in donating funds to the 2004 Indian Ocean earthquake victims and to the National Centre for Promotion of Employment for Disabled People.
6. Dia Mirza
The charming actress has been actively involved with various associations like the Cancer Patients Aid Association, CRY, PETA, Spastics Society of India, and NDTV Greenathon. She has also adopted Cheetah cubs in Lucknow Zoo.
7. Rahul Bose
Since the time Tsunami hit the Andaman and Nicobar Islands in 2004, Rahul Bose has been vigorously involved in the relief efforts for the victims. Teach for India, Breakthrough, Citizens of Justice and Peace, Akshara Center, and the Spastics Society of India are few of the organizations he is associated with.
8. Shabana Azmi
This extremely talented actress has been supporting various causes for a very long time now. She has been associated with an NGO called Mijwan, after a village in UP. The actress has set up colleges, schools, computer training center, sewing and tailoring center, and a chikankari center all of which have empowered people in Mijwan, UP. She continues to do such noble deeds, and we are very proud of her.
The actress has been active towards many social causes. Children's education and safety of women are two agendas on which the actress is working to bring significant change. She adopted a village, Chanderi in MP, in 2010 as part of NDTV's Greenathon campaign. The village is provided with a continuous supply of electricity. She also took part in 1Goal Education campaign. She donated generously to Kashmir flood relief in 2014.
10. Ranbir Kapoor
The actor plays in the All Stars Football Club which plays matches to raise funds for charity, and he happens to be the Vice Captain of the team. Shabana Azmi's Mijwan Welfare Society has chosen him to be the goodwill ambassador. His proceeds from the Ebay auction was given to Uttarakhand flood victims.