1. Bhabhi Ji Ghar Par Hai , Director- Shashank Bali Shashank Bali is one of the renowned Indian direct >> Read More...
This comedy series on &TV, inspired by the 1995 Hindi serial Shrimaan Shrimati Shrimaan Shrimati was a famous TV serial broadcast >> Read More... , revolves around two humorous neighbouring couples residing in a small town of Kanpur. This show depicts how the two husbands, Manmohan Tiwari Manmohan Tiwari hails from Rishikesh and was one o >> Read More... ( Rohitash Gaud Popularly known by his character name, Mukundilal >> Read More... ) and Vibhuti Narayan Mishra ( Aasif Sheikh Who can ever forget the romantic character, Boss, >> Read More... ), don't ever miss a chance to impress each other's wives.

2. Yeh Rishta Kya Kehlata Hai , Director: Romesh Kalra Working for over 21 years, Romesh Kalra is a highl >> Read More... , Jai Kalra Jai Kalra is an Indian actor who has made his appe >> Read More... , Ram Pandey Bio coming soon... >> Read More...
...
Premiering on Star Plus, this is the story of a young couple, Naitik and Akshara, belonging to a Marwari joint family in Udaipur. The series depicts the beauty with which both of them tackle the daily happenings in their household and fulfil all their duties, never compromising on the love the two of them have for each other and their families. 
 
3. ' Naagin Inspired by supernatural powers and incidents Ekta >> Read More... ' , Director- Santram Varma Santram Varma was born in 1970, and he is a film d >> Read More...

This fantastic, magical realistic series on Colors is an eternal saga of love and rebel. The story is about two 'Ichchhadhari Naagin' sisters who seeks to take revenge for their parents' killings and also save the precious 'Naagmani' from predators. This show has been ruling the charts from it's Inception.

4. ' Udaan Udaan is a Hindi Daily series which aired on 18th >> Read More... ' , Producer- Mahesh Bhatt Filmmaker Mahesh Bhatt created a niche for himself >> Read More...
...
This Indian television drama show aired on Colors and is based on the movie of the same name. It highlights the issue of bonded labourers in Indian villages and the exploitation that these people face by some wealthy landlords of the village. This show is a kind of message-oriented one which we get to very rare on television.

5. Kumkum Bhagya Kumkum Bhagya was broadcasted on Zee TV channel. I >> Read More... , Director- Sameer Kulkarni Sameer Kulkarni is an actor and director by profes >> Read More... , Sharad Pandey
...
Aired on ZEE TV, this show has been based on the novel Sense and Sensibility by Jane Austen. The romantic drama series revolves around a Punjabi woman who runs a marriage hall and wishes to get her two daughters married happily. This show has been nominated for several awards like ITA Best Serial Award, etc. It is one of the best shows currently running. 

6. Taarak Mehta Bio coming soon... >> Read More... Ka Ooltah Chashma , Director- Harshad Joshi Bio coming soon... >> Read More... , Malav Rajda
...
This entertaining sitcom aired on SAB TV has been based on the column Taarak Mehta ka Duniya Ne Oondha Chashma written by Taarak Mehta for the Gujarati weekly magazine " Chitralekha Chitralekha is a serial being telecast on ETV Kann >> Read More... ". The show depicts how all the society members of Gokuldham Society of Mumbai come together to help each other face common real-life challenges. This show also depicts the beautiful bonding of neighbours and one's love for another.

7. Jamai Raja Jamai Raja drama series, broadcasted on Zee TV cha >> Read More... , Director- Rohit Diwedi
...
Jamai Raja is the story of Sidharth, a dashing gentleman, who right after his marriage takes up a challenge of repairing the estranged relationship between his wife and mother-in-law. The show tries to break the convention that women have the sole responsibility to manage their household.

8. ' Swaragini Swaragini - Jodein Rishton Ke Sur is an Indian dai >> Read More... ' , Director- Ravi Raj Ravi Raj is an Indian actor. He is mostly seen in >> Read More...
...
This Colors TV show revolves around the lives of two half sisters- Swara, belonging to a Bengali family, and Ragini, belonging to a Marwari family, who make a successful attempt at uniting their parents who had been separated since long ago.   

9. Mere Angne Mein Mere Angne Mein is an Indian comedy-drama TV serie >> Read More... , Director- Partho Mitra Partho Mitra is a director. Partho started his car >> Read More...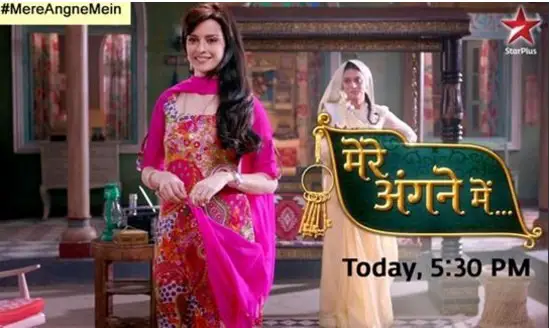 ...
This Indian soap opera aired on Star Plus, is about a typical middle-class family of Uttar Pradesh which lives in Shanti Sadan,  run by Shanti Devi, a very authoritative, bossy woman. The serial depicts what happens when Riya, a modern girl, enters Shanti Devi's family after getting married to her grandson. The show is all about the challenges faced by Riya that are laid in front of her by Shanti Devi.

10. Diya Aur Baati Hum , Director-
This Indian television show on the Star Plus channel is the story of Sandhya and how she trains as an Indian Police Officer, in spite of getting married in a very conservative middle-class family of Pushkar. It shows how Sandhya struggles with her bossy mother-in-law who does not accept her as an IPS officer. This show is an inspiration to all the ladies out there who dreams of becoming something in their lives but couldn't due to certain reasons. This show ruled the charts for a long period of time.