Tamil web series available on OTT platforms are significant for conserving and promoting Tamil culture. They offer diverse entertainment options for viewers and provide a platform for talented artists to showcase their skills. Disney+ Hotstar boasts an extensive collection of Tamil web series that viewers can enjoy. Here are the popular ones:
1. Triples
This Hotstar Specials production is a Tamil-language romantic comedy web series produced by Karthik Subbaraj Karthik Subbaraj is a Tamil director. He lives in >> Read More... through his Stone Bench Creations. Written by Balaji Jayaraman Balaji Jayaraman is a famous short film director, >> Read More... and Charukesh Sekar Charukesh Sekar is a Chennai-based filmmaker with >> Read More... , the series stars Jai and Vani Bhojan Vani Bhojan is a Tamil television serial actress a >> Read More... in lead roles, with Rajkumar, Vivek Prasanna Vivek Prasanna, who was born in the year 1986, bel >> Read More... , Madhuri Jain Born on February 3, 1994, Madhuri Jain is an actre >> Read More... , and Namita Krishnamurthy Namita Krishnamurthy was born in 1995 in Thodupuzh >> Read More... in supporting roles. The series follows three friends who travel to Goa to solve a serious problem that could jeopardize their lives and businesses. They encounter a loan shark, a politician looking for his daughter, and his ex-wife and current girlfriend, making their journey thrilling.
...
2. November Story
Directed by Indhra Subramanian, this crime thriller streaming web series for Hotstar Specials is in the Tamil language and produced by Vikatan Televistas. Tamannaah Bhatia Tamannaah Bhatia is a well known actress in Tamil >> Read More... stars as Anuradha Ganesan, along with Pasupathy M., G.M. Kumar, and Myna Nandhini. The story revolves around a famous novelist suffering from Alzheimer's, and the investigation into the incident reveals several previously unrecognized truths.
3. Telecast
This horror series was written and directed by Kollywood filmmaker Venkat Prabhu Venkat Prabhu is a multifaceted and multitalented >> Read More... and stars notable actors Vaibhav Reddy Vaibhav Reddy is the son of a prominent director o >> Read More... , Kajal Aggarwal Kajal Aggarwal is a modern Indian model and film a >> Read More... , Yogi Babu Yogi Babu is one of the famous actors in Indian fi >> Read More... , Anandhi, and Akash Nath Akash Nath is an Indian television personality who >> Read More... . The show comprises seven episodes, where contestants engage in combat and suffer supernatural attacks while participating in a reality game show at a mansion.
...
4. As I'm Suffering From Kadhal
It is a romantic comedy web series in the Tamil language, created, directed, and written by Balaji Mohan Balaji Mohan is a director by profession. He is fa >> Read More... . The series features talented actors such as Sunder Ramu Sunder Ramu is a film and stage actor, as well as >> Read More... , Yuvina Parthavi Yuvina was first known as a child actress in the A >> Read More... , Sananth, Sanchana Natarajan Sanchana is a popular actress and model who works >> Read More... , Dhanya Balakrishna Dhanya Balakrishna is an Indian actress prominentl >> Read More... , Balaji Mohan, Nakshathra Nagesh Nakshatra Nagesh is an upcoming television persona >> Read More... , and Abhishek Joseph George. The show tells the story of a young divorced father and his 8-year-old daughter, as well as the tales of three different young couples, each with their unique perspective on love in contemporary society. The series, which consists of ten episodes, was released on Hotstar on June 16, 2017. Although the second season has yet to be announced.
...
It is a Tamil school teen drama directed by Praveen Bennett Praveen Bennett is a Tamil director known for his >> Read More... . The series explores the conflict between two groups of students and its consequences. The show includes events typical of student life, such as friendly competition, family issues, jealousy, disputes, ego, love, and friendship. Notable stars of the show include Teja Venkatesh (Nandhini), veteran actor Rajesh, and VJ Sangeetha VJ Sangeetha is an Indian TV actress and anchor, p >> Read More... , among others.
...
6. Fall
A Tamil remake of the Canadian television series Vertige is set to premiere on December 9th, 2022. The thriller drama web series was created by Circle Box Entertainment and Banijay Asia, with Siddharth Ramaswamy Siddharth Ramaswamy is a well-known cinematographe >> Read More... serving as director and Deepak Dhar Deepak Dhar is a famous producer and director, who >> Read More... and S. P. Charan as producers. Anjali, Santhosh Prathap Santhosh Prathap is an actor who works in the Tami >> Read More... , Swastika Rajendran, and Poornima Bhagyaraj Poornima Bhagyaraj was born in Tamil Nadu, India. >> Read More... are among the show's main characters. The plot revolves around a young woman who has been unconscious for three months after falling off the roof of her family's business. The series contains 7 episodes and can be found on Disney+ Hotstar. The audiences are sure to be captivated by this suspenseful and thrilling series.
...
7. Mathagam
It is a Tamil-language thriller drama web series on Hotstar, directed by Prasath Murugesan Prasath Murugesan is a South Indian Film director, >> Read More... through Screen Scene Media Entertainment. Atharvaa, K. Manikandan, Gautham Vasudev Menon, Nikhila Vimal Nikhila Vimal is a Malayalam actress, and a classi >> Read More... , and Dhivyadharshini are the show's prominent actors. The plot centers around a planned siege by a group of criminals, sparking a suspenseful 30-hour cat-and-mouse chase between the police and the organized crime group. Ashwath, an IPS officer, must always be one step ahead of the assailants when the city is under siege. The first season was released on August 18, 2023. Fans of the thriller genre are sure to enjoy this exciting and action-packed series.
...
8. My Perfect Husband
Nirmal Kumar Bio coming soon... >> Read More... has produced a family drama web series featuring Sathyaraj and Seetha in the lead roles. Ajeedh, Rakshan, Rj Raghavi, and Livingston play supporting roles in the series, which comprises 10 episodes. The storyline revolves around the life of an imperfect husband. This is Sathyaraj's first appearance in a web series. Although the release date was initially uncertain, the series was finally released in 2022. It is a family-friendly online series that viewers would enjoy.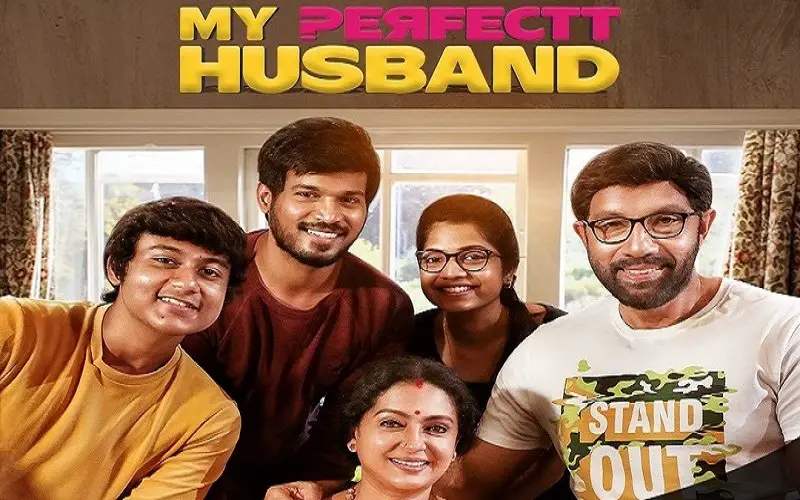 ...
9. MY3
Rajesh is the director of the suspenseful online series MY3, which has financial support from Trendloud. Actress Hansika Motwani will make her OTT debut in this program, released in 2022. A romance between two robots is shown in the romantic comedy-drama. Ganesan wrote the show's musical score. The billboard for the program features Hansika as Mythri/MY3, a humanoid robot; Shanthnu as a scientist; and Mugen as a young man who might be Hansika's potential love interest. The series' cast also features Janani Iyer With her beautiful eyes and charismatic onscreen p >> Read More... and Ashna Zaveri Ashna Zaveri is an actress who has worked in sever >> Read More... .
10. In My Vaazhkai
To rebuild her personal and professional life, writer Akhila relocates to Chennai following her divorce. Little did she realize that she was starting a path toward self-realization at the time.