Noor Jehan Noor Jehan is a singer of two countries India and >> Read More... , also known as Allah Wasai, or the Queen of Melody, was born on September 21st, 1926, in Kasur. At nine, she began performing as a child star in Calcutta. Noor Jehan relocated from Bombay to Pakistan following the split of India and Pakistan in 1947, where she started her acting career. She had a successful singing and acting career spanning more than 60 years in music and movies, earning the honorary title "Malika-e-Tarannum." She was very knowledgeable about both traditional and Punjabi folk music. The Queen of Melody, who currently holds the record for singing the most film pieces in Pakistani cinema history, has performed in over 40 films and over 20,000 songs throughout her career.The following are the top 10 enduring arias of Malka-e-Tarannum Noor Jehan, known as the Queen of Melody:
1. Kehndey Ne Naina
This song is for you if you're in the mood to listen to moving music with meaningful lyrics. It's interesting to note that by the time Noor Jehan sang this song, she had mastered her vocal technique, making it a mature tune you shouldn't miss.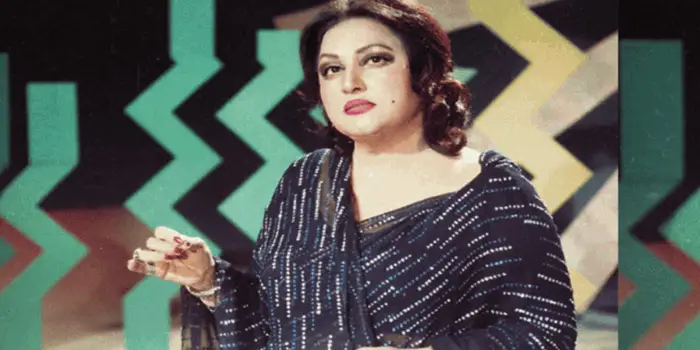 ...
A wonderful song was written in 1952 for the motion picture Dupatta. It was written by Mushir Kazmi and composed by Feroz Nizami Feroz Nizami was a famous Pakistani film score com >> Read More... . This song's history is a pretty interesting one. The lyricist was given a deadline by the director, Ali Sibtain Fazli, to write a ground-breaking song or pack his bags and go home. To appreciate the city's bustle and the stars, Mushir Kazmi went to the production house's rooftop and sat down on his "charpoy" to relax. He did bemoan his fate because he was under pressure to come up with something original.
3. Tere Dar Par Sanam Chaley Aye
Noor Jehan produced this wonderful song, Tere Dar Par Sanam Chaley Aye, for the film Neend a year later, in 1958. This song declares to her better half that she initiated contact because the boyfriend didn't approach her. The poetic structure of this song is fantastic.
...
4. Chan Deya Toteya
After returning to Pakistan in 1947, Noor Jehan opted to direct, act in, and sing in the 1951 film "Chan Wey," which had music by Feroze Nizami. The current generation of singers attempts to imitate this song to demonstrate their mastery of this vocal style, but none of them succeeds.
...
5. Sajna Raah Tera
Master Abdullah, the music composer, was responsible for the melancholy song by Noor Jehan that had me spellbound for years. Sajna Raah Tera Tak Tak Haarian Dil Dei Mein Boohey Kholey Nainan Diyan Baarian was the name of the song. The title of the film was "Jat Mirza." In one of her interviews, Noor Jehan stated that it was one of her favorites.
...
6. Jawan Hai Mohabbat
Jawan Hain Mohabbat is a Hindi song released in 2004. One of Noor Jehan's best hits is Jawan Hai Mohabbat. Furthermore, in addition to being utterly trendy and lively, the song is adorable and catchy. The piece, which has 2.1 million views, was posted on Shemaroo Filmi Gaane's official YouTube channel in 2013 as a tribute to Noor Jehan.
...
7. Sadaa Hun Apney Pyar Ki
In 1957, this song was made available for the motion picture Anarkali. One of the most beautiful songs in music history, without a doubt. It is endearing, passionate, and profoundly moving. The song is incredibly adorable, and it is easy to hear Noor Jehan's teenage voice.
...
8. Ja Ja We Tenu Dil Ditta
The song Ja Ja We Tenu Dil Ditta, from the album Sayonee Mera Mahi, is incredibly soul-stirring. It was brilliantly sung in Punjabi by Noor Jehan, and this song quickly gained popularity.
...
9. Jia Ra Tarse
In the movie "Salma," which is based on the then-unknown Bahar, Rasheed Attre's composition "Zindagi Hei Ya Kisi Ka Intizar" became Noor Jehan's debut cinema playback song after she decided to pursue this trait. Previously, Noor Jehan preferred to sing exclusively for main heroines rather than secondary heroines or vamps. The song Jia Ra Tarse Daikhan Ko, from the 1968 movie Mahal, was filmed in Zeba before Muhammad Ali's Mahal.
10. Woh Mera Na Ho Saka
This song was composed in 1973 for the Pakistani film Azmat. However, the main thing to note is that Noor Jehan has perfected yet another depressing music, and you can hear the sorrow in her voice from the very first second.