Singer-songwriter Ali Zafar Ali Zafar is a multifaceted personality, though he >> Read More... works as a screenwriter, model, actor, painter, and producer. Before being a well-known musician, Zafar began his career on Pakistani television. He later became well-known in Bollywood, and as a result of his success, many Pakistani actors decided to try their luck in Hindi films. Zafar began his career as a composer of music and rose to fame with the track "Channo" off of his self-titled first album, which sold more than five million copies globally. In the 2010 Bollywood satirical film Tere Bin Laden, a moderate box office hit, Zafar made his acting debut in the lead role. His characterization in the movie received positive reviews and led to several nominations, including Filmfare, for Best Male Debut.In this post, we will talk about Ali Zafar's top ten films:
1. Tere Bin Laden
Walkwater Media produced the 2010 Indian satire comedy film Tere Bin Laden, written and directed by Abhishek Sharma Abhishek Sharma started his acting career when he >> Read More... . In a last-ditch effort to enter the United States, an ambitious young Pakistani reporter creates a fake Osama bin Laden video with the help of a lookalike and sells it to TV networks. Pradhuman Singh Pradhuman Singh, is a Hindi actor who portrayed t >> Read More... took on the role of Osama bin Laden. The movie is a parody of Osama Bin Laden and a lighthearted comedy about both the world after 9/11 and America's fight against terrorism. Except for the United States and Pakistan, the film was released worldwide on July 16, 2010.
...
In 2013, David Dhawan Born on 16th of August 1955, David Dhawan has alwa >> Read More... , Sajid, and Farhad Samji released the slapstick comedy Chashme Baddoor in the Indian language. Divyenndu and Siddharth play supporting roles in this Viacom 18 Motion Pictures production, which is an official remake of the 1981 movie Chashme Buddoor. It also stars Ali Zafar and Taapsee Pannu Taapsee Pannu is an actress and model of Indian or >> Read More... , who is making her acting debut. The movie premiered on April 5, 2013.
3. Mere Brother Ki Dulhan
In 2011, Ali Abbas Zafar Ali Abbas Zafar is a popular Indian actor, Directo >> Read More... made his directorial debut with the romantic comedy Mere Brother Ki Dulhan. Aditya Chopra Aditya Chopra is an Indian film director, scriptwr >> Read More... , along with Yash Raj Films, wrote the script and handled production. It features Ali Zafar, Imran Khan Imran Khan is an Indian film actor, who is famous >> Read More... , , and Tara D'Souza. Dimple Dixit (Katrina Kaif) and Luv Agnihotri (Ali Zafar) are getting married in the movie. Still, things get complicated when Dimple and Kush (Imran Khan) start feeling something for one another in the days before the wedding. After completing three independent screenplays for Yash Raj by Zafar, who was then working as an assistant director, Mere Brother Ki Dulhan began development in August 2010.
...
4. Luv Ka The End
Shraddha Kapoor Shraddha Kapoor, born on March 3rd, 1989, is a you >> Read More... and Taaha Shah Taaha Shah is an Indian actor. He was born in the >> Read More... play the main characters in Bumpy's 2011 Hindi comedy-drama Luv Ka the End. The film, which was the first work produced by Y-Films, a branch of Yash Raj Films, was released on May 6, 2011, to largely positive reviews. The movie is also partially inspired by the American films Wild Cherry (2009) and Betty Thomas's John Tucker Must Die (2006).
...
5. London, Paris, New York
"London, Paris, New York," a 2012 Hindi-language romantic comedy film starring Ali Zafar and Aditi Rao Hydari As her title may be suggesting, Aditi the talente >> Read More... , is often known by its initials, "LPNY." It was written and directed by Anu Menon Anu Menon is a film director and a writer in the B >> Read More... . Positive reviews greeted the film's global release on March 2, 2012, which followed the official theatrical trailer's January 14, 2012, premiere. The film, whose total production costs were seven crores, including marketing costs, brought in 240 million. The film brought in Rs. 64.3 million in its first week at home theatres and Rs. 90 million overall. It was also a global success, bringing in Rs. 20 million in the first week and Rs. 40 million throughout its lifetime.
...
Filmmaker Shaad Ali and producer Aditya Chopra of Yash Raj Films collaborated on the 2014 romantic action comedy Kill Dil. In addition to Govinda as the villain, the movie's leading actors include Ranveer Singh, Ali Zafar, and Parineeti Chopra. The movie premiered on November 13, 2014. The film got mixed reviews, with some praising the music, humor, and Govinda's performance and others criticizing the directing and writing. The Gautam Buddha University has served as the backdrop for numerous movie scenes.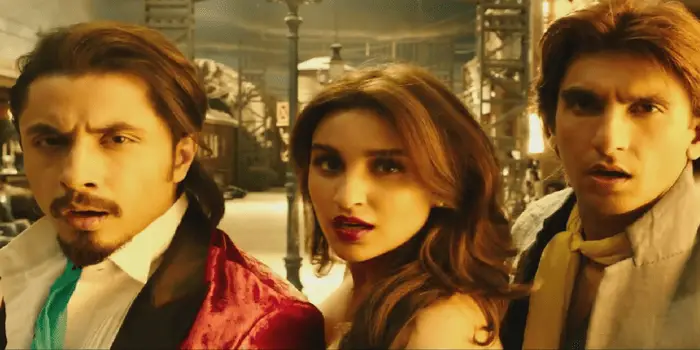 ...
Eeshwar Nivas Eshwar Niwas is no ordinary director. He got natio >> Read More... and Neeraj Pandey Neeraj Pandey is an Indian movie producer, directo >> Read More... are the directors and writers of the 2014 Indian Hindi-language romantic comedy film Total Siyapaa. The script was adapted from the one for the Dominic Harari and Teresa Pelegri-written and directed Spanish-Argentine film Only Human. Total Siyapaa features Indian and Pakistani characters in place of the Israeli and Palestinian lead characters from the first film.
...
Dear Zindagi, a coming-of-age drama film released in Hindi in 2016, was written and directed by Gauri Shinde Gauri Shinde is an Indian feature films and ad-fil >> Read More... . Under the names Red Chillies Entertainment, Dharma Productions, and Hope Productions, respectively, Gauri Khan Born on Ocotber 8 1970, Gauri Khan (originally kno >> Read More... , Karan Johar Karan Johar is one among the top ten celebrities i >> Read More... , and Shinde produced it. In the film, Alia Bhatt Alia Bhatt is a trendsetting actress from Mumbai, >> Read More... plays a pivotal role. Ali Zafar, Kunal Kapoor Born on 18th of Oct in the year of 1977 to a Punja >> Read More... , Angad Bedi Angad Singh Bedi is an Indian actor and model. He >> Read More... , Yashaswini Dayama Yashaswini R Dayama is an Indian actress, model, p >> Read More... , Ira Dubey Ira Dubey is among the brightest, most talented yo >> Read More... , and Rohit Suresh Saraf play supporting roles alongside Shah Rukh Khan Shah Rukh Khan or also known as SRK is a prominent >> Read More... , who makes a memorable cameo. A young filmmaker who is dissatisfied with her life is the central character of the story. She meets a free-spirited psychologist who teaches her a new perspective on life.
...
Nabeel Qureshi is the director and writer of the 2021 Pakistani historical drama film Khel Khel Mein, of which Fizza Ali Meerza is the producer. Sajal Aly and Bilal Abbas Khan Bio coming soon... >> Read More... are the stars. Ali Zafar also has a cameo in the movie. The liberation war of Bangladesh, formerly known as East Pakistan, is central to the film's plot.
In 2018, we saw the release of Teefa in Trouble, a Pakistani romantic action comedy. Ahsan Rahim Bio coming soon... >> Read More... , known for directing music videos and television ads for numerous Pakistani musicians under his Tadpole Films banner, makes his directorial debut with this film. It features Ali Zafar and Maya Ali Maya Ali is a Pakistani actress, model and a video >> Read More... , both of whom made their cinematic debuts in Pakistan. It is also Lightingale Productions' first release under Zafar's label.