1. Bheja Fry
Ranjeet Thadnani (), a Music Producer, invites idiots and ridicules them every Friday with his friends and calls these idiots "talent". One such talent is Bharat Bhushan Bharat Bhushan born in Meerut city of Uttar Prades >> Read More... ( Vinay Pathak Vinay Pathak is a well known face in the field of >> Read More... ), a tax inspector who gets invitation on one Friday. Things turn chaotic, and there is a roller coaster of laughter which is beyond imagination once Bharat Bhushan enters Ranjeet Thadnani's house.
...
2. Khosla Ka Ghosla
Starring two of the most renowned actors of Bollywood, Anupam Kher Anupam Kher is a very popular actor, director, and >> Read More... , and Boman Irani Boman Irani is a well known name today in the Bol >> Read More... , it surely has left a mark in Indian Cinema. The entire movie revolves around a plot of land which is first tricked and lost by the middle-class man (Anupam Kher) and later is won back by him.
...
3. " Phas Gaye Re Obama Click to look into! >> Read More... "
...
Om Shastri (Rajat Kapoor) who is a victim of recession comes to India to sell his ancestral land. On his arrival in India he finds out that if he sells the land, his family would have no home to survive. Later on, he is kidnapped by a gang of goons as they think him to be an NRI.
4. "Gangs of Wasseypur"
...
A clash takes place between Sultan Khan and Shahid Khan Bio coming soon... >> Read More... in the village called Wasseypur. The fight that takes place results in a deadly blood explosion which takes place amongst the three generations of the village, Wasseypur. At the end of the decade, Shahid's son, Sardar Khan becomes the most feared person of Wasseypur as he takes an oath to take revenge of his father's honor back.
5. Dev D
...
A young man, Dev ( Abhay Deol Abhay Deol is an actor and director of the TV indu >> Read More... ) breaks up with his childhood sweetheart Paro () and finds comfort in consumption of drugs. On the contrary, a young girl, Chanda ( Kalki Koechlin Kalki Koechlin is a famous film actress, model and >> Read More... ) gets into prostitution. After leaving Paro, Dev gets involved with Chanda, but his excessive consumption of drugs prevents them from getting together. The story revolves around the three characters and how things unfold, makes the story interesting.
...
6. Fire
...
Ashok runs a family business of food. Both the sisters-in-law due to different reasons are void of sex from their husbands and as one thing evolves to another, they get physical with each other. The movie challenges the traditional Indian beliefs and Indian customs as the two sisters-in-law fall in love with each other and finally run away from the family far from the Indian Customs and Traditions.
7. Earth
Set in the Zone of 1947, the film based in Lahore revolves around the partition of India and Pakistan and its consequences. A set of working class friends from different religions is friends with each other, amongst which a young girl is gets into a love triangle and faces consequences due to the rise of Religious and Political Revolts.
8. " A Wednesday Click to look into! >> Read More... "
A retiring police officer, Prakash Rathod gets a call from an unknown caller saying that he has placed five bombs all over Mumbai which would blast at 6.30 PM. To avoid these blasts the man demands the release of terrorists (four in number) who belong to the Al-Qaeda.
9. Oye Lucky Lucky Oye
A young man who is extremely confident and full of charm becomes a burglar. He eventually becomes rich and successful. His every theft is thought, researched and astonishing. He does not let go off either rich or poor. He robs everybody, and the police is amazed as to how he managed to pull so many heists.
10. Johnny Gaddar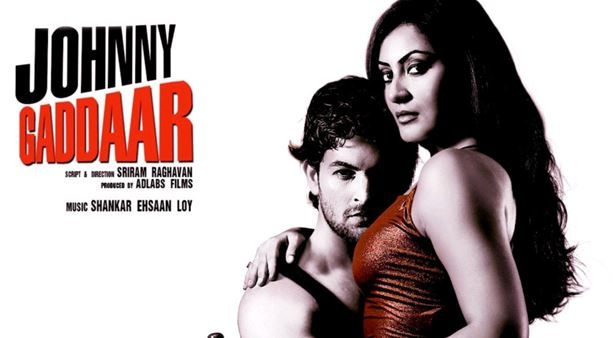 Police officers recount a tale of the missing money. The story starts with the flashback. As the mystery starts unfolding, it is shown that a gang of five group members who run a gambling club and other illegal practices get into the midst of excessive lies, backstabbing, and betrayal, deceit and death.