Bollywood is India's premier Hindi movie industry, where the magic happens on the screen. The magic at times in portrayed in the form of the darkest fears of the audience, the horror genre has amused as well as scared the viewers for years.
Here is a list of top Bollywood movies you should not watch alone
​1. Raat
...
Raat is one of the earliest horror thrillers in Bollywood. It was directed by Ram Gopal Varma Ram Gopal Varma is a famed Indian film director an >> Read More... and it was his first horror movie.
The plot of the story is woven around the Sharma family who moves into a semi-urban locality to a "posh house", rumored to be possessed by an unknown soul. A family of four start experiencing paranormal activities after the sudden death of a cat in the house and bizarre incidents leads to the demise of a friend. The movie will make you scream your lungs out and if you love cats, you will change the way you look at them.
...
2. Phoonk
...
Phoonk was a blockbuster in the horror genre and was directed by Ram Gopal Varma. Unlike any other horror movie, Phoonk was the first Exorcist inspired movie for the Bollywood industry. Ram Gopal Varma claimed that he would offer a sum of Rs.5 lakhs to anyone who was ready to watch Phoonk alone in the theatre.
The movie revolves around the existence of black magic and evil forces. Rajeev the lead character refused to believe in the very existence of dark forces but that changes when he and his loved ones face unimaginable situations, which shatters him and his belief into pieces.
3. 13 B
...
13B has set a new milestone in horror genre in Bollywood industry. This Hindi-Tamil combo has attracted a lot of the audience and a lot of critics as well. The script and a hardworking cast did the job with absolute perfection. 13B is directed by Vikram Kumar Bio coming soon... >> Read More... and released in 2009.
...
This is a story of Manohar and his family who move into a flat on 13th floor. The promos of the movie came with a tag "FEAR HAS A NEW ADDRESS". The family gets hooked on to a TV serial and soon realise that the events in the serial are very similar to the events in their lives. This realization leads Manohar to unearth a secret that threatens his family.
4. 1920
...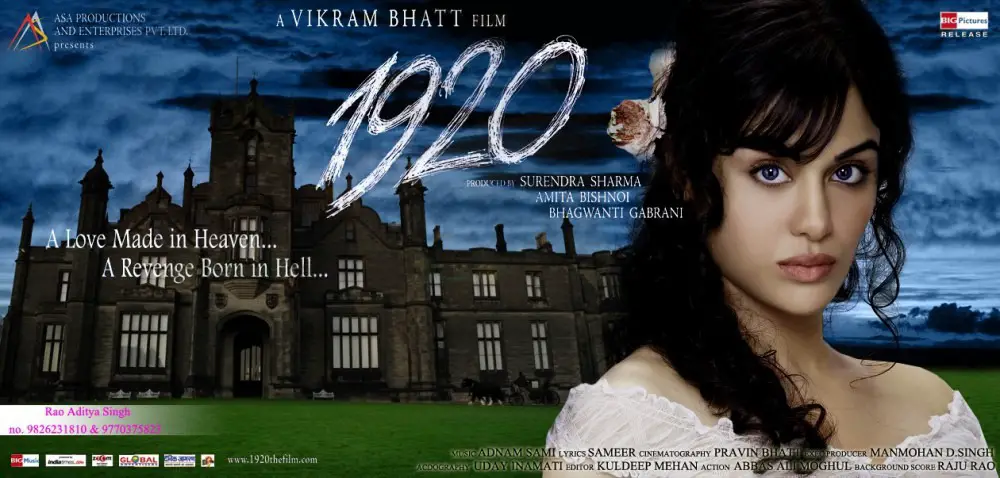 1920, a film directed by Vikram Bhatt Vikram Bhatt (Born 1969) is a prominent film direc >> Read More... is a horror movie but with a sweet and innocent start. But not all happy beginnings have a happy story
...
Arjun, a Hindu guy and Lisa, being Christian are in love but due to their religious differences they move away from their family and start a new life. Arjun gets a project to build a hotel on a haunted mansion unaware of what awaits them. The keeper of the house is a strange man and hides a dark secret, which changes the life of Lisa and Arjun dramatically. Lisa gets possessed by the evil spirit haunting the mansion and knows it's up to Arjun to restore his faith in order to save her.
5. Raaz
Raaz is a film directed by Vikram Bhatt. The story is about a couple, Sanjana and Aditya who are trying to save their marriage. In the hope that they need a fresh start they go to Ooty for a vacation. However, destiny had different plans for them. On their vacation, Sanjana gets haunted by a spirit and weird activities occur which reveals some dark secret about her husband Aditya and his past.
6. Mahal
Mahal (1949), was Bollywood's first movie to deal with reincarnation. Mahal released in 1949, with minimum effects and minimum technology it still manages to haunt the audience.
The story revolves around a house where the builder's wife dies. And later, a young lawyer moves into the house and gets involved with the woman's spirit.
7. Horror Story Click to look into! >> Read More...
Horror Story is the best movie for people who love horror and adventure. Horror Story is based on a group of teenagers, who decide to spend a night in a haunted hotel.
'Young Blood' is never afraid of anything and love to do the things for the rush but the rush can take life that's what happens here to the seven youngsters. The scenes in the movie might make you jump off the seat.
8. Bhoot
Bhoot is said to be an "out of the box "movie due to its unique storyline and was different from the various Bollywood movies as it has no songs yet was a blockbuster.
The lead characters Ajay and Urmila play the role of a married couple who move into a haunted flat. Haunting events start taking place when the wife gets possessed.
9. Ragni MMS
Pawan Kriplani's Ragni MMS is a Sensuous horror thriller, produced by Ekta Kapoor Ekta Kapoor; a legendry producer in Indian TV and >> Read More... and Shobha Kapoor Shobha Kapoor is a film and television producer fr >> Read More... .
Ragini and Uday plan to go to a farm house and Raginiis unaware of the cameras placed all over the house by Uday to shoot an intimate scene with Ragini. However, thhe house turns out to be haunted an their lives chnge drastically. The movie has a daunting, imaginative and an unconventional story.
10. Ek Thi Daayan Click to look into! >> Read More...
Dark Magic, Dark powers and evil has fascinated as well as frightened people. Kannan Iyer's Ek Thi Daayan has its magic, evil spirits, and dark powers, all in one.
Bobo is the lead Character who is a magician by profession and the best at his art. He wants to marry his girlfriend Tamara but tragedy strikes when he starts getting scary hallucinations about his sister, who is dead. Bobo as a kid lived with his widow dad, who marries another woman. Bobo named her Daayan and since then his mind played tricks.