Well, we are pretty sure that most of the fans must be knowing about the love life of their favorite celebrities after they became successful in the industry. But most of you must be unaware of their dating partners before they came into limelight. So here is the list of the top 10 lesser known love stories of your favorite celebs!
#1 Priyanka Chopra Born on 18 July 1982, Priyanka Chopra is an establ >> Read More... and Aseem Merchant Aseem Merchant is an Indian film actor and former >> Read More...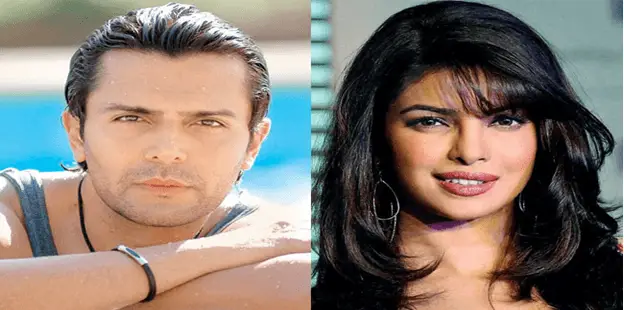 ...
Our own Desi Girl, Priyanka Chopra has been a big hit in both Bollywood as well as Hollywood since she made her debut in 2002. On her way, she has dated quite a few men. Aseem Merchant was reportedly her first boyfriend when she started modeling. It is claimed that after Priyanka Chopra had won the crown of Miss World in the year 2000, she dumped him. Aseem, wanting to take the revenge announced to make a film on Priyanka's life named "67 Days". Priyanka displeased with the act sent legal notices to stop it but still he is going ahead with it.
#2. Deepika Padukone Deepika Padukone is an Indian actress and model. S >> Read More... and Nihaar Pandya Nihar Pandya, a trending name in the Bollywood ind >> Read More...
...
The gorgeous Deepika Padukone's love life has always been in spotlight. Nihaar Pandya and Deepika Padukone had met in an acting school when they both had just started doing music videos. They were in a live-in relationship for three years before they decided to part ways. Himesh Reshamiya's music video I Love You Sayonee featured Nihaar while Aap Ka Suroor had Deepika in it. It is rumored that Deepika's early success has been the reason for their breakup.
#3. Alia Bhatt Alia Bhatt is a trendsetting actress from Mumbai, >> Read More... and Ali Dadarkar Bio coming soon... >> Read More...
...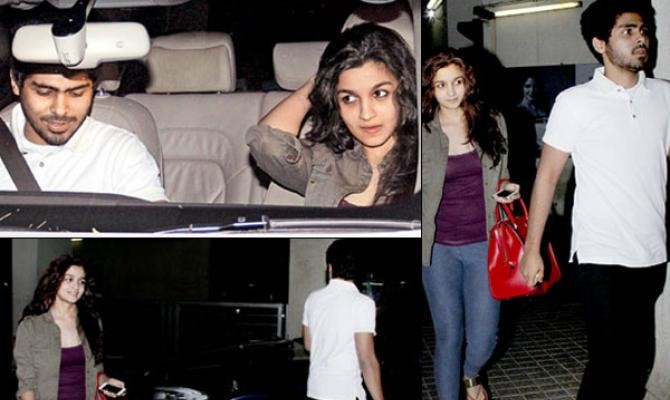 In a recent interview, the lovely Alia Bhatt admitted that she is no saint! She had quite a few relationships when she was in school. Yes! You heard it right. When Alia was in 8th standard, Ali came into life of Alia. In fact, they both shared a close relationship. Their relationship continued for a few years and after their school term had ended, Ali wanted to do further studies and so he decided to go to London and Alia decided to pursue her career in the film industry. They tried to maintain their relationship but the long distance relationship didn't quite work well for both and eventually both of them ended breaking up.
#4. Ranbir Kapoor Ranbir Kapoor is a noted Indian film actor. He was >> Read More... and Avantika Malik
...
Yes, wife of the Bollywood actor Imran Khan Imran Khan is an Indian film actor, who is famous >> Read More... and the heartthrob, Ranbir Kapoor were in a relationship. Very few people know that Avantika was Ranbir's first crush. Ranbir was so in love with her that he daily used to visit the sets of Just Mohabbat Just Mohabbat was a typical Indian Soap Opera/Roma >> Read More... , a popular serial just to meet Avantika where she was working as a child artist. But their love was not meant to live long and Avantika tied the knot with Imran Khan in 2011.
...
#5. Anushka Sharma Born in an army family to Col. Ajay Kumar and Ashi >> Read More... and Zoheb Yusuf
...
Very few people are aware of the relationship between Anushka Sharma and Zoheb Yusuf. Zoheb Yusuf, a ramp model dated Anushka back in Bangalore. It is also claimed that the couple had come to Mumbai to explore their chances in the Film industry. Somehow Anushka Sharma got a break with movies but Zoheb was unable to bag anything and so he had to return to Banglore. So, Anushka Sharma stayed in Mumbai and Zoheb Yusuf in Bangalore. As it wen their long distance relationship didn't quite go as planned and both of them called off their relationship. Sources close to Anushka revealed that she still is in touch with Zoheb.
#6. Aishwarya Rai and Rajeev Mulchandani
...
Love affairs and Aishwarya Rai get along with each other very well! Everyone knows about Aishwarya's love affairs with Salman Khan Salman Khan is a very famous Indian actor and a pr >> Read More... and Vivek Oberoi Vivek Anand Oberoi's birth was on 3rd Septembe >> Read More... . Little do the fans know about the former Miss World's relationship with Rajeev Mulchandani. They both started dating when Aishwarya had just started her Bollywood career and Rajeev was doing modeling. However even with her unmatching beauty, many of her films didn't appear to please the fans including Barsaat with Bobby Deol Bobby Deol was a treat to watch when he walks to t >> Read More... . It was this time when the beauty decided to dump Rajeev and Salman Khan came in her life. Rajeev, on the other hand started dating Manisha Koirala Manisha Koirala, is a Bollywood actress of Nepales >> Read More... after being ditched by Aishwarya. Manisha Koirala even leads to a controversy by saying Rajeev dumped Aishwarya for her.
#7. Sonakshi Sinha Sonakshi Sinha is a well-known Indian Actress. She >> Read More... and Aditya Shroff Aditya Shroff is an investment banker and the owne >> Read More...
Sonakshi Sinha's father Shatrughan Sinha Shatrughan sinha is a well known name of the Hindi >> Read More... is very strict and he does not allow her to go on a date with anyone!! Sonakshi once dated Ranveer Singh Ranveer Singh Bhavnani is an Indian movie actor wh >> Read More... back in 2012 and received scoldings from her father. But Aditya Shroff was different. Aditya Shroff, owner of FAME CINEMAS dated Sonakshi Sinha for over two years. Apparently, both the families knew about their relationship. Reports also say that the couple had a major fight due to some internal problems. Aditya's behavior annoyed Sonakshi at times and she decided not to continue their relationship any longer. Close sources to Sonakshi say that Sonakshi always kept apart her personal and professional life and so she ensured that the relationship ended on a good note. The couple is still in touch with each other.
#8. Arjun Kapoor Arjun Kapoor is a Bollywood star. He was born on 2 >> Read More... and Arpita Khan Adorable and forever loving sister of Salman Khan >> Read More...
Arjun Kapoor in 2014 admitted that his only serious relationship has been with superstar Salman Khan's sister Arpita Khan. Both of them started dating when Arjun was 18 years oldand the relationship lasted for mere two years only. At that time, Salman was Arjun's mentor and Arjun admitted of being nervous while telling BHAI about their relationship. Although their relationship didn't go as planned, Arjun's relationship with Salman remained quite good. Arjun told that even after his relationship with Arpita ended, Salman was still the same with him and guided him like an older brother. Arjun also admitted that after his breakup with Arpita he seriously decided about what he wanted to do in future.
#9. Jacqueline Fernandez Jacqueline Fernandez is one of the top actresses i >> Read More... and Sheikh Hassan Bin Rashid Al Khalifa
Sri Lankan Beau Jacqueline Fernandez has often been in the limelight for her past relationships. Jacqueline dated Sheikh Hassan Bin Rashid Al Khalifa, the Prince of Bahrain before entering the film industry. However their relationship lasted for only two yearsand they broke up in 2011. However, during the release of the movie Roy, she was asked about if she was still dating the prince of Bahrain to which Jacqueline denied that the reports were rubbish and told that Rashid was a married man now.
#10. Freida Pinto Freida Pinto is a popular cinema and TV star who w >> Read More... and Rohan Antao
The star of Slumdog Millionaire Click to look into! >> Read More... , Freida Pinto was married to Rohan Antao in Goa in the year 2007. But due to the success of The Slumdog Millionaire, Freida Pinto ditched her husband. It is also claimed that Antao, a Mumbai-based executive used to support Freida during filming but she stopped calling him after Golden Globe Awards in 2009.Close friends to Rohan claimed that he was shocked and devastated after Freida dumped him. So, friends, this was our Top 10 Lesser Known Love stories in Bollywood. Hope you guys enjoyed it!