1. Ranveer Singh Ranveer Singh Bhavnani is an Indian movie actor wh >> Read More... and Fawad Khan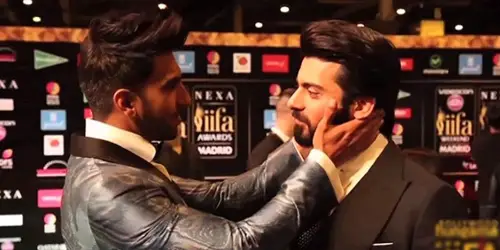 When Ranveer Singh met Fawad Khan on the green carpet of the Iifa awards 2016, he showed us his fangirl side and rushed over to get a hug. He also gushed over Fawad and complimented him on the success of his film, Kapoor And Sons Click to look into! >> Read More... .
...
2. Swara Bhaskar Swara Bhaskar is a talented Indian actress who is >> Read More...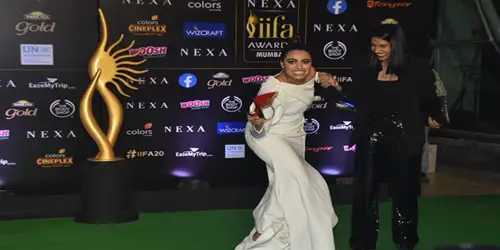 After tripping on it, Swara decided to ditch her heels on the 2019 green carpet and opted to walk barefoot instead. Sharing a post on Instagram, she told her fans about her lifelong enmity with high heels.
...
3. Ranveer Singh and Salman Khan Salman Khan is a very famous Indian actor and a pr >> Read More...
...
Rocking a custom-made suit resembling a saree on one side, Ranveer Singh made quite a statement. Further, on the stage, Salman Khan proceeded to make fun of it by wiping his face with the cloth. Nevertheless, he carried the suit with his usual charm and grace.
4. Ronald Trump
...
When Karan Johar Karan Johar is one among the top ten celebrities i >> Read More... was the host for Iifa Awards 2017, he brought to stage with him Ronald trump, a Donald Trump Donald Trump, full name Donald John Trump, is an i >> Read More... impersonator. Ronald then started the show by singing Mere Desh Ki Dharti and even mentioned Katappa killing Baahubali, the ever-popular meme.
5. Arjun Kapoor Arjun Kapoor is a Bollywood star. He was born on 2 >> Read More...
...
While hosting Iifa 2018, Arjun Kapoor had to announce his performance with Kriti Sanon Kriti Sanon is a model-turned-actress who made her >> Read More... that was to begin after a few minutes. It was funny seeing him presenting the screen to himself only. All in all, their dance turned out great.
...
6. Shah Rukh Khan Shah Rukh Khan or also known as SRK is a prominent >> Read More... and as hosts
...
Whenever these two came out on stage, their corny jokes and digs at various celebrities, in a non-threatening and funny way obviously, managed to crack up the audience hard. Their presence, in itself, was electrifying and downright hilarious. Way hilarious.
7. Karan Johar and Saif Ali Khan
The opening of Iifa Awards 2017 showed hosts Karan Johar and Saif Ali Khan roasting each other. They even made fun of each other's filmographies and movie cuts. Some moments were, however, worth mentioning like this one and seemed to leave the audience in splits.
8. Kevin Spacey Kevin Spacey is a film writer, producer and direct >> Read More... dancing
While giving off the Entertainer of The Year award to Deepika Padukone Deepika Padukone is an Indian actress and model. S >> Read More... during the 2014 Iifa Awards and on the insistence of Shahid Kapoor Shahid Kapoor also identifies as the name Shahid K >> Read More... , Kevin Spacey showed off his moves. Donning a lungi, he did the Lungi dance with Deepika Padukone and Shahid Kapoor and seemed to enjoy it too.
9. Varun Dhawan Varun Dhawan, a new comer entered Bollywood with h >> Read More...
Varun Dhawan showed off his power dance moves with killer energy during the 2017 Iifa Awards. He wore a red sequined vest with his father, David Dhawan's face printed on the front. It was indeed funny and Varun's way of honoring his father's legacy.
10. Salman Khan
During the photoshoot session of the Iifa Awards 2019, a stray dog seemingly followed Salman Khan on the green carpet. It even photobombed the actor while reporters were clicking his photos. The dog seemed to enjoy all the attention and stayed there for a while.