The entertainment industry lives across the country, and the root of the entertainment industry is of course the creativity, the imagination, the vision. That can't be limited just to the south or Bombay. It just depends on the person! Imagination has no bounds. You, me, anybody can weave a grand tale much to our interest. Who knows it might one day be the story of a big banner movie? Keep your hopes high! The creativity isn't limited to a particular region. Here are the ten best hindi remakes of regional movies.
1. ' Ghajini'
Did your heart sink when you watched this movie for the first time? The story is very touching. Upon that Aamir has simply nailed the role of Sanjay Singhania! Couldn't expect less of the Perfectionist, could we? This movie was a remade from the Tamil movie 'Ghajini.'
It has everything that a hit movie needs and in the most appropriate amounts; a little action, suspense, thrill, comedy, and also has the perfect cast! It was the remake of Malayalam movie Manichitrathazhu and also Bengali movie Rajmohol.
3. ' Golmaal'
This thoroughly entertaining Rohit Shetty movie always makes the audience go ROFL, just in case you don't know what ROFL means- rolling over with laughter! Doesn't it? It was the remake of Tamil movie London.
4. No Entry
Again wasn't this a fun movie? Yes, it was! Starring actors like Anil Kapoor, Salman Khan, and Fardeen Khan it did performed well at the box office. It was the remake of Tamil movie Charlie Chaplin.
5. ' Paheli'
This beautiful folk tale of Rani Mukherji and Shah Rukh Khan is actually based on a Kannada film named Nagamandala.
6. ' Swades'
Wasn't this movie beautiful? And the character played by Shah Rukh was absolutely mesmerizing. It is one of the best Shah Rukh's films ever. It was a remake of Kannada movie Chigurida Kanasu.
7. ' Wanted'
Wanted turned Salman Khan's career as it was a big success at the box office. It was a remake of a Tamil movie named Pokiri.
8. ' Housefull'
This Sajid Khan movie is something we can never get enough! Akshay has aced his innocent character. Not many know that this film was a remake of Tamil movie named Kaathala Kaathala.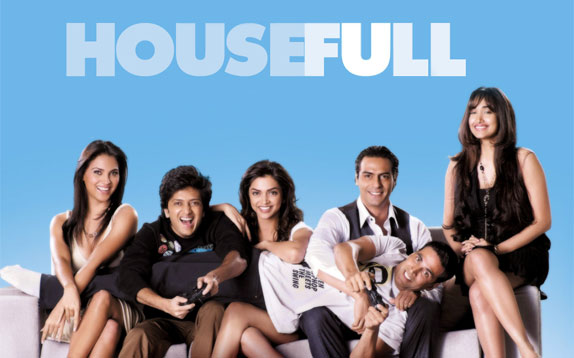 9. ' Singham'
Rohit Shetty is majorly known for Singham. It is one of the best movies he has ever made. The cast, the plot everything's on point. This flick is a remake of a Bengali film named Shotru and Tamil movie named Singam.
10. ' Dhadak'
Ever since the Marathi movie, Sairat has stormed the box office people have never been able to forget it. Karan Johar has now decided to make a remake of the Marathi movie marking the debut of star kids Ishaan and Jhanvi Kapoor.