1. Guide (1965)
and Tad Danielewski turned R.K Narayan's hugely acclaimed 1958 picaresque novel, Guide into a classic romantic film of the same name with an impeccable Dev Anand Dev Anand would be nostalgically remembered by fil >> Read More... - Wahida Rahman's chemistry. The film became popular for its plot which deals with the ups and downs of relationships, trust, love, deception, and forgery, and the melodious music is composed by S.D. Burman.
...
2. Samskara (1970)
The novella Samskara : A Rite for a Dead Man, granted Professor U R Ananthamurthy national fame in 1965. Later in 1970, Pattabhirama Reddy adapted it into a Kannada film of the same name. The plot revolves around the death of Naranappa, a Madhwa Brahmin and through this incident the problems of class and caste in Durvasapura; the Brahmin village comes to the surface. Praneshacharya, a devout Brahmin, in the meantime, through several interactions with life achieves a certain point of epiphany. Girish Karnad Born on 19th May 1938, Girish Raghunath Karnad is >> Read More... as Praneshacharya got huge acclamation at that time. In the same year of its release, the film got National Award for Best Feature Film.
...
3. Shatranj Ke Khilari (1977)
Shatranj Ke Khilari (or The Chess Players) is a 1924 short story written by Munshi Premchand based on which Satyajit Ray's in 1977 made a masterpiece on screen with Saeed Jaffery, Victor Banerji, Amjad Khan Amjad Zakaria Khan was born on 12th November, 1940 >> Read More... , Sanjeev Kumar Sanjeev Kumar was born on July 9th, 1938 in Mumbai >> Read More... , and Shabana Azmi Shabana Azmi is a film actress of Indian origin an >> Read More... in the lead roles. The film tells us a story of Wajid Ali Shah, the last ruler of Avadh; the independent kingdom. During the British invasion of Avadh, Wajed Ali Shah instead of fighting back spends his days playing one game of chess after another, giving up all his duties toward his family. This film too, got National Award for Best Feature Film.
...
4. Angoor (1982)
Adaptation of Shakespeare's plays is not a new trend. In 1982, Gulzar Sahab adapted one of Shakespeare's earliest intelligent slapstick comedies, The Comedy Click to look into! >> Read More... of Errors (1594), into a hilarious comic film, Angoor. Two identical twins (a pair of Sanjeev Kumar and a pair of Deven Verma Deven Verma was born on 23rd October 1937 in Pune >> Read More... ) ; the first pair is a foil to the other and create chaos because of their mistaken identities. Eventually like every other Shakespearean comedies, the confusion gets sorted.
...
5. Earth (1998)
...
The second part of Deepa Mehta Deepa Mehta makes such pretty movies, when watchin >> Read More... 's trilogy Fire, Earth, and Water is based on the 1992 novel Cracking India (1991) by the Parsee author Bapsi Sidhwa. The author published the original version of Cracking India as Ice-Candy Man in 1988. Set in the backdrop of communal riots in 1947 Lahore, it traces the spiritual journey of a girl with polio. Both Rahul Khanna and Nandita Das Nandita Das is an actress and director extremely p >> Read More... got the Filmfare Award for Best Debut Actor and Actress respectively.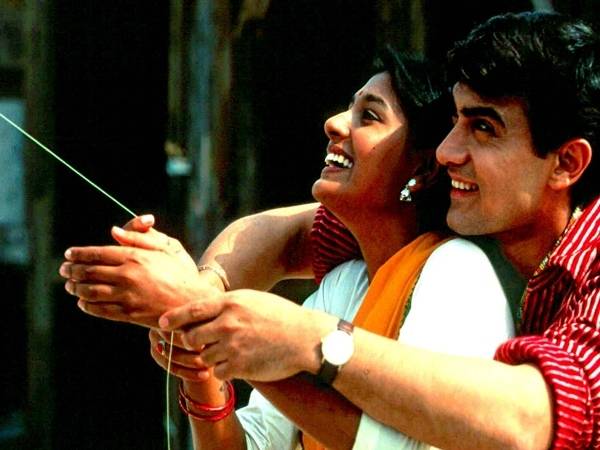 ...
6. Pinjar (2003)
The recipient of both Bharatiya Jnanpith and Padma Vibhushan awards, Amrita Pritam's most famous work is Pinjar (1950). In 2003, Chandra Prakash Dwivedi Chandra Prakash Dwivedi is an Indian film script w >> Read More... made a film of the same name based on the novel. Rashid ( Manoj Bajpayee Born on 23 April 1969, Manoj Bajpai is first a Bol >> Read More... ), a Muslim man abducts Puro ( Urmila Matondkar Urmila Matondkar is an Indian actress born on 4th >> Read More... ), a girl born in a Hindu family and later marries her. The constant tension in the conjugal life of Puro and Rashid to a greater extent takes the form of communal tension in the pre-partition India.
...
7. Maqbool (2003)
Shakespeare's most outstanding tragedy of damnation, Macbeth, was successfully executed on screen by Vishal Bhardwaj The most outstanding of a successful film producer >> Read More... as the 2003 film, Maqbool. We all are familiar with the story of Macbeth. Bhardwaj gave a little twist in the same storyline by making Duncan an underworld mafia leader. Irfan Khan as Macbeth, Tabu as Lady Macbeth, and Pankaj Kapoor as King Duncan did justice to their characters. Naseeruddin Shah Naseeruddin Shah is an experimental actor and asso >> Read More... and Om Puri Om Rajesh Puri is one of the widely noted senior a >> Read More... as two buffoonish cops excellently portrayed the characters of the witches.
8. The Blue Umbrella Click to look into! >> Read More... (2005)
This time Vishal Bhardwaj successfully made an attempt to adapt Ruskin Bond Ruskin Bond is a famous contemporary Indian writer >> Read More... 's short story: The Blue Umbrella (1974) on screen. Ruskin Bond, the author who never fails to weave magic with his pen, in The Blue Umbrella, introduces a little girl Biniya (Shreya Sharma) who gathers the admiration of the people of her town because of a blue umbrella gifted to her by a few Japanese tourists. The tension in the plot begins to build up when Nandakishore ( Pankaj Kapur Pankaj Kapur is a prominent Indian actor and direc >> Read More... ), a grocery shop owner wants to steal the umbrella from her.
9. Raincoat (2004)
Rituparno Ghosh Rituparno Ghosh(1963-2013) was a profound actor, d >> Read More... recreated O Henry's famous ironic love story The Gift Click to look into! >> Read More... of the Magi (1905) in 2004 through the story of two former lovers. The film starts when Manoj ( Ajay Devgan Ajay Devgn is an Indian film actor. He is perhaps >> Read More... ), a man in urgent need of money for sister's wedding accidentally meets his former fiancée Neerja ( Aishwarya Rai Bachchan Aishwarya Rai Bachchan is a popular Indian actress >> Read More... ) due to a twist in destiny. She once rejected him for marrying a richer man. The plot progresses as both of them start lying to each other about their lives.
10. Midnight's Children (2012)
Salman Rushdie Salman Rushdie is a British-Indian novelist and es >> Read More... won the greatest acclamation of his life for his novel, Midnight's Children (1981). The book got The Man Booker Prize in 1981, and Salman Rushdie became the first postcolonial author in India. In 2012, Deepa Mehta directed a film of the same name where Satya Baba, son of the famous postcolonial critic Homi Bhabha played the role of the protagonist, Saleem Sinai. The plot depicts the conditions of the post-partition, fragmented India, and Pakistan in a unique manner with the help of magic realism narrative technique.