1.
Dabboo Ratnani Dabboo Ratnani is a well known Fashion Photographe >> Read More... was pleased to have Amitabh Bachchan in his shoot. Mr. Bachchan suggested them many expressions, from stupid to severe. Even Dabboo tweeted about being honored to have him for his 2016 calendar shoot.
...
2. Anushka Sharma Born in an army family to Col. Ajay Kumar and Ashi >> Read More...
The sweet Bollywood splendor actress Anushka Sharma is portrayed in an incredible and stylish photo shoot with the aid of Dabboo's calendar. She is seated with her hair fantastically down giving a glinting and acceptable look with the thin strap of her dress simply loose of her shoulder. Smokingly sexy indeed.
...
3. Shraddha Kapoor Shraddha Kapoor, born on March 3rd, 1989, is a you >> Read More...
...
She is sitting right opposite in direction on a motorcycle giving that 'hot chick' appearance, sporting just a vest and boots, it mainly makes Shraddha look very smooth on the attention indeed. Year after year, Dabboo Ratnani produces an all big name calendar and inevitably challenges all other celebrity photographers. The most notable personalities, the outlandish backdrops, and the exciting concepts – he by no means lets us down. This calendar has raised the bar over again, and we will wait to get our fingers on one.
4. Priyanka Chopra Born on 18 July 1982, Priyanka Chopra is an establ >> Read More...
' Quantico Click to look into! >> Read More... ' megastar, Priyanka Chopra has had a skyrocketing stint in 2015, which makes her look in the 2016 calendar even more thrilling. Wearing a coat hooded like dressing a gown, she is the lively evidence and her appearance seems endearingly attractive. The new Hollywood beauty knows all too appropriately a way to give a killer pose in Dabboo Ratnani's shoot, for she has appeared in several variations.
5. Kriti Sanon Kriti Sanon is a model-turned-actress who made her >> Read More...
The new face to be seen in this year's calendar, confident though her pro style, is none other than Kriti Sanon. The actress's slim belly protrudes through the smooth gray shirt, leaving little to the imagination. Posing flawlessly and at ease in front of the camera, you would in no way have guessed that this was her first ever shoot for Dabboo's calendar.
6. Sonakshi Sinha Sonakshi Sinha is a well-known Indian Actress. She >> Read More...
Sonakshi Sinha has dared to be unique in her photo shoot for Dabboo's calendar of 2016. Putting on a tribal make-up appearance with vibrant colors, her mesmerizing eyes take you into some other unique magic which draws you. Truly terrific.
7. Sidharth Malhotra Sidharth Malhotra is an Indian actor who was born >> Read More...
Ever wanted to have a glimpse of the half-naked Sidharth Malhotra in a tub; well then you have come to the right site! The actor guaranteed that this shoot would be saucily attractive, and he without a doubt did not disappoint. Sidharth seduces every person with his sassy personality, bantering us as he smokes a cigar. That is the precise quantity of rough and tough that we wanted, and we can't move our eyes away from him.
8. John Abraham Like some of our sexy stars, John Abraham has had >> Read More...
The possibility for John Abraham to flaunt his flawlessly toned belly to the world is pretty high in any Daboo Ratnani shoot. Not that we're complaining, due to the fact that this shot is one significantly of hot appearance. Dangling from a tall bar, John bends his muscles as he encompasses himself in the direction of a primary black backdrop.
9. Varun Dhawan Varun Dhawan, a new comer entered Bollywood with h >> Read More...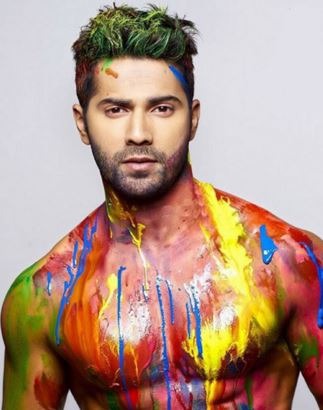 Fetching color and life to the calendar from the B-Town heartthrob. The half naked star showed us his shaped abs and an alluringly subtle stare that we honestly cannot overlook. This brightly colored shot is clearly one of the extra complex entries of this year's calendar. The unusual premise, making Dabboo a very versatile photographer.
10. Parineeti Chopra The bubbly actress, born on 22nd October 1988, lan >> Read More...
She has under no circumstances been shy about giving that exciting attraction to her appearances on Dabboo Ratnani's calendar, and 2016 isn't any one of a kind. The cute appearance of her sitting in the front of an opened refrigerator and surrounded with goodies which include an empty champagne bottle, cupcakes, and donuts, absolutely offers the look of a lady who loves to party all night long!