Some actors and actresses love pet animals. They love to spend time with them and enjoy their company. Here are some celebrities with their pets.
1. ANUSHKA SHARMA
...
Anushka Sharma Born in an army family to Col. Ajay Kumar and Ashi >> Read More... loves Dude like nobody else. She says that Dude means a whole world to her. She always tells her fans and followers to adopt a dog. Virat Kohli Virat is counted amongst the very best players, th >> Read More... and Anushka love to spend time with their dog.
2. PRIYANKA CHOPRA
...
Priyanka Chopra Born on 18 July 1982, Priyanka Chopra is an establ >> Read More... has a cute little puppy. She calls her Diane. She always pampers her. She loves to spend time with Diana. Priyanka has posted many pictures with Diana on her social media.
3. JACQUELINE FERNANDEZ
...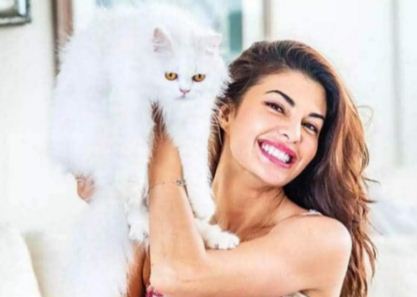 Jacqueline's love for cats is unconditional. She is very much attached to her pets. She likes to spend time with her pets. She has four cats., and she calls them Miumiu, Loki, Xyan, and Yoda.
4. ALIA BHATT
...
During the lockdown period, Alia spent her time with Ranbir Kapoor Ranbir Kapoor is a noted Indian film actor. He was >> Read More... at his place. She also posted a picture with Ranbir's dog. She captioned the picture as they make everything better.
...
5. SALMAN KHAN
...
Salman Khan Salman Khan is a very famous Indian actor and a pr >> Read More... loves his pets more than anyone else. He had two dogs names Myson and Myjaan. Both passed away. Now he owns a Labrador, and he has kept his name as Mowgli.
6. SHRADDHA KAPOOR
...
Shraddha Kapoor Shraddha Kapoor, born on March 3rd, 1989, is a you >> Read More... owns a cute little dog. She has kept her dog name as Shylon. She also loves to call him Chotu Maharaj. She often posts a picture of her dog on her Instagram.
7. IMRAN KHAN
Most of us are not aware of Imran Khan's love for dogs. He is a huge dog lover. He owns two dogs, tony and kajri. He takes care of them. He has also stated that my dog Tony has changed my life, and you can change the life of a Homeless dog by adopting them.
8. ARJUN RAMPAL
One of the most popular and dashing actors in the Bollywood industry, Arjun Rampal Amit Rampal is an Indian Actor, Host, Producer and >> Read More... , owns two dogs. He has kept their names as Gangsta and Muscles. Arjun loves his dogs unconditionally.
9. BIPASHA BASU
Bipasha Basu Bipasha Basu, born in January 7,1979 in Delhi, is >> Read More... has a dog called Poshto. She says that she is not just a pet but a family member. Poshto completes my family and keeps us happy and connected.
10. SONAKSHI SINHA
We have always seen Sonakshi posting cute, abrodable pictures with her dog on social media. She also calls herself the biggest dog lover. She has kept the dog name as Bronze.