Here are some of the popular Bollywood stars, whom the film industry lost in just one month. The audience will surely remember them for their unforgettable work in the respective field.
1. Ratnakar Matkari Ratnakar Matkari is an Indian writer who worked fo >> Read More...
...
Ratnakar Ramkrushna Matkari was a very famous Marathi writer, play producer and director. He was 81 years old when he left the world. He was tested positive with coronavirus and it took his life.
2. Sai Gundewar This young guy was born by the name, (Sai Prasad). >> Read More...
...
Sai Gundewar has worked in many movies in the Bollywood industry. Some of them are PK and Rock On. He died on 10th May 2020 in the USA. He was suffering from Brain cancer.
3. Shafiq Ansari Shafiq Ansari is a film writer in Bollywood. He ha >> Read More...
...
Shafiq Ansari was a Television actor. He lost his life to cancer. Shafiq was just 52 years old. He died on 10th May.
4. Mohit Baghel Mohit Baghel is an Indian actor who was born on th >> Read More...
...
Mohit Baghel took his last breath on 23rd May 2020. He died at his home in Uttar Pradesh. He was diagnosed with cancer and had been suffering for the past six months. We have seen Mohit Baghel in the movie Ready with Salman Khan Salman Khan is a very famous Indian actor and a pr >> Read More... . He did many small roles in Bollywood movies.
...
5. Yogesh Kaur
...
Yogesh Kaur is one of the Prominent lyricists of the Bollywood world. He was 77 years old when he took his last breath. He will surely be remembered for his beautiful songs. 
6. Manmeet Grewal Manmeet Grewal was a super talented Indian actor a >> Read More...
...
This handsome television actor took his own life. Manmeet Grewal was a hardworking actor. Due to Lockdown, he was facing a financial crisis. He committed suicide in his house at Navi Mumbai. He was just 32.
7. Sachin Kumar
Sachin Kumar is the brother of renowned actor . This famous actor of Kahaani Ghar Ghar Ki, Sachin Kumar said Goodbye to the world on 15th May. He had a severe cardiac arrest. He was passionate about Photography. He was just 42 years old.
8. Rishi Kapoor Rishi Kapoor is an actor born in the prominent Kap >> Read More...
Indian cinema is incomplete without Rishi Kapoor. He died on 30th April. Rishi Kapoor was suffering from leukemia since 2018. He also went to New York Click to look into! >> Read More... to cure this disease.
9. Wajid Ali Wajid Ali is a part of the most popular Hindi musi >> Read More...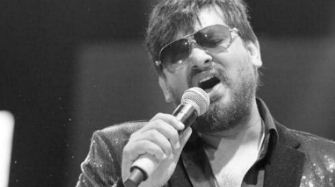 Wajid Ali was one of the popular singers of the Bollywood industry. Wajid Ali said goodbye to us at a very young age. Wajid Ali died on 1st June. He took his last breath in Surana Hospital in Mumbai. He was tested Covid positive. Before that, he had his Kidney Transplant.
10. Irrfan Khan Irrfan Khan is a noted Bollywood actor who started >> Read More...
Irrfan Khan is one of the amazing actors in Bollywood. He was just 53 years old. He took his last breathe on the 29th of April at Kokilaben Hospital. He was diagnosed with a Neuroendocrine tumor.