1. Singham (2011)
A very entertaining and engrossing work, this film makes no pretense of being anything but a downright masala movie. Very popular for its action sequences and some great acting moments by Ajay Devgan Ajay Devgn is an Indian film actor. He is perhaps >> Read More... and Prakash Raj Prakash Raj, born on 26th of March, 1965, as Praka >> Read More... , the movie was a solid achievement in the director's critically and commercially successful movies roster. Ajay fits great in the role of Bajirao Singham, a cop instilled with integrity whose mission is to fight against injustice. His ethics are tested when he goes up against a ruthless and corrupt politician in Goa, Jaikant Shikre.
...
2. Chennai Express Click to look into! >> Read More... (2013)
The King of Bollywood and Rohit Shetty Rohit Shetty is a famous Director in Bollywood who >> Read More... worked in tandem to create this blockbuster which happens to be the quickest movie to surpass the one billion rupees mark in Hindi Cinema. It currently holds the position of the seventh highest grossing Indian movie. Shah Rukh Khan Shah Rukh Khan or also known as SRK is a prominent >> Read More... dons the role of a man who boards a train from Mumbai to Rameswaram, and the movie follows the events that transpire after he falls in love with the daughter, enacted by Deepika Padukone Deepika Padukone is an Indian actress and model. S >> Read More... , of a local don.
...
3. Golmaal : Fun Unlimited (2006)
The first of a three-part film series, this comedy movie started a new brand of humour by the director and was a surprise hit at the box office, with collections close to 700 million rupees. The movie follows a man facing stiff competition from his friend after they both fall in love with the same girl. Matter take a hilarious turn when two more men also fall in love with her.
...
4. Golmaal 3 (2010)
The concluding picture to the Golmaal trilogy, it follows the ridiculously funny events transpiring when Pritam, a single father, stumbles across Geeta, his college sweetheart. But matter become complicated when their respective kids do not get along with each other.
...
5. Bol Bachchan Click to look into! >> Read More... (2012)
...
Yet another comedy movie in the director's roster, the plot follows Abbas, who infiltrates a temple to rescue a trapped child. He assumes a fake identity when he is caught and manages to lie his way out of trouble.
...
6. Singham Returns Click to look into! >> Read More... (2014)
The sequel to the 2011 hit, the movie continues the saga of Bajirao Singham investigating the death of an officer on his team. The chase leads him to Swamiji, a so-called godman with great influence among politicians, and it is left to Singham to avenge his fallen comrade and resolve the ensuing crisis.
...
7. Golmaal Returns Click to look into! >> Read More... (2008)
This sequel was even more successful than the original and follows the wife of a man obsessed with finding the truth when she suspects him of having an affair with a woman who he saved on a yacht one night.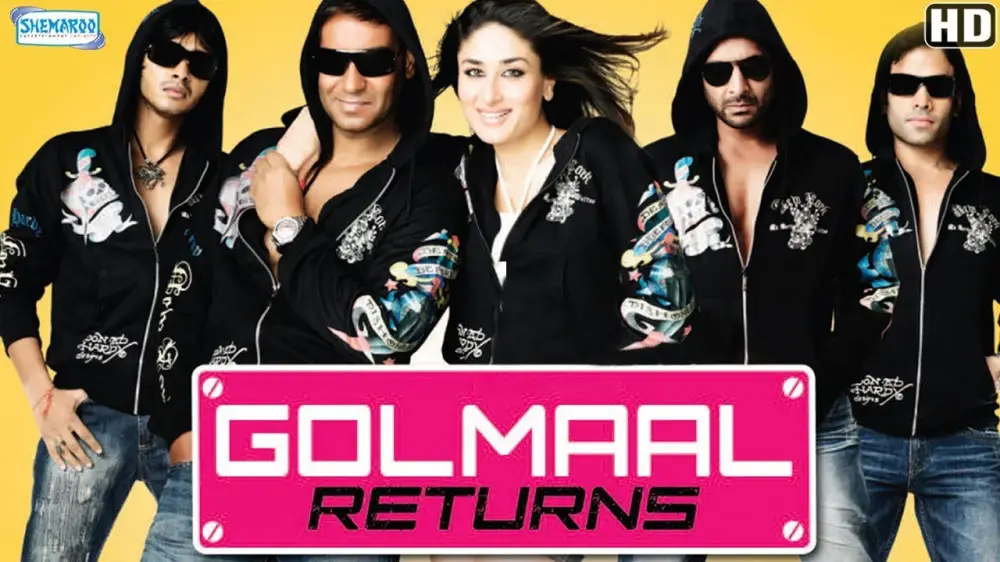 8. Dilwale (2015)
This romantic comedy deals with Raj falling in love with Meera and their separation due to their parents' rivalry. However, things remain far from simple when they encounter each other as their siblings fall in love.
9. All the Best: Fun Begins (2009)
The plot revolves around a man who spins a massive web of lies about his personal life to stay in the good books of his brother. But push comes to shove when the brother pays a surprise visit.
10. Zameen (2003)
Two officers team up to defeat a group of terrorists who have hijacked a plane and demand their incarcerated leader to be released in exchange for the hostages.