Ambition in the arts, and particularly in film, is never simple. As much as we the viewers encourage filmmakers to take chances and strive to produce the finest possible work, it's never enjoyable when artists aim for the stars without having the skills to support it. Additionally, big projects always carry an economic risk because they frequently have a tone and style that viewers around the world may not find appealing.
1. Zero
Aafia is a scientist with cerebral palsy whom Bauua, a short man, falls in love with but quickly breaks up with. Later the discovery about Aafia alters his life irreversibly. The key roles include Katrina Kaif, Anushka Sharma, and Shah Rukh Khan. The protagonist of Zero is Bauua Singh, a short man from Meerut who, after having trouble finding a spouse, befriends Aafia Bhinder, a scientist at the NSAR (a made-up space research agency). Bhinder has cerebral palsy.
2. Jagga Jasoos
Bagchi, Jagga's adoptive father, enrolls him in a boarding school and then abruptly vanishes. When he grows up, Jagga begins looking for him with the aid of journalist Shruti. On July 14, 2017, it was released to mixed reviews from reviewers, however, it received ten nominations for the 63rd Filmfare Awards, winning four of them for the soundtrack.
3. Thugs of Hindostan
A small-time criminal named Firangi is hired by the East India Company, which instructs him to infiltrate their adversary Azaad and his band of robbers. Firangi must decide whether to help the bandits or turn on them.
4. Bombay Velvet
Johnny, a commoner, aspires to fame and fortune to earn Rosie's love. His ambitions gain momentum after he enters the criminal underworld, but he will soon have to face many difficult obstacles.
5. Raavan
A bandit kidnaps the wife of an officer, falls in love with her, and then releases her—only to discover that she is in love with the other man. When her husband becomes aware of this, he uses her as a scapegoat to catch the bandit.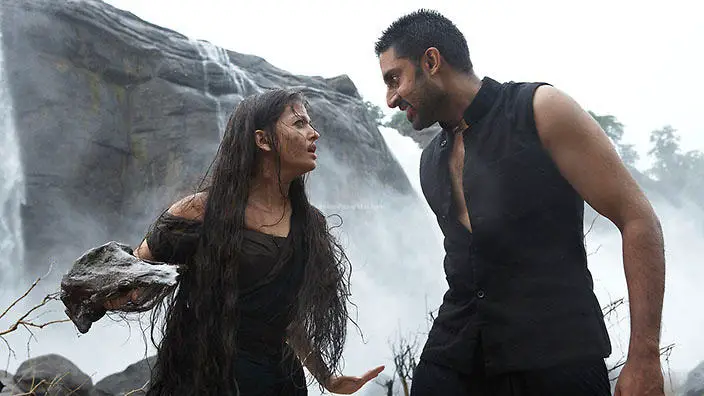 6. Tubelight
Laxman, a frail young man, is the only member of his brother Bharat's family. When a conflict between India and China starts, he is devastated to learn that his brother has been enlisted in the military.
7. Kalank
Kalank is a 2019 Hindi-language love drama film that Karan Johar and Abhishek Varman both produced. Her doctor informs Satya Chaudhry that she has cancer and would pass away shortly. She returns to her childhood friend Roop's village in the Rajputana region and asks her to look for her liberal newspaper publisher husband Dev Chaudhry.
8. Laal Kaptaan
Navdeep Singh co-wrote and directed the 2019 Hindi-language epic western action drama film Laal captain. Gossain, a bounty hunter, embarks on a mission to eliminate Rahmat Khan, his archrival. He encounters a widow along the route, and she agrees to join him on his vendetta.
9. Veer
The epic action movie Veer, which was released in 2010 and is in the Hindi language, was written by Shailesh Verma and Shaktimaan Talwar from a Salman Khan narrative. Veer Pratap Singh (Salman Khan), a Pindari prince, was born in 1875 and is the descendant of Prithvi Singh (Mithun Chakraborty), a legendary Pindari warrior who fought valiantly to liberate India from British domination.
10. Hawaizaada
An unusual scientist named Pandit Subbaraya Shastri employs Shivkar, a school dropout, as his assistant. They share a desire of building India's first unmanned aircraft.