1. Pooja Bedi Born in the year 1970, Pooja Bedi is a former Hind >> Read More... and Parveen Dusanj Parween Dusanj is a researcher, model, actor and t >> Read More...
This pair is something different from the rest of the pairs. Parveen married Kabir in the year 2016. The stepdaughter of Praveen Dusanj, Pooja Bedi, is "OLDER" than Praveen Dusanj. Pooja Bedi is the daughter of the first wife of Kabir Bedi Kabir Bedi is well known Indian television and fil >> Read More... , Promita Bedi. Pooja Bedi is four years older than Praveen Dusanj.
...
2. Kareena Kapoor and Sara Ali Khan Sara Ali Khan is the daughter of the Bollywood act >> Read More...
Kareena Kapoor Khan Kareena Kapoor is a super hit actress working in I >> Read More... is one of the hottest moms of the Bollywood industry. has married twice. Sara Ali Khan and Ibrahim are the kids from Amrita Singh Amrita Singh is an Indian film and TV actress. She >> Read More... , and Taimur Ali Khan Taimur Ali Khan Pataudi is the son of actors Saif >> Read More... is the son of Kareena Kapoor. The age gap between Sara and Kareena is just 15 years. Though being a stepmother of Sara Ali Khan, they share a healthy relationship.
...
3. Kiran Rao She is an Indian film producer, screen writer and >> Read More... and Junaid Khan Junaid Khan is a prominent Pakistani singer, songw >> Read More...
Mr. Perfection Aamir Khan has married twice. He was not happy with his past relationship, and that is why he chooses to get a divorce. Aamir's son Junaid Khan likes to stay with him. The stepmother of Junaid, Kiran Rao, has no issue to stay together and, the age gap between them is 20 years.
...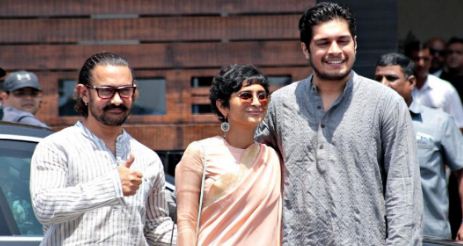 4. Hema Malini Hema Malini is perhaps the only dream girl of the >> Read More... and Sunny Deol Sunny Deol is a film actor, director and producer. >> Read More...
Hema Malini, the Dreamgirl of ',' has adapted to the lifestyle and children of Dharmendra's first wife. Hema is the second wife of Dharmendra, and he never divorced his first wife, Prakash Gaur. Sunny and Bobby Deol Bobby Deol was a treat to watch when he walks to t >> Read More... are the kids of Prakash and Dharmendra. Sunny Deol is just eight years younger than Hema Malini. This son-stepmother pair doesn't share a good family bonding.
...
5. Leena Chandavarkar Leena Chandavarkar is an Indian actress and also t >> Read More... and Amit Kumar Being the offspring of a famous parent is always >> Read More...
...
Kishore Kumar Kishore Kumar is an Indian playback singer, who ha >> Read More... , the famous and talented actor of Bollywood, got married four times. Kishore married Ruma, in the year 1950, Madhubala in 1960, in 1976. The fourth wife of Kishore Kumar was, Leena Chandavarkar, and they were married in the year 1980. The shocking age gap between Ruma's son Amit and Kishore's fourth wife Leena, have a difference of just two years.
...
6. Soni Razdan She is an actress as well as a film director. She >> Read More... and Pooja Bhatt This chubby star of Bollywood had a different styl >> Read More...
Soni Razdan is the second wife of Mahesh Bhatt Filmmaker Mahesh Bhatt created a niche for himself >> Read More... . Mahesh had two children from his first wife, Lorraine Bright and they are Pooja Bhatt, and Rahul Bhatt Rahul Bhatt is a hunk Indian model turned actor an >> Read More... . The film Aashiqui was inspired by Mahesh and Lorraine's love story. Though their love story didn't work for a long period. Mahesh got married to Soni Razdan in the year 1986. The age difference between Soni Razdan and Pooja Bhatt is fifteen years.
...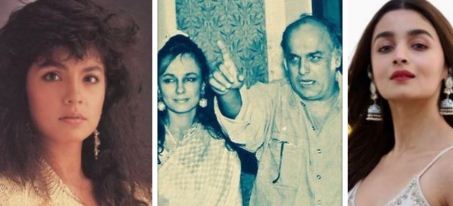 7. Supriya Pathak Supriya Pathak is an Indian actress who has been r >> Read More... and Shahid Kapoor Shahid Kapoor also identifies as the name Shahid K >> Read More...
Neelima Azeem Neelima Azeem is a classical dancer and an actress >> Read More... was the first wife of Shahid's dad. Their relationship started in the year 1979 and ended in 1984. Supriya Pathak was married to the stepfather of Shahid Kapoor, Rajesh Khattar Rajesh Khattar is a prominent Indian Artist. He is >> Read More... . The age gap between Supriya Phatak and Shahid is thirty years old. This stepmother-son pair is one of the happiest living.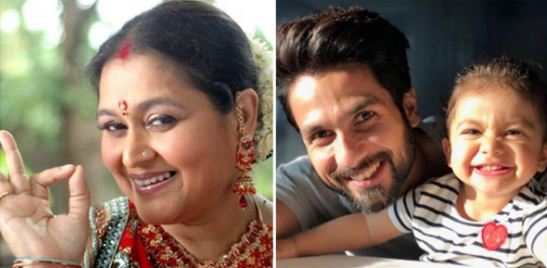 8. Manyata Dutt Manyata Dutt was born on July 22nd 1979, in Mumbai >> Read More... and Trishala Dutt Trishala Dutt is an Indian Entrepreneur. She was b >> Read More...
Manyata Dutt is the third wife of Sanjay Dutt July 29, 1959, was the day when the two legends of >> Read More... . Trishala is the daughter from Sanjay's first marriage. The age gap is just six years between Manyata and Trishala. They are one of the beautiful stepmother- daughter pair of the Bollywood industry.
9. Helen and Salman Khan Salman Khan is a very famous Indian actor and a pr >> Read More...
Not every relation is constant in Bollywood. Salman Khan loves his Stepmother Helen, from bottom of his heart. Helen is Salim Khan's second wife. The age difference between Salman and Helen is Twenty-seven years.
10. Sridevi Sridevi is an Indian an actress renowned for her w >> Read More... and Arjun Kapoor Arjun Kapoor is a Bollywood star. He was born on 2 >> Read More...
'Sridevi' was one of the most beautiful, and successful actresses of Bollywood in the 90s. Boney Kapoor's first marriage was unsuccessful, but he had two kids, Arjun Kapoor and Anshula Kapoor Bio coming soon... >> Read More... . The age gap between Sridevi and Arjun Kapoor is just eighteen years.
11. Shabana Azmi Shabana Azmi is a film actress of Indian origin an >> Read More... and Farhan Akhtar One of the most recognized young director of India >> Read More...
Farhan Akhtar is one of the most talented actors in Bollywood. Javed Akhtar Javed Akhtar is an Indian poet, lyricist, film scr >> Read More... married twice and had two kids from his first marriage Farhan and Zoya. In one of the interviews, Farhan said that he and his sister fought with his father for leaving their mom, but later on, after things were settled, they found their stepmother Shabana Azmi, loving and caring. The age gap between them is twenty-four years.