1. Sara & Ibrahim Khan and Taimur Ali Khan Taimur Ali Khan Pataudi is the son of actors Saif >> Read More...
Sara Ali Khan Sara Ali Khan is the daughter of the Bollywood act >> Read More... and Ibrahim Ali Khan Yet another B-Town star kid whose face is quite fa >> Read More... are the kids of and Amrita Singh Amrita Singh is an Indian film and TV actress. She >> Read More... . Sara and Ibrahim have grown up staying together with their mom. After getting a divorce from Amrita Singh, Saif Ali Khan got married to Kareena Kapoor Khan Kareena Kapoor is a super hit actress working in I >> Read More... ; they have a Baby Boy, Taimur; and these all Siblings are connected though being half-siblings.
...
2. Arjun Kapoor Arjun Kapoor is a Bollywood star. He was born on 2 >> Read More... - Janhvi and Khushi Kapoor Khushi Kapoor needs no introduction in Bollywood. >> Read More...
Arjun Kapoor and Ansuhala Kapoor were the kids of Boney Kapoor Achal Kapoor or Boney Kapoor is a very famous Indi >> Read More... and Mona. After some conflicts in their relationship Boney gave up on his relationship, to Mona and decided to get married to 'Sridevi.' When Arjun Kapoor heard about the death of Sridevi, he was shocked and helpless. Without any second thought, he stood by his step-sisters Jhanvi Kapoor and Khushi Kapoor.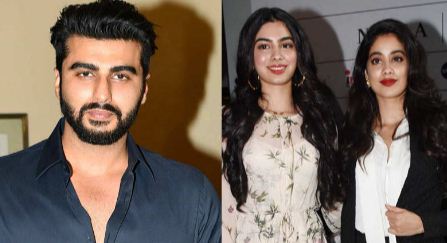 ...
3. Ishaan Khattar Born on 1st November 1995 in Bombay, Ishaan Khatta >> Read More... and Shahid Kapoor Shahid Kapoor also identifies as the name Shahid K >> Read More...
Ishaan Khattar is the stepbrother of Shahid Kapoor. Ishaan Khattar is the son of Rajesh Khattar Rajesh Khattar is a prominent Indian Artist. He is >> Read More... and Neelima Azeem Neelima Azeem is a classical dancer and an actress >> Read More... . Both Shahid and Ishaan work in the Bollywood industry and are very famous.
...
4. Alia Bhat and Pooja Bhatt This chubby star of Bollywood had a different styl >> Read More...
The beautiful actress Alia Bhatt Alia Bhatt is a trendsetting actress from Mumbai, >> Read More... is the stepsister of Pooja Bhatt. Pooja is the daughter of Mahesh Bhatt Filmmaker Mahesh Bhatt created a niche for himself >> Read More... and Lorraine. Just like Alia Bhatt, even Pooja Bhatt is a part of the Bollywood industry. Pooja Bhatt has done many movies, and her first debut was in Mahesh Bhatt's film, Daddy.
...
5. Sunny and Bobby Deol Bobby Deol was a treat to watch when he walks to t >> Read More... & Esha Deol Esha Deol is an Indian film actress, who was born >> Read More... and Ahana Deol Ahana Deol is a part of the Deol family which is o >> Read More...
...
Sunny Deol Sunny Deol is a film actor, director and producer. >> Read More... and Bobby Deol are half brothers of Esha and Ahana Deol. All of them have worked hard to be a part of the Bollywood industry. The relationship between the stepson's Bobby and Sunny Deol with Hema Malini Hema Malini is perhaps the only dream girl of the >> Read More... is not that healthy.
...
6. Ira & Junaid and Azad
Aamir Khan Aamir Khan or Mohammed Aamir Hussain Khan is Bolly >> Read More... got Married to Kiran Rao She is an Indian film producer, screen writer and >> Read More... when he was already the father of two kids, Junaid and Ira. But as a fast-forward lifestyle, both of his kids accepted their second mother, Kiran Rao, and have no issue with her. All three siblings Ira, Junaid, and Azad, live together happily.
...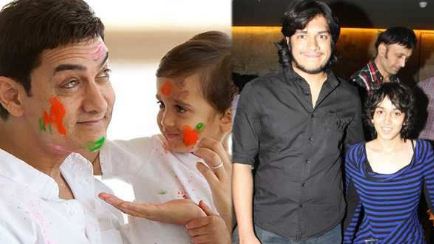 7. Anshula Kapoor Anshula Kapoor is a theatre performer and a former >> Read More... and Janhvi Kapoor Jhanvi Boney Kapoor was born in the year 1997 Indi >> Read More...
Anshula Kapoor is the sister of Arjun Kapoor and daughter of Boney Kapoor. After divorcing his first wife, Boney got married to Sridevi. Jhanvi Kapoor and Khushi Kapoor are daughters of Boney and Sridevi. Anshula has always stood for her sisters in their hard times.
8. Trishala and Iqra
Sanjay Dutt July 29, 1959, was the day when the two legends of >> Read More... is one of the pleasant Personalities of B-town. He has seen many ups and downs in his life, which we can make out from his biopic Sanju. We saw his relationship with his mom and dad and his lovable wife. Sanjay Dutt has married thrice. Trishala is the daughter of Richa Sharma Richa Sharma, born August 29 1980 in Faridabad, is >> Read More... , the first wife of Sanjay. She is beautiful and stays with her grandparents abroad. On the eighth Birthday of her half-siblings, Trishala Commented on Manyata Dutt's post " Happy Birthday my Baby darlings and miss y'all every day," which shows how much she is connected her half-siblings.
9. Pooja Bedi Born in the year 1970, Pooja Bedi is a former Hind >> Read More... and Adam Bedi Bio coming soon... >> Read More...
Kabir Bedi Kabir Bedi is well known Indian television and fil >> Read More... is one of the handsome actors in the Bollywood industry. Until he was 70 years old, he had four marriages, three divorce, and three children. Pooja Bedi is the daughter of Promita Bedi and Kabir Bedi. Adam Bedi is the son of Susan Humphreys. Pooja and her stepbrother Adam Bedi share a good bonding.
10. Prateik Babbar Prateik Babbar is an actor who has also got the sh >> Read More... and Arya & Juhi Babbar Juhi Babbar is prominent Indian television and fil >> Read More...
Raj Babbar Raj Babbar is an actor turned politician. He is re >> Read More... is one of the finest personalities of B-world. He got married to Smita Patil This versatile actress was born on the 17th of Oct >> Read More... . Smita Patil and Raj Babbar had one son Prateik Babbar. Later in 1975, Raj Babbar got married to Nadira Zaheer. Both of them had two kids Juhi and Arya Babbar. The stepbrothers, Prateik, and Arya Babbar share a friendly bond.