Ranbir Kapoor Ranbir Kapoor is a noted Indian film actor. He was >> Read More... is no longer known as Rishi Kapoor Rishi Kapoor is an actor born in the prominent Kap >> Read More... 's son. He is now a household name and today's generation knows Rishi Kapoor as his father, not the other way around. With his chocolate boy face, the actor won a lot of hearts. Those who were not bowled over that were won over when he appeared in " Yeh Jawaani Hai Deewani Click to look into! >> Read More... " as Bunny, a boy who just wants to be free and nothing else, because he knows he can win everything else on his own.
1. His Connect With His Family
...
The actor's full name is Ranbir Raj Kapoor. His grandfather's name is a part of his name and he has made him proud, not just by becoming a successful actor, but also by becoming the first man of the clan who completed his class 10 and finished college. It was a big occasion for his family when his result for class 10 was released, even though he had only scored 65% marks.
2. A Complete Mumma's Boy
...
It is no secret that Ranbir always puts his mother first. Even today, he continues to weekly take 1500 rupees from his mother as his pocket money. His diet pan too is not designed by some dietician, but rather, it is his own mother who designs his plans. She would cut his nails until the day he moved out of their house and till this day, she remains on his speed dial.
3. His Knowledge of Crafts
...
The actor has taken training for Ballet and Jazz, and today we see him dancing like a dream in each of his movies. Other arts that he trained for include horse riding, dance and diction. In music, the actor learned to play table after two years of training. As he had to play a rockstar in his movie ' Rockstar Click to look into! >> Read More... ', the actor also learned to play the guitar.
4. The Beginning
...
The actor, like many other actors, did not begin as an actor. His first film was Prem Granth, which released in 1996, for which he was an assistant director. Similarly, in 2005, he assisted Sanjay Leela Bhansali Born on 24th February 1963, Sanjay Leela Bhansali >> Read More... for the shoot of the national award winning film ' Black Click to look into! >> Read More... ', that starred and Rani Mukerji Rani Mukerji is one of the most celebrated Indian >> Read More... in lead roles.
...
5. His Encounter with Deepika Padukone Deepika Padukone is an Indian actress and model. S >> Read More...
...
Ranbir and Deepika made a great couple when they were together. They did not while shooting for their first film together. In fact, they met through their make-up artists, Bharat and Dorri, who now have their own cosmetic brand. The two actors also had a remarkably comfortable first date, where they watched a film on Mr. Bean, which was followed by a long drive.
6. Their Look For Their First Date
...
Although, these two have parted ways, they were pretty when they were together. For their first date, Deepika wore an all-white top, wearing white linen pants with a ganji top of the same color while her hair were in a bun. Ranbir on the other hand wore a half sleeved shirt over a t-shirt and timberland shoes, which Deepika found ugly.
7. How He First Met
The actor has admitted to cheating once in his life, and people speculate that it is Deepika he cheated on, with Katrina Kaif. So, how did the two meet? Apparently, Deepika was invited to Katrina Kaif's birthday party in the year 2008, where she also took Ranbir along with her. This was where the future love birds met for the first time.
8. His First Earnings
First earnings are always special for everyone. Some people give it to their parents, which some go ahead and buy something they have always wanted. Ranbir too did something similar and bought an expensive watch from the first money he ever earned.
9. Wake Up Sid Click to look into! >> Read More...
The film turned out to be a great success when it was released. Like many other films, people worked hard on every detail of the film, including the introductory shot of Ranbir Kapoor. Ranbir was to be seen in boxer shots, but he wanted them to be perfect, so he tried over 60 boxers before finalizing the one we see. All these boxers were his own. During its post-production times, the film had to be delayed by 3 months as Ranbir had started shooting for Rocket Singh Salesman Of The Year, for which he had grown a beard. So, the shoot was not possible until the filming of that film was completed.
10. His Hobbies
Among other things, Ranbir Kapoor loves being with his family, dog and friends. He also loves watching movies and playing games on his Play Station and Xbox. Also, Candy Crush Story Coming Soon >> Read More... has made a lot of our friends and family addicted to itself and Ranbir Kapoor too is in on the list of people addicted to Candy Crush.
11. Some Strange Habits
The actor is known to talk and eat extremely fast, and this due to a disease he suffers from, called Nasal Deviated Septum. As a child, he was rushing towards a loo pot and fell into face first, which caused this disease. When he is traveling via car, Ranbir stays extremely alert, as he has the habit of observing the number plates of all the vehicles he sees on road and adding them up.
12. His Personal Life
In the Kapoor clan, most children have very personal nick names, like Lolo ( Karisma Kapoor Karisma Kapoor is a well known face from the famil >> Read More... ), Bebo ( Kareena Kapoor Khan Kareena Kapoor is a super hit actress working in I >> Read More... ), Chintu (Rishi Kapoor), but Ranbir has no such pet name. His parents call him Baba out of love. He is also an exceptionally talented mimicry artist, and is especially fond of acting out Sanjay Dutt July 29, 1959, was the day when the two legends of >> Read More... , Hrithik Roshan Hrithik Roshan with his unimaginable dance moves i >> Read More... and Shah Rukh Khan Shah Rukh Khan or also known as SRK is a prominent >> Read More... .
13. His Favourite Book
Many people are into reading a lot of genres like thrillers, romance, fantasy and so on. Ranbir happens to like reading biographies and autobiographies, as they involve getting to know the life of real people. Of all the books he has read, his favourite book is the biography of Kurt Cobain Artist, lyricist, guitarist, artist, and grunge cr >> Read More... , called Heavier Than Heaven.
14. His Love for Food
Ranbir loves food. A self-confessed foodie, he loves Bombay Duck, Dosa, Vada Pav, Sushi, and Paya, Jungle Mutton Curry, Bhindi cooked at home. He is also incredibly fond of football. He follows the game religiously and Barcelona is his favourite Football team, while Lionel Messi is his favourite football player. In fact, he loves football so much that before retirement, he wants to become a football coach.
15. His Education
Ranbir attended School of Visual Arts and Lee Strasberg Institute, where he was meant to learn acting. He chose the school simply because of , who is his favourite actor, had also attended the same school. He was also in New York Click to look into! >> Read More... , where he had enrolled in a course in direction and acting. During the course of his study time, the actor made some 300 films.
16. His Lack of Talent
The actor is pretty talented when it comes to most things related to his profession. However, the actor cannot sing, at all. He believes that his lack of talent when it comes to singing is a limitation in his career. His most loved movies include " 3 Idiots Click to look into! >> Read More... ", Life Is Beautiful Click to look into! >> Read More... and "Shree 420". He is also fond of the television series Travel and Living.
17. His Favourites
He has no fixed favourites when it comes to his choice of colors. But three colours he continues to love are red, black and white. When it comes to traveling, the actor loves to travel to USA, New York and Puglia and Venice in Italy.
18. His Inspirations
In order to perfect his craft as an actor, before his debut as an actor, Ranbir grew as a professional by observing great legends like Mehboob Khan Mehboob Khan was a pioneer producer-director of Hi >> Read More... and Guru Dutt Born on 9th July 1925, Guru Dutt was an Indian act >> Read More... in their films. In Bollywood, the actor is exceptionally fond of Kajol Devgan Born on 5th August 1974, Kajol was the heartthrob >> Read More... , Akshaye Khanna Akshaye Khanna is a popular Indian film actor. He >> Read More... and Rishi Kapoor as actors, while in Hollywood, he prefers to watch films that have and Dustin Hoffman He will play tricks in your mind as you watch his >> Read More... in them.
19. His Attachment to his Sister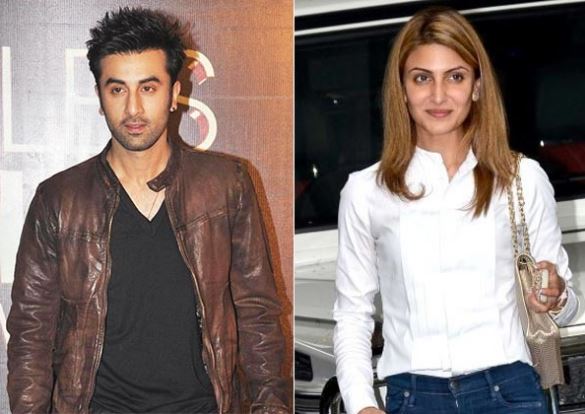 Ranbir Kapoor is extremely attached to his family, and his eldest sister, is settled in Delhi. She also has a daughter by the name of Samara, who Ranbir is extremely attached to. In order to meet them, Ranbir can be seen making frequent trips to the capital.
20. As a Kid
As a child, Ranbir was pretty unique. Kids generally are imaginative and have imaginary friends according to their upbringing. Ranbir, on the other hand had imaginary conversations, and that too with dead people. These people included Hitler, whom Ranbir would ask about the evil deeds that he did in his lifetime.