The B-town has seen wealth like none other. The celebs have a lavish life which is completely different than the ordinary person. The celebs have a completely different world, and one can add that it is like a fairy tale. The commoners try hard for earning a business class ticket on an airplane, and here the celebs own the private planes. The Bollywood celebs work hard to earn, and when they do, they make sure the world sees their success. Here are some pictures of the celebs, and their luxurious life.
1. Salman Khan Salman Khan is a very famous Indian actor and a pr >> Read More...
This Khan is ruling the film industry since the day he has step foot in it. The actor is known for his outstanding performance, and his super hits which always break the box office records. The actor owns a lavish jet plane, and its interiors are dabang just like the actor himself. The interiors are bold and classic at the same time.
2. Amitabh Bachchan Amitabh Bachchan was conceived on October 11, 1942 >> Read More...
This star of the millennium is one of a kind. His legendary acting is worth watching, and his dialog delivery is worth every word we heard. It is always a delight to watch him perform. His hardwork has earned him fame, and a lavish lifestyle. Now, the superstar owns a private jet, and it is just gorgeous, and comfortable. Big B's jet has everything one could ask for, and the picture here can see him relaxing, and having a good time.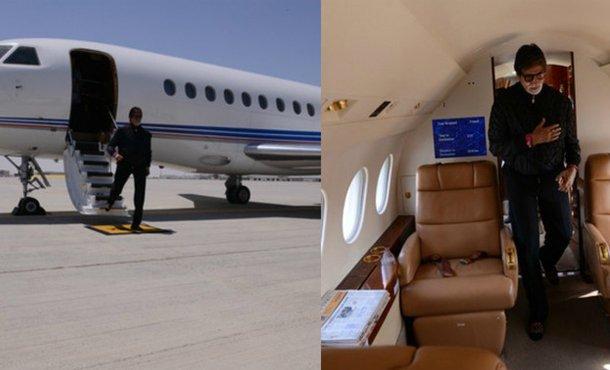 3. Shah Rukh Khan Shah Rukh Khan or also known as SRK is a prominent >> Read More...
SRK earned the title of King Khan for a reason. His hardwork has paid off, and now he owns a luxurious life. This humble man gives the credits of his success to his beautiful wife who has brought colors in his life. His wife, Gauri Khan Born on Ocotber 8 1970, Gauri Khan (originally kno >> Read More... , is also an interior designer, and the private jet of King Khan has beautiful interiors because of his queen.
4. Akshay Kumar Akshay Kumar was born on 9th September 1967 and hi >> Read More...
This all-time favorite actor has touched heights with his realistic acting, and logical, and message giving movies. Akshay Kumar is known for movies with intense emotions, and those which make immediate connection with the audience. He is one of a kind, and deserves all the success he has earned. The actor also owns a private jet and is tasting a good life. He makes sure that his family tastes this life too, and takes them to trips on his jet.
5. Shilpa Shetty A model turned actress, producer, entrepreneur and >> Read More...
This gorgeous yoga girl, who was once a famous actress in the B Town still has a luxurious life. The lady enjoys the pleasure of owning a private jet, which is originally in the name of her husband, but marriages untie two souls, which means it's her jet too.
6. Ajay Devgan Ajay Devgn is an Indian film actor. He is perhaps >> Read More...
This actor was once rejected for his looks, but now he is one of the best action hero Bollywood has ever had. He has no renowned surname attached and has made a successful career on his own. He has a nature of being silent but we can definitely hear his success make noise. The actor is also the first one to own a six-seater private jet.
7. Diljit Dosanjh Diljit Dosanjh, born on 6 January 1984, in Jalandh >> Read More...
Although, he is a Punjabi singer but has recently tasted success in Bollywood too, so this makes him a B-Town celeb. This person is a great personality, and he has also risen from nothing. He deserves every bit of the success he is earning right now.
8. Hrithik Roshan Hrithik Roshan with his unimaginable dance moves i >> Read More...
This Greek God has given us life goals. He owns a ton of sports cars, and also a private jet. His ex-wife was an interior designer, and she has done some great work on the interiors of the flight. One can see him resting peacefully on his success plane.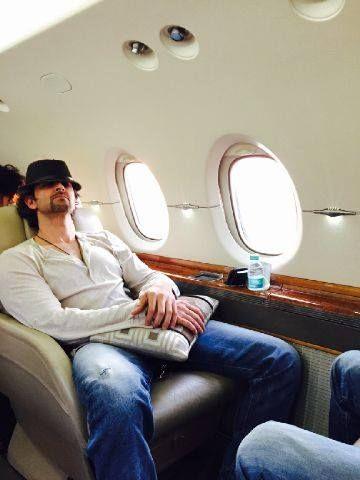 9. Honey Singh Honey Singh was born on 15th March 1983 in Hoshiar >> Read More...
This Punjabi rapper has earned quite a fame from his songs and also has given voice to many party songs. The youth has some great songs to dance on because of him, and this success of him is worth everything. He also owns a private jet, and one could see him, and SRK sharing the plane.
10. Sanjay Dutt July 29, 1959, was the day when the two legends of >> Read More...
Sanju Mama is one of the strong actors Bollywood has ever had, and this great actor also owns a private jet, which is quite obvious. He has given great hits in the 90's, and also one of the most popular actors in the film industry.