Everyone has their love life, and so do Bollywood heroes, and heroines. The biggest happiness we can ever get is a new member of our family. Being fit is always what people desire during pregnancy. Here are some Bollywood actresses doing yoga during their pregnancy.
1. Kareena Kapoor Khan Kareena Kapoor is a super hit actress working in I >> Read More...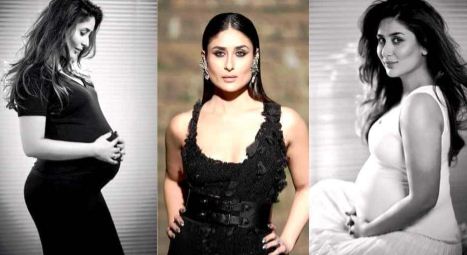 ...
Kareena Kapoor is known as the fittest actresses in the Bollywood industry. We all are aware that she had 0 figure. She always chose yoga over Gym. She said that practicing yoga makes her feel refresh and energetic. During her pregnancy, she did not stop her routine but instated practiced yoga for an hour, everybody, without fail.
2.
...
Amy Jackson is a Bollywood cum Hollywood actress. She surprised all of us by sharing the news of her Pregnancy. She shared her picture of doing Yoga during her Pregnancy. She stated that yoga keeps her mind-body active. She posted a picture and captioned it with Nesting, Resting Meditating, keeping my mind, body, soul active.
3. Soha Ali Khan Soha Ali Khan was born into a royal family. She is >> Read More...
...
Soha Ali Khan is also one of the fittest actors in the Bollywood industry. She likes to do Yoga and swear on its benefits. She performed yoga during her labor. She mentioned that doing yoga makes her feel relaxed, and she starts her day by doing yoga.
4. Shilpa Shetty A model turned actress, producer, entrepreneur and >> Read More...
...
Shilpa Shetty practices yoga, from a very young age. As she knows all the benefits of yoga, she inspires everyone to do yoga. She makes new videos of doing yoga weekly and posts them on her Youtube channel. She also did yoga during her pregnancy and shared it with her fans and followers.
...
5. Lisa Haydon Lisa Haydon is an Indo Australian model, who born >> Read More...
...
Lisa Haydon is one of the finest actors in the Bollywood industry. She has made many Bollywood Films. One of the songs in which she danced was Dum Maro Dum, which is still in the hearts of many. This song was super-viral. When she revealed she was pregnant, she explained many questions about how did she keep her skin glowing and toned during this situation. Then she answered them with a post saying that she does yoga even in her pregnancy.
6. Sameera Reddy Sameera Reddy was born on December 14, 1980, in Ch >> Read More...
...
Sameera has not only made Bollywood films but she has also made Tamil, Telugu, Bengali, Kannada and Malayalam films. Sameera Reddy found the benefits of Prenatal Yoga during her pregnancy. She didn't keep this with herself but shared it with fellow expecting mothers. She inspired all the expecting mothers by sharing her healthy and motivating routines. She not only shared the pictures but also many videos.
7. Lara Dutta Lara Dutta is an Indian actress, model, movie prod >> Read More...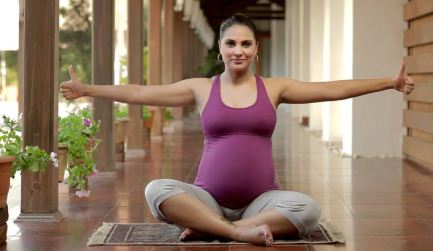 Lara Dutta is a Miss Universe 2000 pageant. She is an Indian actress and entrepreneur. Lara Dutta has made many super hit debuts in Bollywood. when she was pregnant with her first child, she motivated many expecting moms by doing yoga. She also recorded all her asanas and uploaded them. Doing yoga keeps the mind, and soul relax and it is very beneficial for pregnant women.
8. Soumya Tandon
We all know Soumya as Anita Mishra from Bhabhiji Ghar Pe Hai. She hosted many television shows like Entertainment Ki Raat This is an Indian reality show which is aired on C >> Read More... , Dance India Dance. Soumya Tandon did yoga during her pregnancy phase. She gracefully shot each yoga asanas and posted them on Social media. she also said that doing yoga is not enough but also, having a proper diet is important. She carried herself very well during her pregnancy and inspired all the fans on social media.
9. Natasa Stankovic Natasa is a model turned actress, who also tried h >> Read More...
Natasa Stankovic is a model, Mumbai based actress cum Serbian dancer. She was part of the movie Satyagraha directed by Prakash Jha Prakash Jha, a director, film producer and screenw >> Read More... . Natasha and Hardik Pandya Born in Surat, Gujarat, on October 11, 1993, Hardi >> Read More... had their engagement on 1st January. The couple was very much happy to announce the good news. Hardik Pandya posted some pictures of Natasha doing yoga early morning. They also posted some pictures of themselves on social media and impress their followers.
10. Anushka Sharma Born in an army family to Col. Ajay Kumar and Ashi >> Read More...
Anushka Sharma married the famous Indian Cricketer, Virat Kholi. She is pregnant with her first baby. The couple was very happy to announce this good news to their fans and followers. She likes to keep herself fit, even being pregnant, she did an asana in which she kept her head down, and her legs up. It was one of the toughest asanas, but she did it very easily. She also mentioned that while she was doing this asana, she had her yoga teacher near her.