Gujarat is a state that is renowned for its rich cultural heritage and diversity. The state has a long and illustrious history, with a unique blend of Hindu, Muslim, and Jain influences that have shaped its culture and traditions. Over the years, filmmakers have captured the essence of Gujarat through their movies, depicting its beauty, traditions, customs, and values. In this blog, we bring to you the top 10 must-watch films that reflect the essence of Gujarat. These films not only showcase the scenic beauty of the state but also its rich cultural heritage, traditions, and customs.
1. Narsinh Mehta (1932)
Narsinh Mehta is a historical Gujarati film that tells the story of the legendary poet-saint Narsinh Mehta. The film was directed by Nanubhai Vakil Nanubhai Vakil was a film director, writer and pro >> Read More... and stars Mohanlal Kavi as Narsinh Mehta. The story takes place in the 15th century and follows the life of Narsinh Mehta, who devoted his life to the worship of Lord Krishna and composed beautiful devotional poetry. The film is a tribute to the great poet and highlights his immense contribution to the Bhakti movement in Gujarat. It also reflects the rich cultural heritage of Gujarat and the deep reverence for Lord Krishna in the state.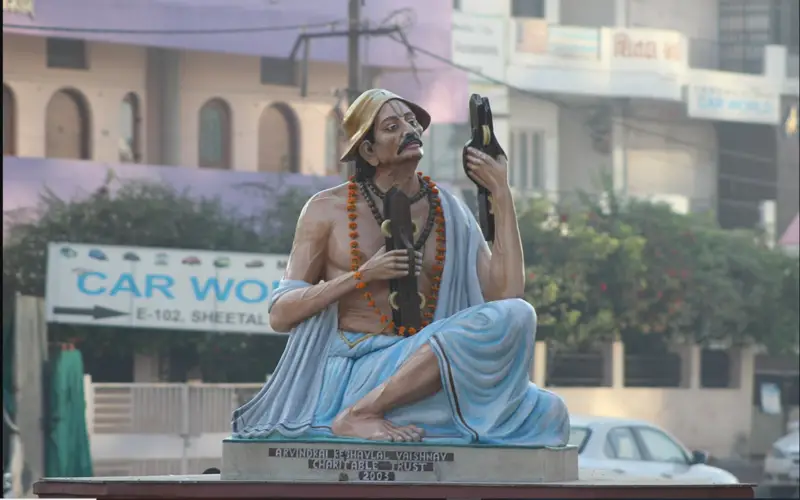 2. Kevi Rite Jaish (2012)
Kevi Rite Jaish is a 2012 Gujarati comedy-drama film directed by Abhishek Jain A 28-year-old director and the creator of CineMan >> Read More... . The film is a story of a young man, Jay Patel Jay is an Indian Cinematographer. He is based in M >> Read More... , who comes back to India after spending most of his life in the United States. The movie is a satire on Gujarati culture and lifestyle, and it explores the conflicts between traditional values and modern aspirations. Kevi Rite Jaish is a refreshing take on the Indian immigrant experience and is one of the most successful Gujarati films ever made. The film has a talented cast, and the performances of Divyang Thakkar Divyang Thakkar is an Indian actor who has worked >> Read More... , Veronica Kalpana-Gautam, and Tejas Parekh are particularly noteworthy.
3. Hellaro (2019)
Hellaro is a 2019 Gujarati period drama film that tells the story of oppressed women in a remote village of Kutch in the 1970s. The film explores the theme of women's liberation and empowerment through dance and music. It follows the journey of a group of women who are subjected to patriarchy and oppression in their community. The women find solace in each other and through the traditional folk dance form of Garba. The film beautifully captures the vibrant and colorful culture of Gujarat and showcases the resilience and strength of women. Hellaro was the first Gujarati film to win the National Film Award for Best Feature Film.
...
4. Bey Yaar (2014)
Bey Yaar is a Gujarati comedy-drama film directed by Abhishek Jain. The story revolves around the lives of two best friends, who are middle-aged men struggling with their personal and professional lives. They both embark on a journey to make quick money through an illegal scheme, but soon realize the consequences of their actions. The film portrays the themes of friendship, morality, greed, and the struggle to make a living in a fast-paced city like Ahmedabad. The characters and their emotions are portrayed realistically, making the film relatable to the audience. Bey Yaar is a heartwarming film that showcases the realities of life and the power of friendship.
...
5. Chhello Divas (2015)
Chhello Divas (2015) is a coming-of-age Gujarati film directed by Krishnadev Yagnik Krishnadev Yagnik is one of the most skilled India >> Read More... . The film revolves around the lives of eight friends studying in college and the various challenges they face. It portrays the journey of these youngsters as they navigate through friendship, love, family, and career choices. The film was widely appreciated for its relatable characters and realistic portrayal of college life. It became a huge commercial success and was one of the highest-grossing Gujarati films at the time of its release. Chhello Divas is a fun-filled, light-hearted film that celebrates friendship, youth, and the spirit of life.
...
6. Gujarati Natak Aapne To Dhirubhai (2014)
Aapne To Dhirubhai is a Gujarati play that has been adapted into a movie as well. The play and the movie are based on the life of Dhirubhai Ambani, the founder of Reliance Industries. The story revolves around a group of people who are invited to a function where they are supposed to give a speech on their success stories. However, they are all worried about their speeches and feel that they have not achieved anything significant in their lives. It is at this point that Dhirubhai Ambani appears in front of them and shares his journey of success, inspiring and motivating them to dream big and achieve their goals.
...
7. Hu Tu Tu (1999)
Directed by Gulzar, Hu Tu Tu is a political satire that delves into the corruption and power struggles within the government of Gujarat. The film features an ensemble cast that includes Nana Patekar Nana Patekar is a popular Indian actor who was bor >> Read More... , Tabu, Sunil Shetty Bio coming soon... >> Read More... , and Suhasini Mulay Suhasini Mulay is popular for Marathi films and m >> Read More... , among others. Hu Tu Tu cleverly uses humor to address serious issues, making it an important commentary on the political landscape of Gujarat. The film's soundtrack, composed by Vishal Bhardwaj The most outstanding of a successful film producer >> Read More... , is also noteworthy and features a mix of folk and contemporary music. Hu Tu Tu was well-received by critics and won the National Film Award for Best Film on Other Social Issues.
...
8. Wrong Side Raju (2016)
Directed by Mikhil Musale Mikhil Musale is a director who works in the Bolyw >> Read More... , Wrong Side Raju is a thriller film that revolves around a young driver named Raju, who gets caught up in a hit-and-run case. The film is set in Ahmedabad and features an impressive cast that includes Pratik Gandhi Prateek Gandhi is a film and theatre actor who mai >> Read More... , Asif Basra Asif Basra is an actor possessing so much of talen >> Read More... , and Kavi Shastri Kavi Shatri is a British actor. He was born on 19t >> Read More... , among others. Wrong Side Raju offers a glimpse into the city's underbelly and its dark secrets, while also highlighting the issues of class and privilege. The film won several awards, including the National Film Award for Best Feature Film in Gujarati and the Best Gujarati Film at the 64th National Film Awards The National Film Awards gets presented every year >> Read More... .
...
9. Gujjubhai The Great (2015)
Gujjubhai The Great is a 2015 comedy-drama film directed by Ishaan Randeria Ishaan Randeria is a prominent Indian Director and >> Read More... . The film follows the life of Arvind Divetia, a successful businessman who is also a compulsive liar. When Arvind's son decides to marry his girlfriend, he needs to impress her father, who is a retired police officer. Arvind, with his charm and wit, tries to win the father's approval, but his lies catch up with him, leading to a hilarious turn of events.The film features a stellar cast, including Siddharth Randeria He was born on 17 December 1955 in Mumbai. His occ >> Read More... , Jimit Trivedi Jimit Trivedi is an Indian Actor. He works predomi >> Read More... , and Swati Shah Swati Shah has been a part of the Indian Entertain >> Read More... , and is known for its witty dialogues and humorous situations. It is a must-watch for those who enjoy light-hearted comedy films.
10. The Good Road (2013)
Directed by , The Good Road is a drama film that explores the lives of various individuals who cross paths while traveling on a highway in Gujarat. The film, which was selected as India's official entry for the Best Foreign Language Film at the 86th Academy Awards, beautifully captures the essence of the state through its scenic landscapes and diverse cultures. The Good Road portrays the struggles of its characters with poignancy and sincerity, offering a window into the lives of those who are often overlooked by society. The film received critical acclaim and won the National Film Award for Best Feature Film in Gujarati.